I honestly can't believe it's been over a year and a half since I revealed part of our Master Bedroom Makeover On A Budget. I only shared part of the room in the post with the intention of finishing the rest soon. Well, it finally came time to finish the space when I realized that it just wasn't working for me. It's not that I didn't like it, it just wasn't ME. There is a huge difference. I even mentioned in the post that it was a little more 'glam' than the rest of the house and I knew that I needed to make it a little more of a Modern Farmhouse Bedroom.
Modern Farmhouse Bedroom
So fast forward to the last few weeks and I now have my Modern Farmhouse Bedroom! The biggest thing this room was missing was WOOD. I use wood in all of my projects and spaces and this room didn't have any. So that was my first step. I added the DIY Barnwood Headboard and updated the nightstands.
DIY Stenciled Wall
I didn't want to do a complete overhaul, just tweak what I had already done. So I kept the stenciled walls and duvet cover and added new shams and pillows. It's amazing what a few small changes can do.
I know not everyone is not the white animal head trend, but I still love it! Anyone else still into it?
Black and White Throw Pillows
For the pillows I picked up new pintuck euro shams from West Elm. I have been eying them forever and finally pulled the trigger! And then I whipped up the black and white throw pillows. I love the fun and bold statement that they make. And if you look closely, you can see that the long pillow is made with fabric that looks like book pages. I'd never seen anything like it before and when I spotted the fabric I knew I needed to make something with it!
And I keep debating on whether or not I need something else on the walls above the nightstands. But then I keep thinking that with the stenciled walls and the massive barn door, I should just keep it simple and clean. Hmmm, the great decorating debate.
Here is a glimpse at the different stages our bedroom has gone through over the past few years.
The top was how I decorated the room right after we got married in 2008. Middle is the initial makeover I did back in 2012 and the bottom is today. I love seeing the progress!
Black and White Gallery Wall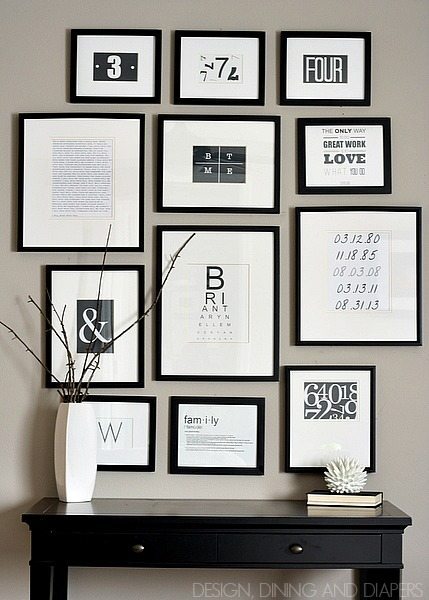 The new changes go so well with the Black and White Gallery Wall I added earlier in the year to our bedroom (that I still love).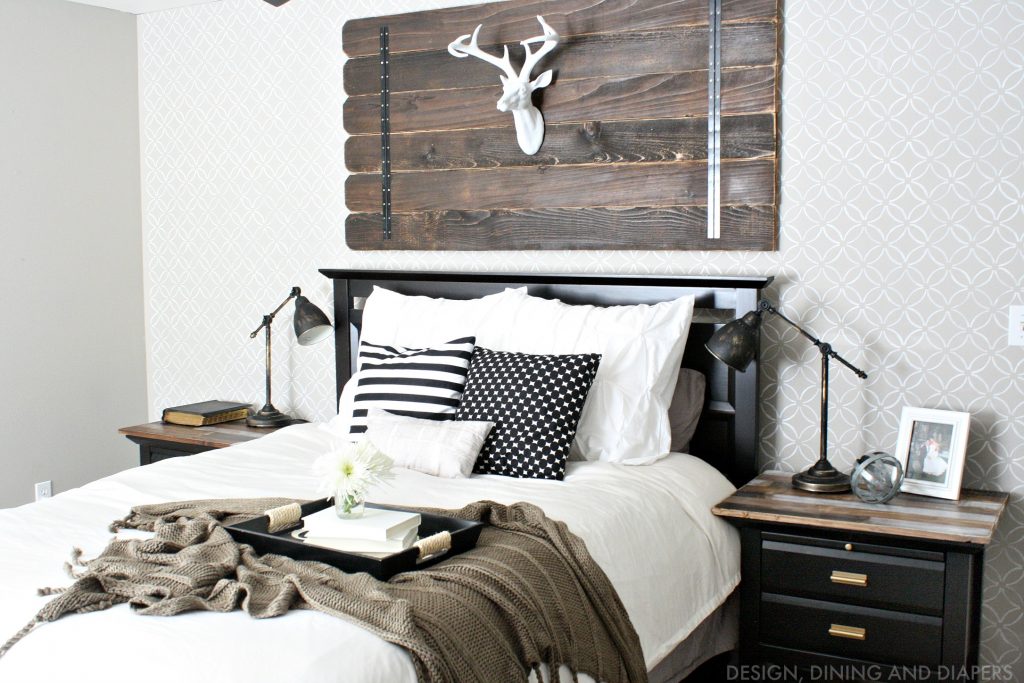 Now that this room is starting to feel a bit more like my style and the rest of our house I'm loving it and I can't wait to finish it (really, I am going to do it this time!).
Shop This Room:
– Paint Color: Cosmopolitan by Benjamin Moore
– Stencil: Fuji All-Over Stencils by Cutting Edge Stencils
– Pintuck Euro Shams by West Elm
– Deer Head by Z Gallery
– Number Tray – Tutorial HERE
– Barn Door – Tutorial HERE
– Wood Nightstand Tops – Tutorial HERE
– Faux Antique Lamps – Tutorial HERE

– Anything else? Just ask!