Disclosure: This post is in partnership with Tri Pointe Homes. All opinions are my own.
One of the most popular questions I get from readers is, "How do I mix different finishes in my home?" It's something that CAN be done right, but yes it can be tricky. What it really comes down to is what style are you going for and what finishes will help you achieve that look? Black and chrome tend to lean more modern, but mixing chrome and antique gold will lean more traditional. Today, I want to talk about how to mix metals in your home. I will share three different houses from the Tri Pointe Homes Poulsbo Meadows community to give you examples of three different ways of mixing finishes.
This was my first time visiting Poulsbo, Washington and, I must say I was completely charmed by the small coastal town, the stunning ocean views and the quiet nature. I could actually see myself living somewhere like this. If you are looking to move a little farther out of town but still want that community feel with the same things you love this would be a wonderful location.
How To Mix Metals In Your Home
When purchasing a home through Tri Point Homes you have the opportunity to personalize almost all of the finishes to fit your own style. I talked about the Tri Pointe Homes Design Studio in my previous post here. You can see just how vast the selections are for faucets, hardware, appliances, etc. This gives you the opportunity to get the exact style you are looking for without settling. Today, I am going to show you examples of how those finishes were used to create three different design styles.
When purchasing a home through Tri Pointe Homes you have the opportunity to personalize almost all of the finishes to fit your own style. As mentioned in my previous post here, the Tri Pointe Homes Design Studio has a vast selection of faucets, hardware, appliances, etc. This gives you the opportunity to get the exact style you are looking for without settling. Today, I am going to show you examples of how those finishes were used to create three different design styles.
Modern Coastal Farmhouse Design
The first style I want to share is a very coastal farmhouse design. It's all about mixing black, white, stainless steel and a light driftwood color floor to get this look. I'm going to break down some of the main rooms and talk about how to mix the metals and finishes in each space.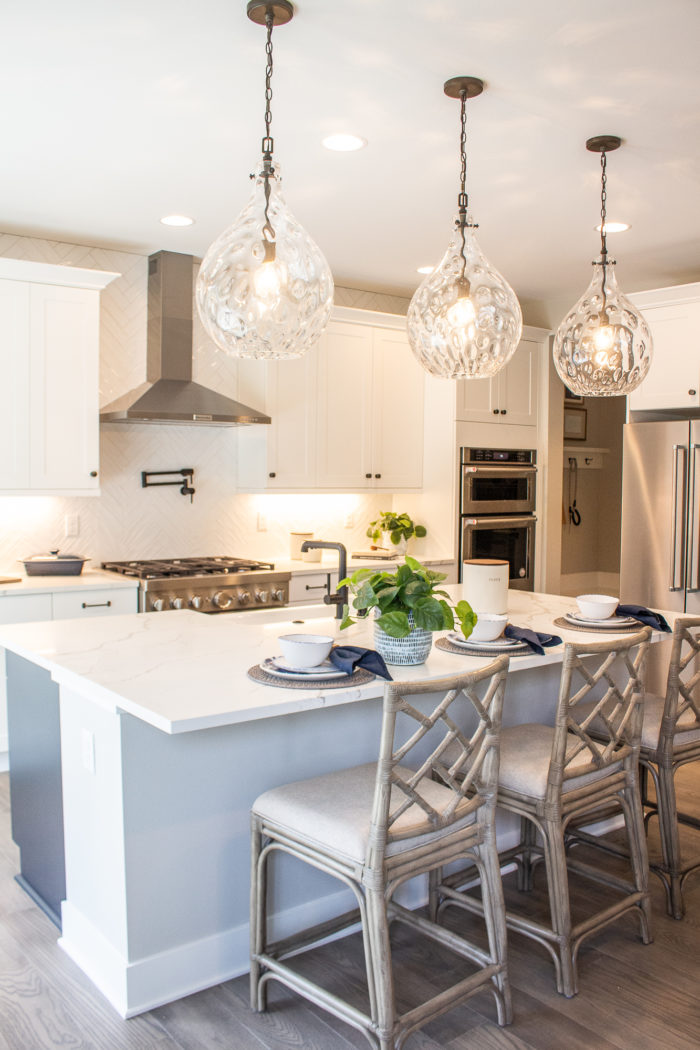 The kitchen is the heart of the home and the space where you want your style to truly shine. To get this modern coastal look, focus your kitchen design on fresh white cabinets and black matte hardware. If you're buying with Tri Pointe Homes, these Euro style cabinets could be a great, optional investment. The cabinet doors offer full overlay where you don't see any of the cabinet frame. This combined with the black knobs make it sleek, yet classic.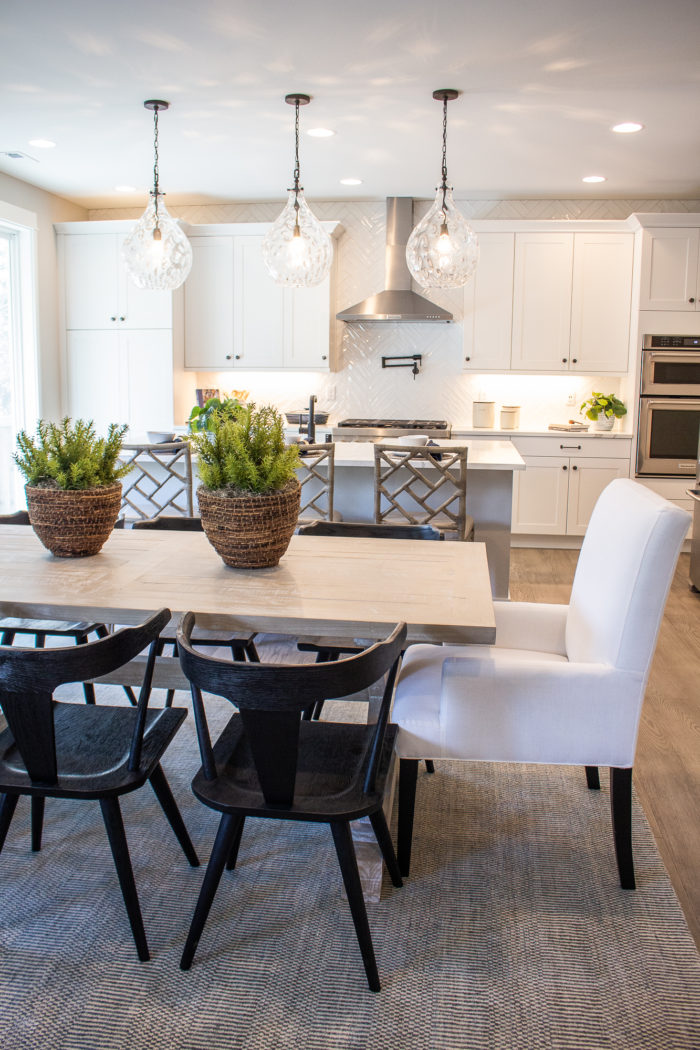 Adding a backsplash to your kitchen is also a great investment and will help you achieve the full modern coastal style. Whether you go with a solid, classic white subway tile or a more subtle trendy pattern, a backsplash is one of the best ways to make your space feel custom and polished. I absolutely love how they extended the white subway tile up over the cabinets for a full tile wall. It looks stunning and luxurious.
Once you get your base materials chosen, you can pick your furniture and decor to help bring the look together even more.
When I chat with people who are building their own home, one of the things I hear the most is how they didn't realize how many details there are to think about. Once you get the big design work on the kitchen complete and have your floors picked out, it's time to look at the details. It's the little details that truly finish off a specific style and make your home feel cohesive.
As I've mentioned before, modern coastal looks are all about mixing clean modern lines with traditional elements. This staircase railing is an example of that. The black rod iron spindles with the more traditional wood railing blends the two styles.
This modern coastal bedroom is stunning and truly an inspiration for a future vacation home! I love how they extended the hardwoods throughout the upstairs to the primary bedroom and included matte black accents.
In this space, they brought a little more texture in with the blinds and navy and white decor.
The primary bathroom also includes a lot of the same elements as the kitchen, like the same white cabinets and matte black hardware. Again, creating a cohesive look for the home.
When you pick finishes that are tone on tone, you give your space a very sleek and timeless look. Choosing white for the cabinets, countertops and sinks is so classic. I think this look can actually work for many different styles if you simply change out the black hardware for something different.
Earthy Contemporary Design
One of the big design trends I'm seeing right now is more muted earthy tones with lots of texture! Green seems to be a hot color this year from olive green, sea foam, forest green and a little more tropical. This second model home has a very earthy contemporary design, incorporating chrome and matte black finishes, a medium bamboo color flooring, beige walls and lots of natural accents.
I love the earthy tones of this kitchen. The gray cabinets have a very slight green undertone to them. These style cabinets are the featured cabinets that every Tri Pointe Home comes with. You can choose from a few different colors as well. I think these are stunning in themselves and give you the opportunity to put investments towards other higher priority items like the countertop material or backsplash.
I also want to point out the unique style of this backsplash. If you still love a subway tile but want to give it a more modern look versus farmhouse, try stacking it in a linear pattern versus the traditional brick. I absolutely love the look of this linear backsplash!
This is a great picture where you can see how they combined a chrome faucet and paired it with black cabinet knobs and lighting.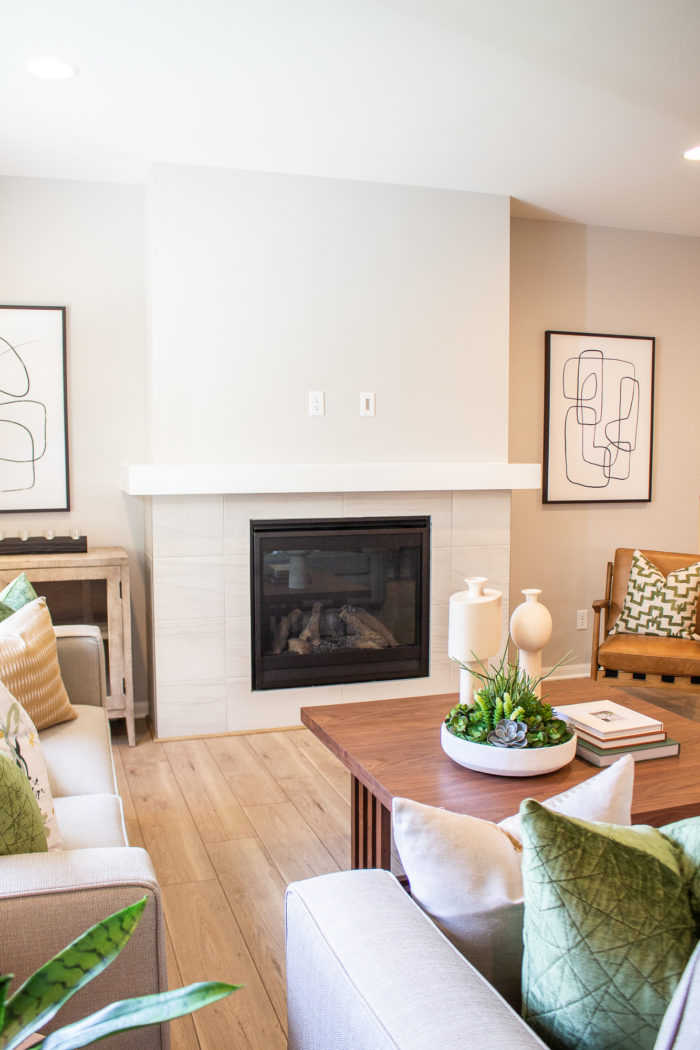 The finishes in the main living area maintain the earthy vibe from the rest of the house. The extended hardwoods meet the cream tile fireplace and white mantel. You can then choose to bring in more modern decor with subtle black accents.
The primary bedroom is full of warmth and texture. The room is extra cozy with the fully carpeted floors. Whether or not to extend the hardwoods to your upstairs is a very personal decision. Many people like hardwoods because they are easy to clean and can have a more custom look to them. In contrast, the carpet has a lot softer, warmer and cozier look!
Instead of mixing hardware in the primary bathroom, they went with solid matte black throughout the entire space.
This black frame on the shower is just stunning!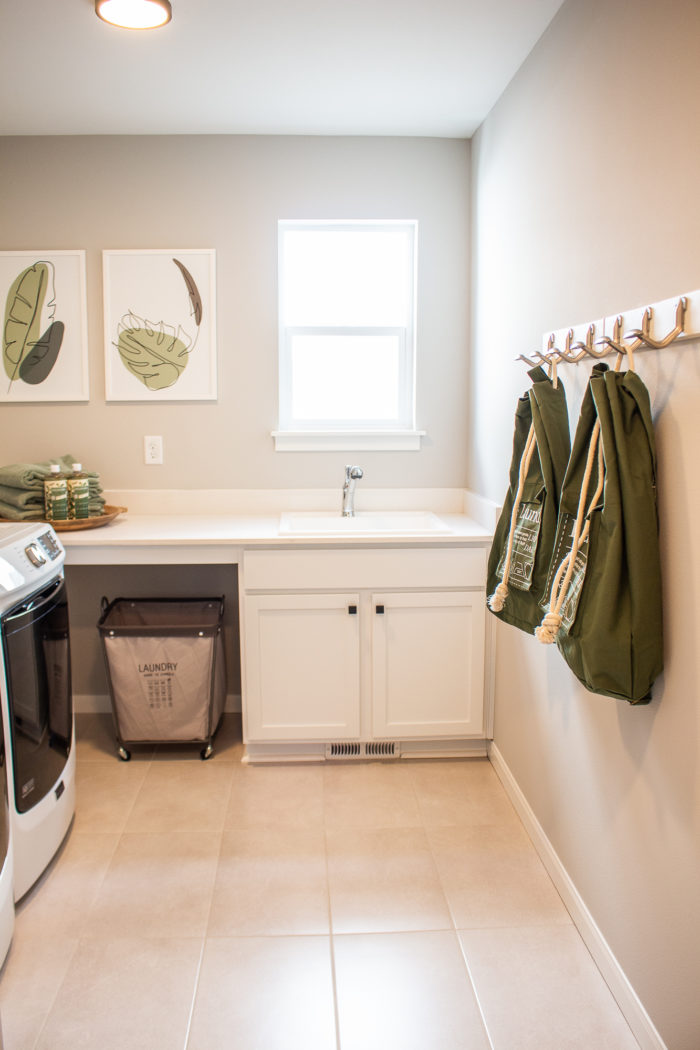 In the laundry room they paired the same chrome faucet with the black matte knobs like the kitchen.
Retro Mid Century Modern Design
The third home has a completely different style with a retro mid-century modern design. This will give you a look into some of the different cabinet styles and finishes that Tri Pointe Homes has to offer, from bold high-gloss cabinets to floor-to-ceiling tile fireplaces.
This kitchen has a cool mid-century modern design that mixes two, actually three, different cabinet styles. The lower cabinets are a more traditional shaker style cabinet with a grey-blue finish and the uppers are super modern with a high-gloss finish. This kitchen shows that you can merge two different styles together to create a unique and bold look.
Here is a closer look at the cabinet finishes. They pulled the look together by adding the same hardware on all of the cabinets.
Another investment opportunity you can choose is the fireplace finish. For a bold look go with a floor-to-ceiling dark tile.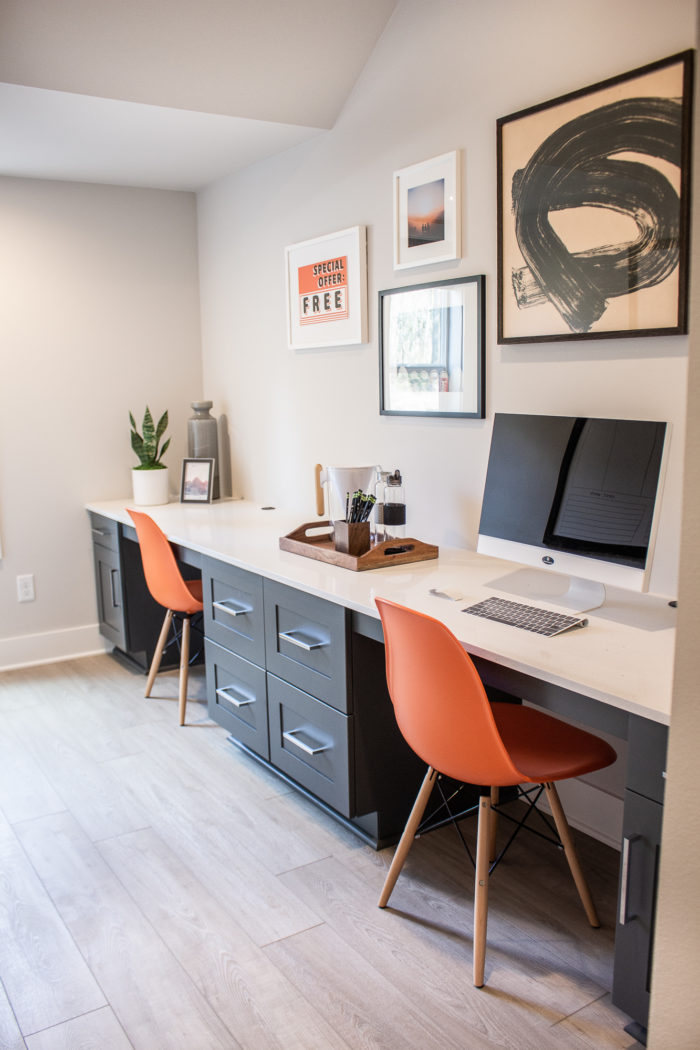 One of the things I love about every floor plan, is that they all have an extra, bonus space on the lower level for either a home school or home office. You can choose to add built-ins or additional cabinets and countertops to create a more functional space.
In this room, they took the same design as the lower cabinets in the kitchen and extended the look in here for a cohesive look.
The sleek black iron railing is my favorite from the three different model homes. I love the clean modern lines.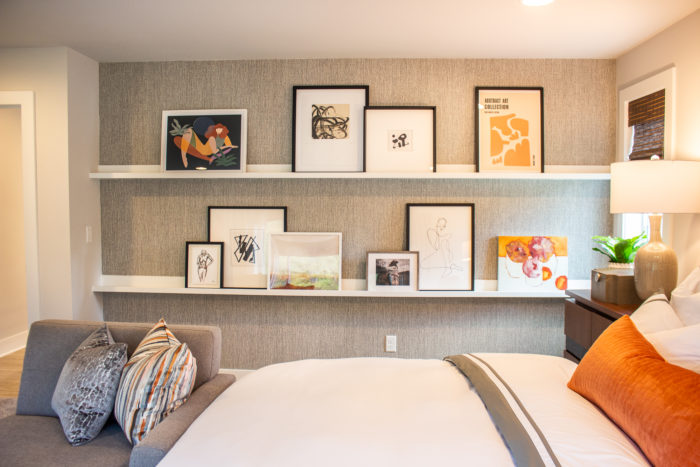 I wanted to show you this gallery wall in the primary bedroom. First, because it's a gorgeous design element and great idea for a large wall. Second, I love how this gallery wall includes every finish from around the house, the matte black, chrome, modern art and tropical landscape. The design elements give you a "mood board" for how to bring this look together.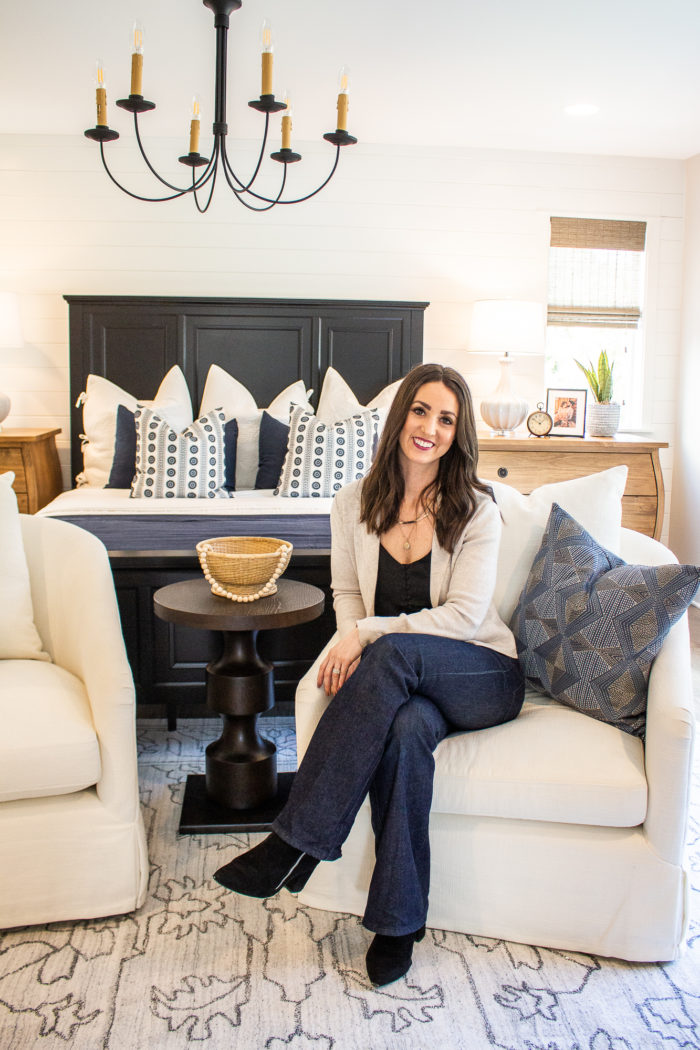 I will be touring you through three more Tri Pointe Home communities over the next few months! I am excited to show you even more home design trends and walk you through the design process.
Watch!
Here is a little video walkthrough I did of the three model homes in the Poulsbo Meadows Community.
Interested In Moving To This Community?
Sign up for the Poulsbo Meadows interest list tolearn more about availability.
You can also follow Tri Pointe Homes – Washington on Instagram for the latest.