Disclosure: This post is in partnership with True Value. 
A few weeks ago I shared a big sneak peek into Little Man's bedroom. I've been lacking inspiration for the other side of the room and I'm happy to announce that I found a solution! I basically had an entirely blank wall to begin with, I just had to work around the door. I wanted to do an accent wall that made a big impact but also had the modern rustic feel of our home. I love a good reclaimed wood or plank wall, but I wanted to do something different.
I found this pic on Pinterest and I instantly knew that is what I wanted to do. I decided to go with a DIY Wood Striped Wall, it was the perfect solution for the rustic modern look that I wanted.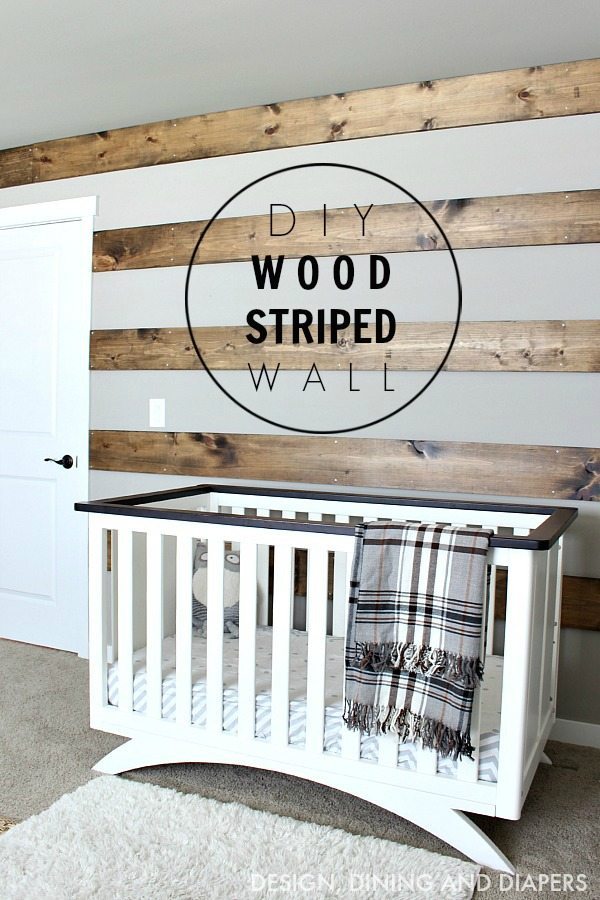 I love how this turned out! It was very easy to install and will be easy to take down (if we ever have to). It definitely adds a huge impact to the room and ties the whole look together.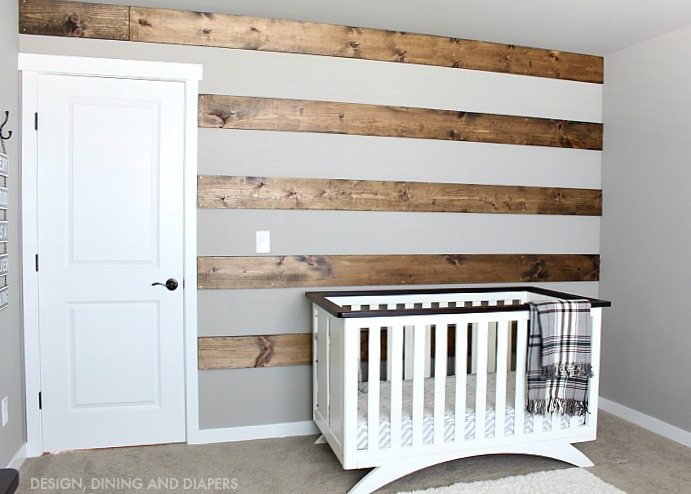 This look could work in almost any space and can be done with a variety of stains or distressing techniques to meet your needs.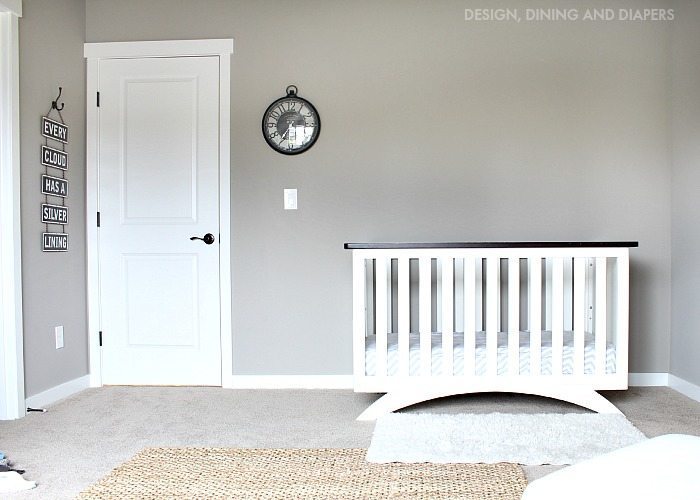 Here is what the wall looked like before. It was definitely lacking a 'wow' factor. If you are interested in doing something similar in your home, here is a quick tutorial for you.
SUPPLIES
– 1 in X 8 in X 12 ft boards (I used 5)
– 2″ Galvanized Nails
– Circular Saw
I started with 12ft boards and stained them in Minwax Dark Walnut. My favorite stain.
Then, I gave it two coats of polycrylic. I generally brush on my poly, but I decided to try the spray version and I actually really liked it. It might be my new go-to.
The most time consuming part of the project was planning. I wanted to avoid cutting the boards around the light switch and outlet, so I decided to space the boards around them. I ended up using 8″ boards and I left a 10.5″ space in-between them. I highly recommend using a pencil and marking out the boards and spaces before putting everything up.
I placed the first board flush against the ceiling. Thankfully our ceiling was level so it made it easy to keep a straight line, but if you are working in an older house I recommend being very careful about how you place the first board because that will affect the rest of the wall. You'll also want to use a level with each additional board just to double check. The first board was the only one that I had to add to, if you look closely there is a 21″ board filling in the gap on the upper left. The other boards fit perfectly.
To secure the boards to the wall, we first found the studs in the wall. Then used 2″ galvanized nails to secure them. We did 3 sets of nails into studs and then another set on the ends of each board. 
Our boards bowed a little bit at the ends, so it was important to add an extra set of nails to the ends to help the board stay flush with the door trim.
I love how our wall turned out! If you have any additional questions don't be afraid to ask :)
I was one of the bloggers selected by True Value to work on the DIY Squad. I have been compensated for my time commitment to the program as well as writing about my experience. I have also been compensated for the materials needed for my DIY project. However, my opinions are entirely my own and I have not been paid to publish positive comments.