Do you have a gallery wall in your home or do you want to start one? I've always wanted to start one in my home but just haven't found the perfect wall for it yet. Maybe in my next home (dreaming). But until then, I will continue collecting pinning them for inspiration.
Gallery walls are a great way to fill empty wall space. They can be symmetrical or placed in more of a collage style. They can be filled with black & white photos or filled with keepsakes and a special photos. Frames can be the same color  or they can be an eclectic arrangement. I think a wall gallery can actually tell a lot about someone's design style and personality. Something to keep in mind next time you are invited over to someone's house!
Different Types of Wall Galleries
Ok let's dive in.
The minute I saw this one I fell in love. The rustic elements against the blue are gorgeous. (source: Pottery Barn via Pinterest)
Symmetrical Wall Gallery
If you like to keep things more symmetrical and contemporary here is a beautiful gallery to fit your style. (source: Unknown from Pinterest)
Eclectic Wall Gallery
From Gardners 2 Bergers put together this vintage gallery wall filled with white and espresso frames. 
There is so much you can do with maps including a whole wall gallery. (source: Pinterest)
I'm a sucker for anything in neutral tones, this is simply elegant. (source: Pinterest from Decor Pad)
If you want to put together a wall gallery using personal memoirs, you have to check out John & Sherry's over at Young House Love. 
If the thought of arranging all of these frames stresses you out, here is a ready-to-install wall gallery from Red Envelope. 
The striped walls, black mirror, it all works. (source: unknown via Pinterest)
Here are a few that I've created for our own home!
Wall Galleries Using Printables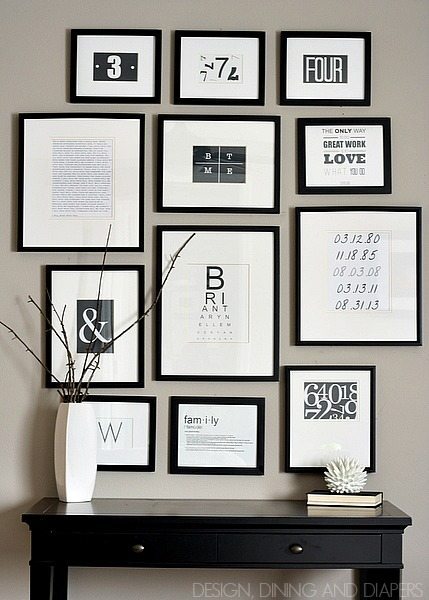 I put together this Black and White Gallery wall in our previous home! You can download many of the printables here!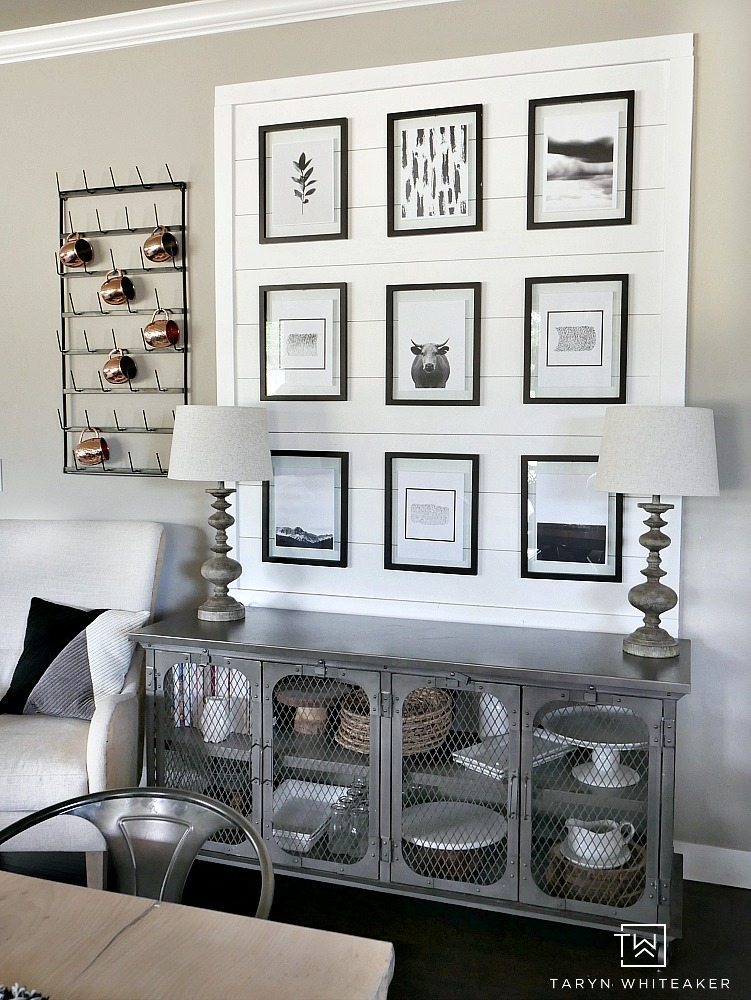 In our current home, we created this shiplap wall so I could display various wall galleries! I switch them out throughout the year, here is my Rustic Modern display, and I've also create a black and white tropical display along with a more farmhouse inspired one.
Gallery walls don't always need to be one big display on the wall, they can also be more of a vignette. Here is a gallery I created filled with an eclectic mixture of prints, family photos and accessories.
If you want to see more examples, I have a whole board on Pinterest here.
Do you have a wall gallery in your home? If so, what does it say about you?
SaveSave