Disclosure: This post is sponsored by Babbleboxx on behalf of Soraa. All opinions are my own. 
One thing we don't talk about enough about is lighting in interior design. Think about it, you put all this time into picking out  the perfect paint color, artwork to complement the space and the perfect accessories and to think that poor lighting can ruin all of it.  It's something I pay a lot of attention to in my designs because the wrong light bulbs can instantly make my walls look too cream or not enough light can make a space feel dark and uninviting. I normally shoot with the lights off but today I want to show you our cozy fall family room on a rainy day and how awesome these Soraa Radiant LED Lights are!
Before I dive in, I want to say upfront that all these picture are straight from my camera. I did bare minimum editing on them (sharpening, etc.) but did not change the color AT ALL.
Cozy Fall Family Room
I've been slowly minimizing our decor. Trying to declutter even more than I already do and making each individual piece stand out a little more. With the new season rolling in, I took this time to make a few subtle tweaks to this area as I decorate for all. Removing a few of the pictures, changing out blankets and simplifying a little bit. I want it to feel a little crisper. I'm still getting used to the new white color in here and how to best decorate with it. I think simple is best and I'm not done yet! More changes are coming soon.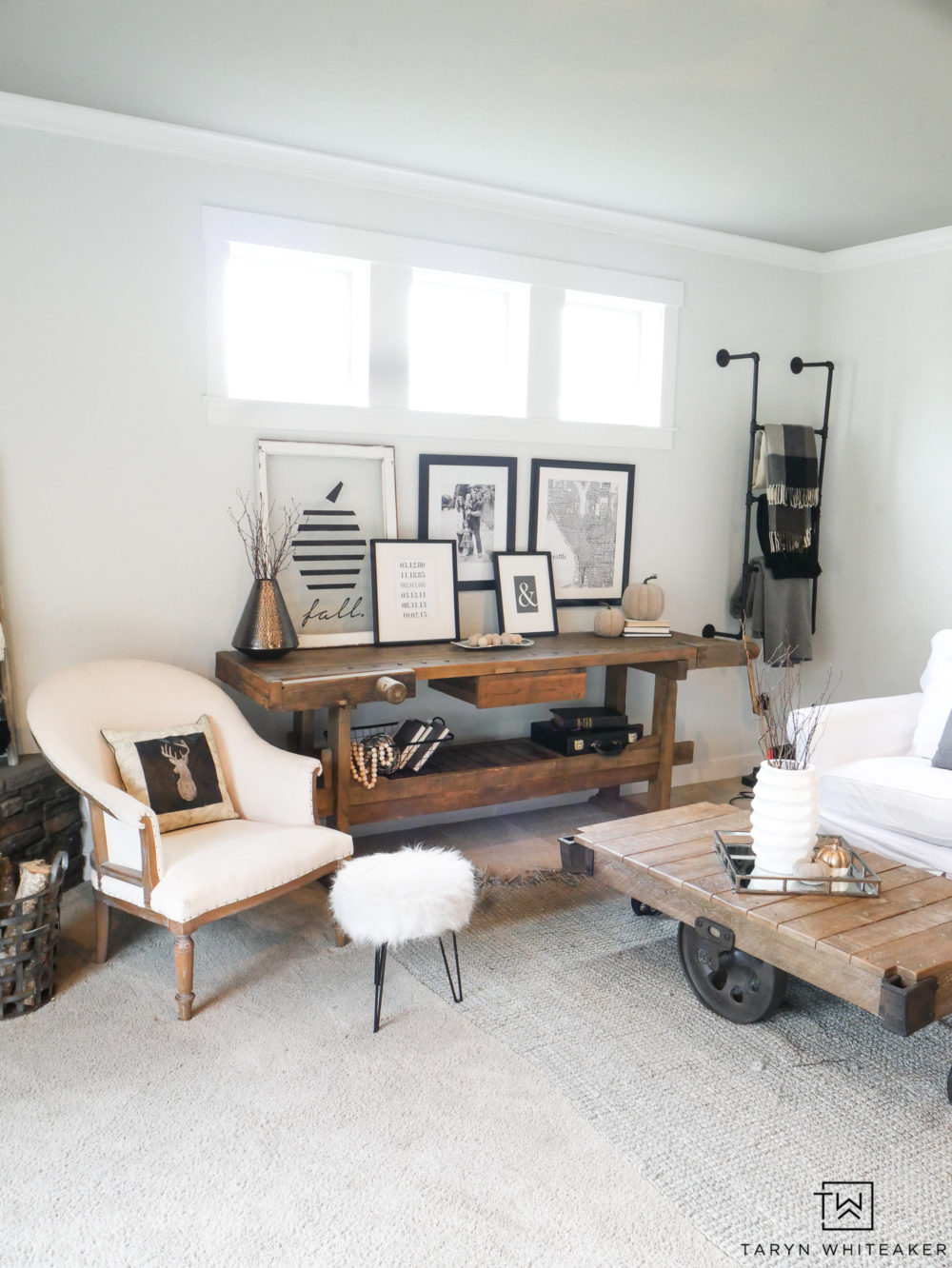 Picking the right paint color to go with this space was SO hard. I went through a million different shades of white and eventually ended up with Reserved White. The thing about this color, and all paint colors, is that it changes depending on the light and time of day. This color often looks bright white in some lights and a very subtle gray in others. So how you get your paint color to look the way you want it? Easy. The right lighting.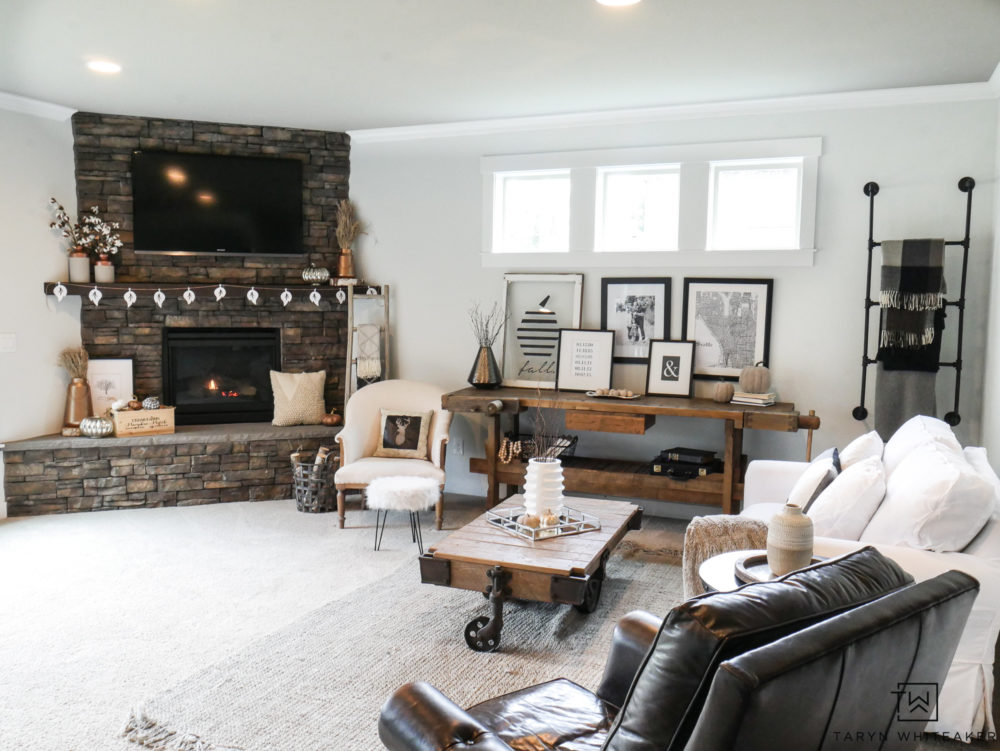 Picking The Right Lighting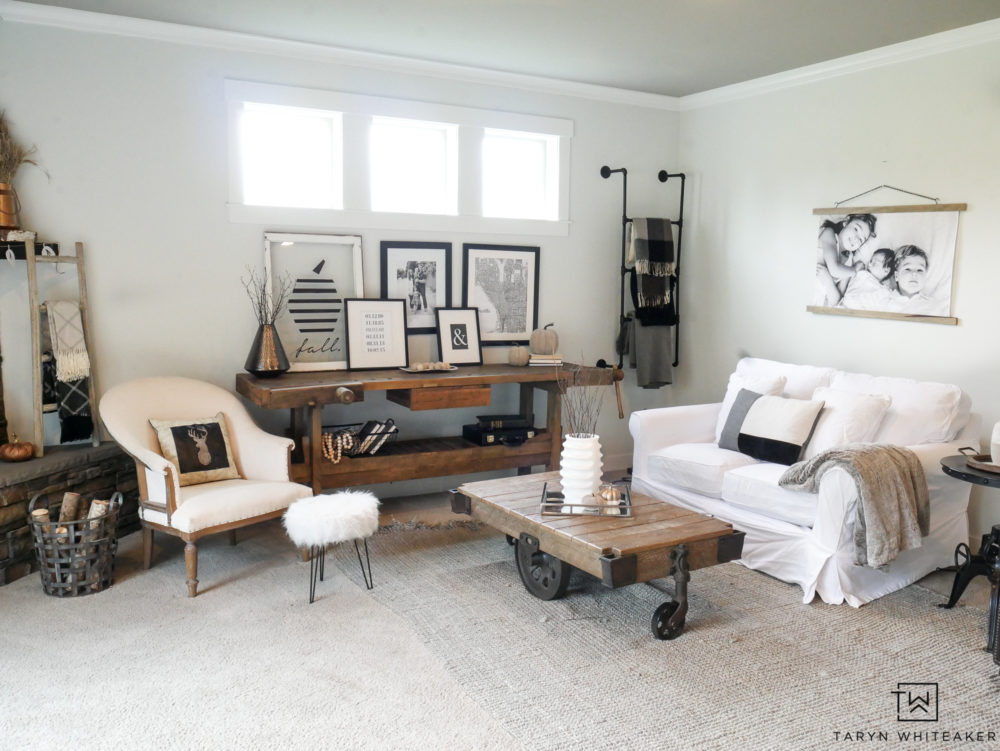 You may notice that a standard soft lightbulb casts a subtle yellow tint on your walls. Or makes your space have too many warm tones when you want to see the true colors of your design. This is because they don't show deep reds and true whites.
The Soraa Radiant LED is designed with full spectrum technology so you see every color as nature intended.  The lightbulbs truly make this space feel so crisp!  Our downstairs is one big open space. Our kitchen, dining room and family room all flow together and include TONS of recessed lighting.
I switched out six of the lightbulbs on this side of the family room and left the rest of the downstairs the same. I am not over exaggerating when I say there is a huge difference between the two spaces. The area with the Soraa Radiant LED feels so clean, that is the best way to describe it. Because of the full spectrum color, my wall color looks exactly the way I intended it and it's helped me make more design decisions in this space because it looks just the way I want it to.
The other half of our downstairs definitely has a very subtle warm cast on it. I can definitely see the difference at night!
Our house already feels really bright at night because of all the recessed lights we have in our home. But getting the right color truly is key. Now that I see the difference with these bulbs, I want to switch out my whole downstairs! It's crazy, but I definitely notice a difference.
SaveSave
SaveSave
SaveSave