Happy December! It feels so so good to be kicking off my first mini holiday home tour of the year! If you are stopping by from Remington Avenue, so great to have you here!
I've been busy decorating our home over the past few weeks. It's a process I love and really enjoy doing each year. Every year I like to pick a different theme for my holiday decor and this year I'm all about black and white and plaid! It's probably the most 'traditional' Christmas decor I've ever used before.
Today, I'm going to be showing you some Very Plaid Christmas Decorating Ideas and taking a look at our porch, entry way and outdoor living space (my favorite!). Let's dive in!
I showed off my porch a few weeks ago. I went with a more traditional look out here an added some fun festive snowflakes.
Some seasons it's hard to spend time/energy decorating the entire house. If I only have time to decorate one space, it would be our porch. I love having a freshly decorated space to welcome guests.
Ready to come inside?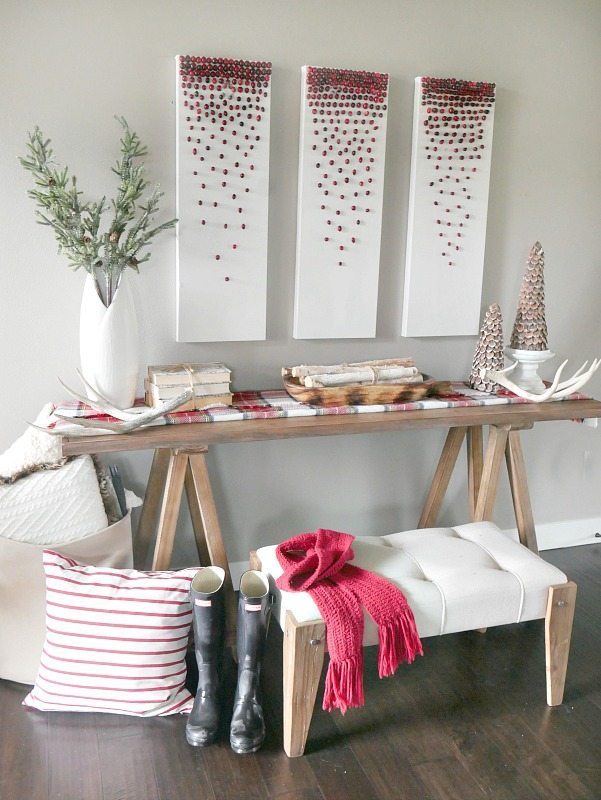 Last week I showed you how I made this modern artwork using cranberries! I decide to transition the fall vignette into a Christmas one using a little more plaid, pillows and greenery.
People often ask me how I store all of our seasonal decor. But the thing is, I often just use things I have around the house. For example, I use my own personal scarf collection for seasonal decor allll the time! For this runner, I just flattened and folded a blanket scarf from Target and turned it into a table runner.
Next week I'll be showing you our full living room with our tree and mantel, so today I'm going to walk straight through our house and take you outside into our outdoor living space!
This is my favorite place in our home and my favorite place to decorate for the holidays. In fact, I just sat out here the other night with my kids roasting marshmallows and enjoying a nice fire. No matter how cold it is or how hard it's raining, this space is always cozy!
I wanted to embrace the outdoor nature of the space and bring in lots of greenery and trees and make it a little woodsy. And the plaid pillows from Porter Lane Home are just the perfect touch.
Of course our sweet Kona girl wants to be everywhere we are and enjoys staying cozy out here too!
Looking forward to sharing more spaces with you next week! Now hop on over to Beautiful Treasures Blog for more Christmas inspiration and see even more below.
SEE MORE CHRISTMAS TOURS: