Alright, here is the deal. If there is one area I could work on, it would be organization. It's not that I don't like it, it's just that I'm the creative type that has a very messy way of doing things and organization is typically on the back burner. So when I have a chance to start fresh and make our lives a little easier, I take it! Up until now all my Christmas decor has been stored away in mismatched plastic bins and I cross my fingers every year that my glass ornaments don't break. But all that is changing this year!
I partnered up with Balsam Hill to show you some amazing Christmas Decor Organization Ideas! 
Christmas Decor Organization Ideas

I worked with Balsam Hill to decorate our Christmas Mantel this year, and I couldn't have been more impressed with the quality of their products. The greenery is so realistic, the faux candles are the best I have ever seen, and all the decor is beautiful. With all of the gorgeous new decor I've accumulated, I wanted to make sure I kept it all nice and preserved for years to come.
Organizing Christmas Decor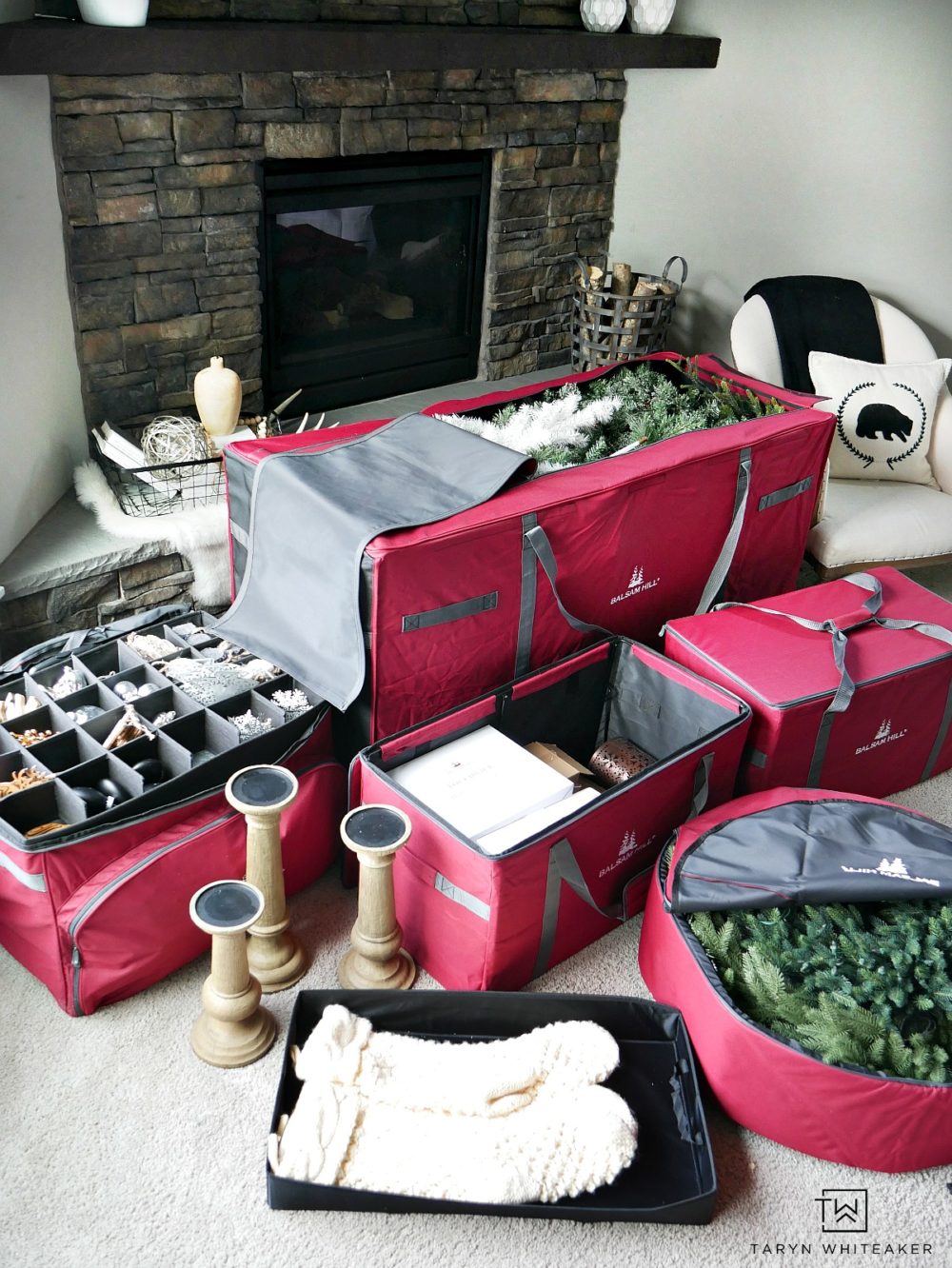 I spent the last two days taking down our Christmas decor and reorganizing it in these beautiful and well made storage bags. I repackaged everything in very strategic ways to maximize the space and keep like-items together. Let's take a closer look. 
I used the small wreath bag to store my wreath. But the thing is, this 'small' bag actually held way more than just a wreath! I was able to place two pieces of garland gently coiled up, along with my wreath and I still had room! All of the pieces come with easy carrying handles for ease of use and transportation.
Storing Christmas Ornaments
Let's move onto ornaments. For the past several years, all of my ornaments get stored away in plastic storage bins. Sometimes I save the original boxes for the glass ones but otherwise they are all sitting in a bin all together. You guys, this ornament storage bag is seriously AMAZZZING!!! I think I need another one because I'm obsessed with how organized all my ornaments are now! This bag has four tiers and I was able to pack away almost all my ornaments in here. I sorted mine by color and size and they just look so pretty all stored away!
I fit one large ball in each cube, or two medium sized ones, or a bunch of small ones. 
On the top layer, I placed all my ornaments that have awkward shapes and sizes. This way, if they stuck out a little they wouldn't be smooshed by another layer. This worked out great, I was still able to zip the cover over them and had no issues.
Packing Away Artificial Trees

Now this bag is the queen of storage bags. This multi-purpose greenery bag is way bigger than I expected, but it holds SO much. I will warn you, that if you don't have a lot of extra space in your garage, you should probably stick with the smaller storage bags. But thankfully we had the room for it and it really is awesome. In this bag I was able to fit, FOUR vintage sleds, one 7ft fake tree, two 3ft trees, and 3 mini feather trees. That is a TON. 


These multi-purpose storage bins are my favorite. And they are really reasonable too. You can fit heavier items in the bottom, and then place this smaller shelf on top for lighter weight or more fragile items.  In one, I placed all my random decor, ie. signs, prints, furs, reindeer, antlers, etc, and then in the other I placed all fragile items that need to be in boxes. I like keep all like items together to help me find things the following year.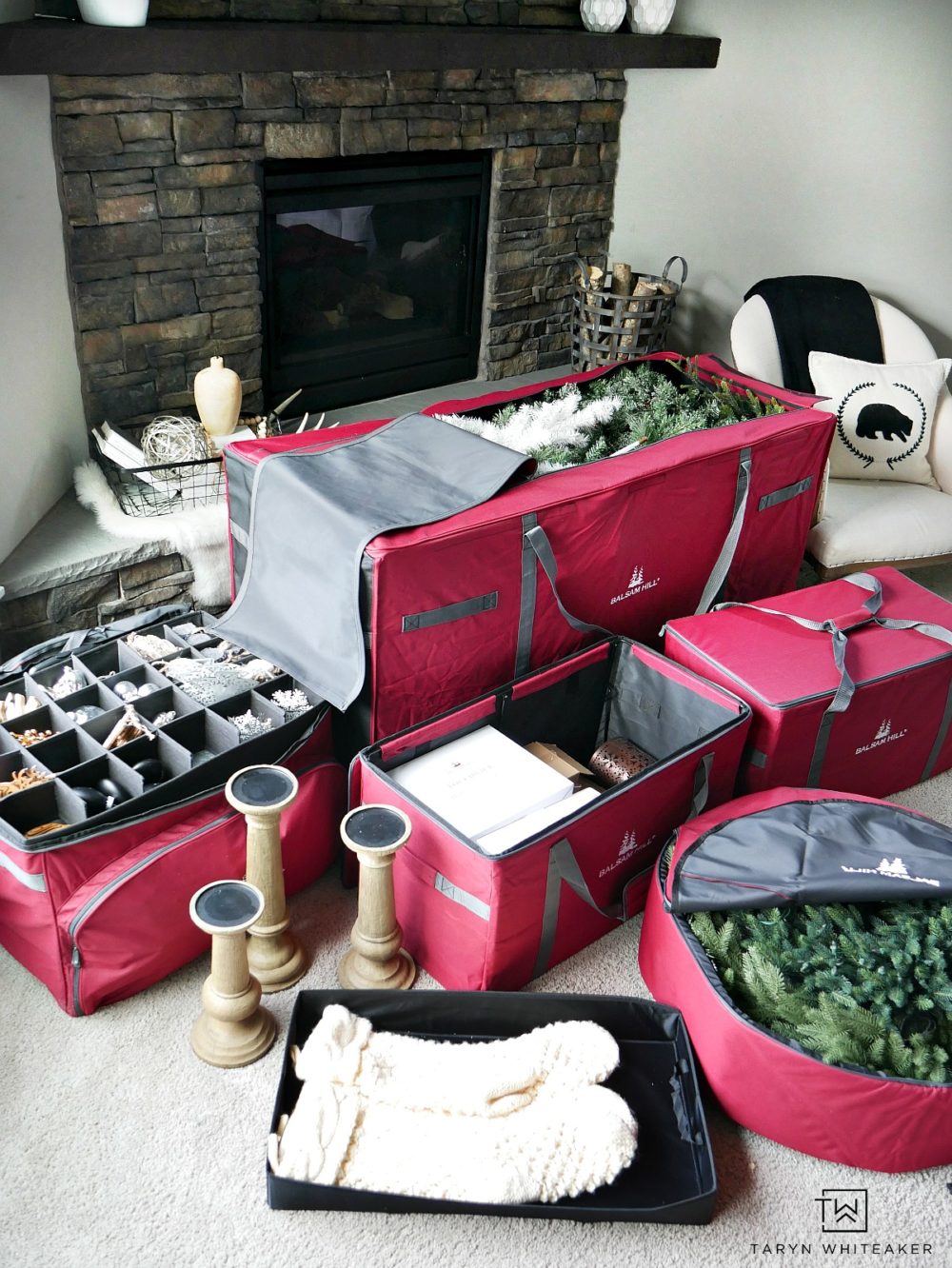 I really am excited about all my new organization bags! My storage bins and garage have never looked better! While these items are an investment, they are very high quality products and ones I know we will have for years (probably evens decades) to come!
For more Holiday Decor and Organization tips follow Balsam Hill on Instagram.
SaveSave