Disclosure: I am a member of the BHG Live Better Network. I received compensation from BHG at Walmart for this post. 
Are you hosting a holiday party this year or helping with one? We are finally in a home big enough for entertaining I am hoping to host a Christmas party this year. And that now that we have kids, as do most of our friends, kids will be included as well. So what better way to inlude them in the party than have a Christmas Cookie Decorating Station!
Christmas Cookie Decorating Station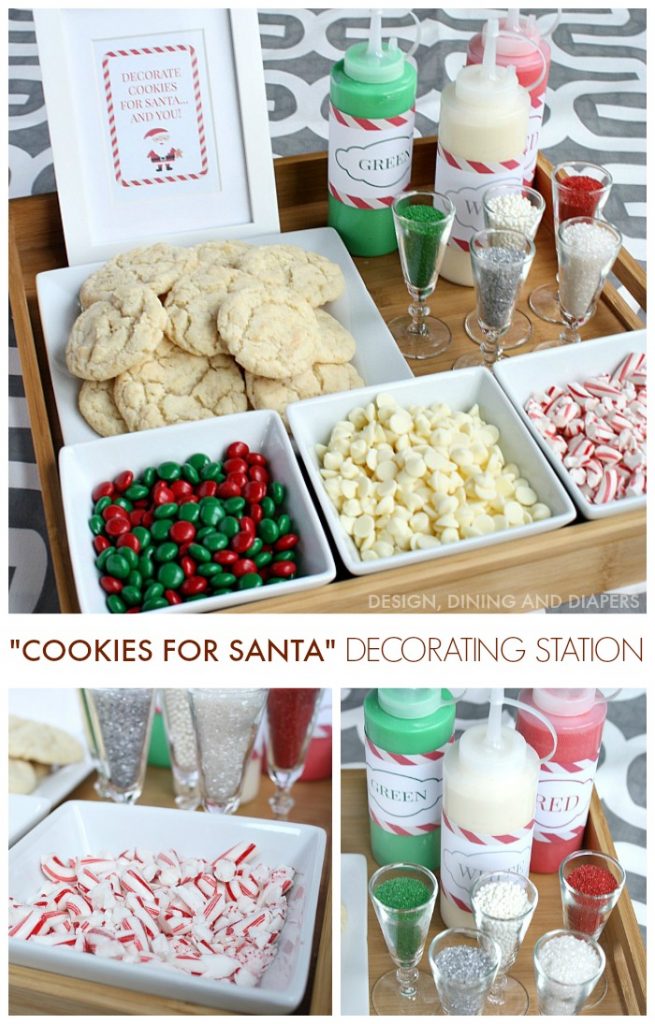 And let's be honest, I'm pretty sure it's for the adults too. At least I'll be diving in :)
The holidays always seem to fly by and often times we end up scrambling at the last minute, like making 'Cookies for Santa' for Christmas Eve. With this Christmas Cookie Decorating Station your guests will have a fun activity at your party AND they can take some cookies home to leave out for Santa!
Christmas Cookie Toppings
I love these square appetizer bowls from BHG at Walmart. They are the perfect size for holding candy and can be used again and again and again.
When it comes to kid activities, you need to think about messes. I saw this idea of using squeeze bottles for frosting and it worked out perfect for this concept. It was mess free and also looks polished.
These little sprinkle containers are the only things pictured that weren't purchased at Walmart. They were my Grandma's and I absolutely adore them. I love being able to use her dishes for events!
If you want to put together your own Christmas Cookie Decorating Station I've put together a list of everything I used for my station including the printables!
I was so excited when I found all of these BHG Products at Walmart for my station. I love pretty white dishes, they are so clean and classy and they can be used again and again and again!
Christmas Cookie Station Shopping List:
– Better Homes and Gardens Laminated Bamboo Serving Tray
– (3) Better Homes and Gardens 5″ Square Appetizer Bowls
– Better Homes and Gardens 8.5″ Porcelain Soft Square Salad Plate
– Better Homes and Gardens 4×6 Frame
– Toppings of choice
Free Christmas Printables:
CLICK TO DOWNLOAD GREEN : CLICK TO DOWNLOAD WHITE : CLICK TO DOWNLOAD RED

Now go enjoy your cookies! Yum!



Follow BHG Live Better Network on Facebook : Instagram : Twitter: Pinterest
SaveSave