It was around this time last year when I started our master bedroom makeover. Yes my friends, it's been over a year and I am not even close to being done. I'm chipping away little by little, in between the kitchen remodel, bathroom remodel and my daughter's new big girl room. And on a side note, I am making tons of progress and hope to have all of these spaces revealed by January! But let's look at the new black and white gallery wall!
Black and White Gallery Wall
In order to make room for Little Man's arrival, we had to play a little game of musical chairs and moved my daughter out of the nursery and into our guest bedroom and had to move everything out of the guest bedroom into…. well that's a great question. I had to either find a new place for it or purge. I did a lot of purging. But some of it ended up in our master bedroom, like this desk and all of these gallery frames. They were exactly what I needed in this space in our bedroom.
Modern Black Frames For Cohesive Gallery Wall
I took these frames, which once held photos, and turned them into a unique black and white gallery wall. I wanted it to have a vintage typography theme and I love how it turned out. And guess what, it is made entirely of DIY graphics printed on card stock. So yup, I didn't pay a penny to fill these frames!
While artistic to the eye, it is actually filled with sentiments. A few months ago I shared a post on How I Create A Meaningful Home, and I this is just another project that falls into that category. Almost every piece has a story behind it and meaning to my family.
Within the wall you will find the lyrics to my husband and my song, an eye chart made with our families names, a number graphic made with our birthdays and wedding anniversary, several meaningful initials and the numbers on top represent my favorite scripture.
And because we all love before and after pics, here is how this room has taken shape over the past year.
Quite the difference, I must say!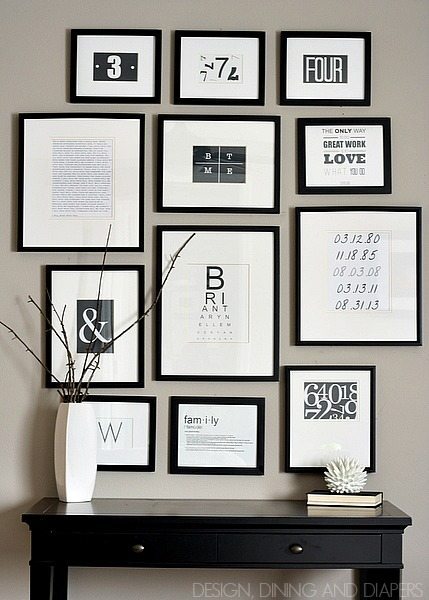 All of the frames were purchased at Target.