It's been a wonderful summer here in the PNW, but all good things must come to an end. I am still loving our warm weather and sunshine but there is also a coolness in the air and school on the horizon. Today, I start the slow transition to fall by taking down our summer decor and incorporating tons of soft texture, earth tones and pumpkins!!!
Incorporating pumpkins into your decor is one of the easiest ways to add touches of fall to your home. You don't even have to use traditional colors either, you can use white ones, fake ones, or painted ones! I use white pumpkins every single year, but I also change up how I use them. Today, I want to share different ways to decorate with pumpkins.
These paint dripped pumpkins are one of my favorite pumpkins I've done! They blend well with my modern decor but also scream fall. Display them on a coffee table with a faux fur throw for added texture and elegance.

When it comes to decorating with pumpkins, you can never have too many! At least that is my thought! Last year, I decorated my fall porch with overflowing white pumpkins and hints of metallic. Stuff them, stack them and prop them. Add additional props like a chair or stool to give them height. The more pumpkins the better!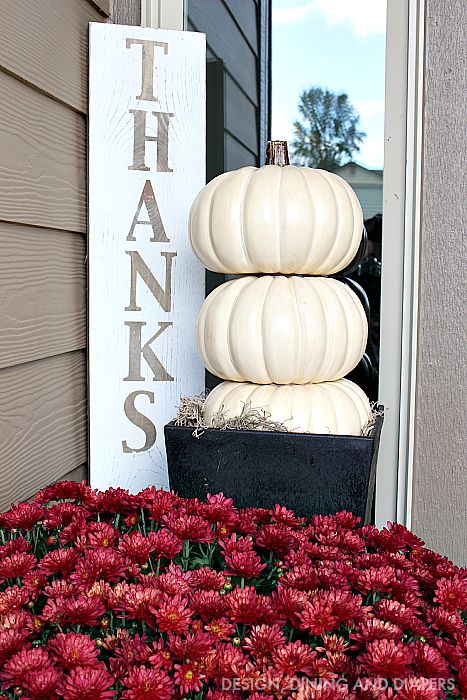 If you prefer a sleeker look, try creating these pumpkin topiaries. They give a beautiful traditional fall look while keeping your porch put together and pretty! To add dimension to your pumpkin display, add contrasting colors like white pumpkins and bright mums!
Most of the pumpkins I use around my home are fake, I do this so they won't rot and I can keep them year after year! But if you want to use real ones and have a hard time finding white ones, you can always spray paint them like I did in this fall porch!
Now that you have your outside decorated, how about entertaining your guests for fall? I love using baby white pumpkins for my fall and Thanksgiving tablescapes.  Display the pumpkins down the table runner and add pops of greenery. This creates a very organic and fresh feeling to your table. You can view more of this modern fall tablescape here.
And sometimes simple is best when it comes to table decor, try adding a simple baby pumpkin to each table setting for a little fall flare. 

Sometimes pumpkins need to be the standout item, while other times they just need to be fillers. For most of my displays, I create a fall vignette using blanket, pillows and natural textures such as logs, branches or leaves, and then I use a few pumpkins to fill blank areas such as the picture above. You can view the full rustic mantel here. 
Here is another way to work with pumpkins, place a few smaller pumpkins on top of candle pillars to give height and create a cute pumpkin display.
How do you use pumpkins around your home? I can't wait to play around with more ideas today. I'll be sharing more pumpkins and fall ideas through the week!