Wow what a year it has been for DDD. I don't even know where to begin. It's seems like yesterday I was just writing a recap for 2011 and thinking about what would be in store for 2012. The last 365 days of this blog have surpassed any expectations and it has been a pure joy to be here (almost) every day sharing new projects and inspirations with you.
So as we wind down the year here at DDD, I thought I'd share the most popular projects from 2012.
For the record, Baby E's Nursery, my Pretty N' Pink Tutu, and Burlap Holiday Pillows were technically in the top 10 most viewed projects this year, but since we are wrapping up 2012 I wanted to keep this post to top 10 to projects completed in this year. Hope you don't mind!
So here we go, drum roll please…
Here are the Top 10 Design, Dining + Diapers Projects of 2012, chosen by YOU!
*According to Google Analytics Pageviews
10. Drab to Fab Tray Transformation
9. Industrial Family Room Makeover 
 8. Goodwill Chair Makeover for $1.30
6. Pinterest Cleaning Tip Tested (I'm still a little surprised this is one of my most viewed posts!)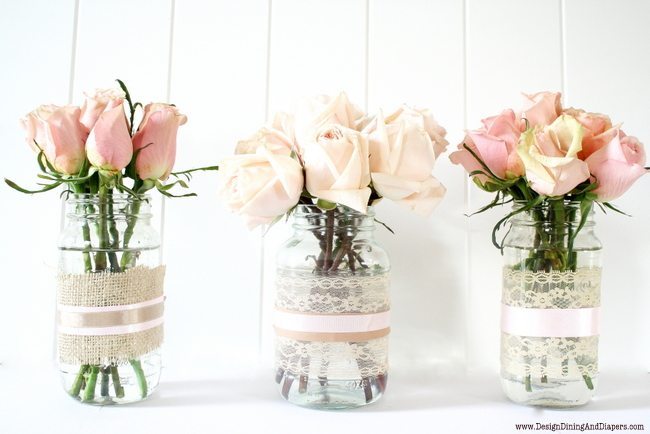 5. Shabby Chic Vases from Recycled Jars
4. Upcycled Side Table Makeover Using Reclaimed Wood

2. Miss E's Shabby Chic 1st Birthday Party
MOST VIEWED PROJECT OF 2012
1. Tea-Stained Coffee Filter Wreath
 For more projects, you can view my full Project Gallery HERE.
And lastly, many of these projects wouldn't have been as popular as they were if it wasn't for all of the amazing blogs that have sent people my way. I want to give a huge thank you to my Top 10 Referring Blogs of 2012. Thank you for featuring my work, hosting great link parties and being so supportive.
2. CraftGawker
 So which DDD project was your favorite? Did it make the list?