Are you tired of fall home tours yet? I actually wasn't planning on doing a home tour this season, I sorta just wanted to do a more simplified version of fall around here… but little by little more and more pumpkins and furs and cotton started to fill my house and before I knew it the entire thing was decorated. I just couldn't help myself!
Sooo since it's already done, I decided to give you all a little tour of our little touches of fall around the house! While some areas of our home are more decorated than other, and some years I'm able to do more and some less. This year I'm going to take you on a tour and tell you a few tips for how I add fall to various areas of our home without making any huge changes.
You probably recognize our fall porch since I shared it already during our fall porch hop! If you can only decorate one part of your home for each season, I always start with our porch! It makes the rest of the home feel so welcoming. When it comes to seasonal decor, I always start with what I already have but also like to mix up the overall theme. This year I went with rustic warm tones with pops of a rusty orange and metallic.
Oh and have I mentioned how much I love white pumpkins? They are my love language. I only use white :)
Into our entry way I added a few fall touches with rustic branches and a few pumpkins. Something very simple and takes very little times and funds.
Switching out throw blankets are also an easy way to transition to the seasons. I went from a striped gray throw to a wool plaid with dark colors.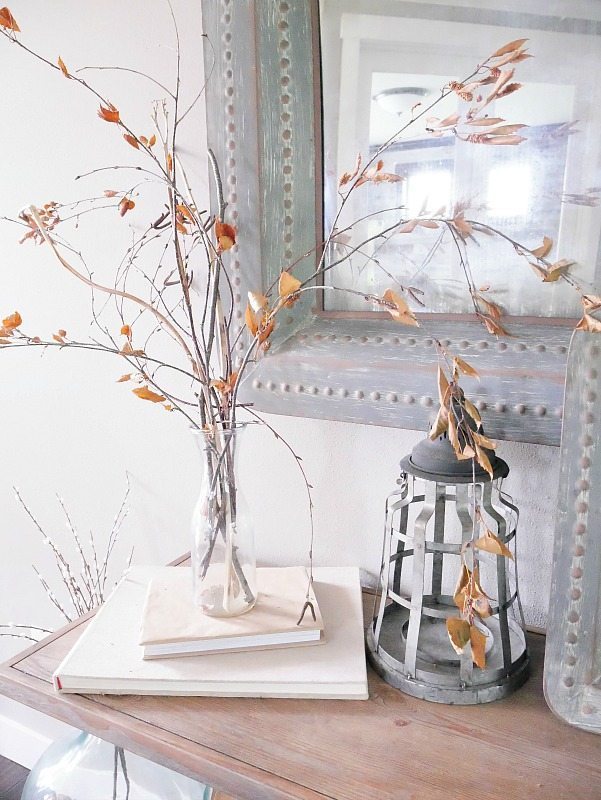 The family room is the heart of our home. It's the place where we spend the most time and see the most traffic. Sitting areas are also very easy to transition for the seasons. When it comes to fall I'm all about texture! LOTS OF TEXTURE! Mixing cable knit, fur, plaid and subtle patterns is a great way to completely give a space a cozy look that you just want to curl up in!
Pumpkins seemed to make their way everywhere around our house this year. I've gathered quite the collection over the years and I love adding them to my existing decor. This year I placed several pumpkins up on pedestals and added them to vignettes.
There are time when I like to add big statement pieces to our island and other times when I like to just keep it plain and simple. A bowl of beautiful apples screams fall. And reminds the kids get an apple a day!
And if you are planning on doing any entertaining, here is my Fall Vignette I put together for our Fall Printable hop!
Hope you enjoyed seeing our home all put together for fall! It's my favorite time of year, like many of you! And I'm sure between now and Thanksgiving, I'll be adding even more touches and changing things up!
If you want, you can see last year's fall tour here.