Disclosure: This post is sponsored by Stikwood, all opinions and product selections are my own!
The bonus room reveal is DONE! So let's chat about some of the big DIY projects that took place in here. Starting with Installing a Stikwood Ceiling! I wanted to create a dark moody space in here and making the ceiling dark made such a difference! The Stikwood planks not only gave me the look I wanted, but it also added so much texture. Today I want to show you how easy it is to install, not only on a ceiling but on walls too!
Stikwood Plank Ceiling
Doesn't it look SO gorgeous! I went with the Charcoal Stikwood. It does have a good amount of brown undertones to it in certain lighting. If you like the darker look, they also have one called Onyx you may want to sample.
Installing A Stikwood Ceiling
The Stikwood arrives all wrapped up in smaller boxes. It comes with a variety of plank lengths ranging from about 12″-48″ long.
I would encourage you to open a few boxes at a time and spread out the
Installing the ceiling is no different than installed a wall! The adhesive strips are very strong and went right onto the ceiling with no problem! You just peel them off and then stick straight to the surface.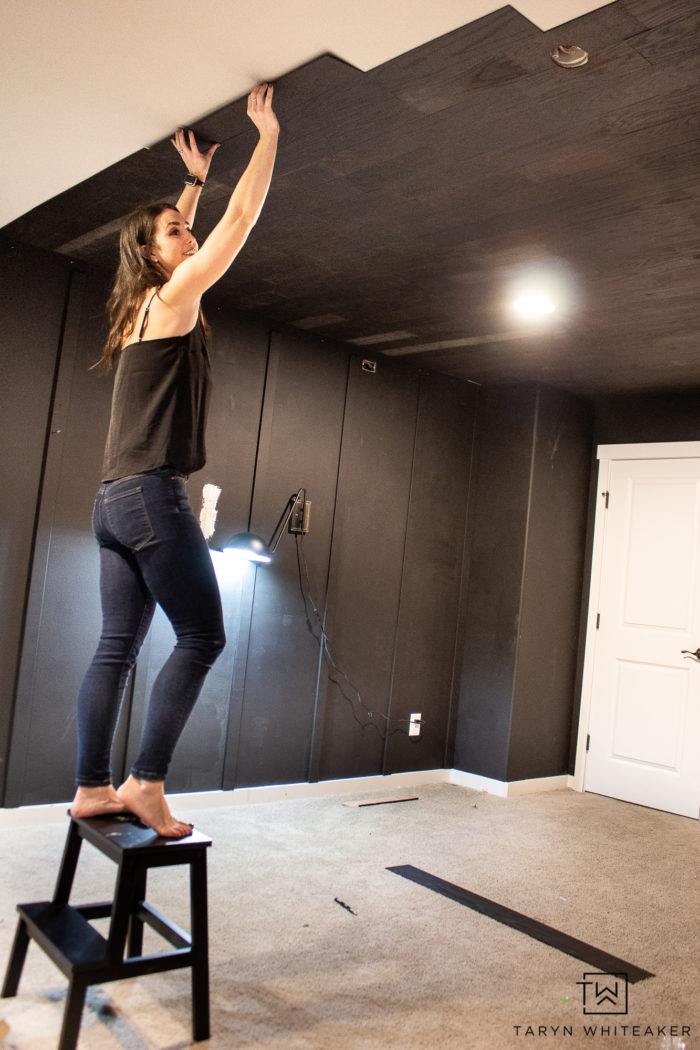 The Stikwood does come with a roller, I did not use it on the ceiling but if you were doing a wall you can use the rubber roller to help secure them to the wall and smooth out all the corner. I gently pushed mine onto the ceiling and made sure I pushed on all surfaces.
To trim the wood on the edge pieces, I used my chop saw. It worked perfectly! The wood it only about 1/4″ thick, so it does cut extremely easy. Just make sure to leave the strips on the back of the adhesive before you cut!
To cut around the canned lights, I used my small table saw. I drew out a template and then cut the circle shape.
The whole project was very easy, but it is time consuming. Our ceiling is about 310 square feet, I did the entire ceiling myself and it took about 10 hours. Obviously if you had 2 or more people doing it at the same time it would be a lot faster! Or if you had someone pulling the strips off and someone else putting them up.
DIY Plank Ceiling Reveal
I absolutely love how it turned out!
And it looks even more amazing now that the whole room is done!
Take a tour of the full room here, or head to Stikwood and browse their color samples!