I'm slowly getting in the Halloween spirit around here by sharing an easy way to spruce up your porch or mantel with these Illuminated Ghost Garland.
Do you decorate for Halloween or do you just keep your fall decor up? I'll be honest, I'm not a huge fan of Halloween but some of the decor and crafts are just too cute! I have a few things planned for this year and I'm sharing my first one today.
Illuminated Ghost Garland
Sometimes it's hard to find Halloween decor that will stand out both during the day and at night for all of those trick-or-treaters. This ghost garland will look adorable on your porch during the day and at night…
…Flip on the switch to see the ghosts light up for your visitors! Boo!
And believe it or not, it's super simple to make.
Ghost Garland Supplies:
– Strand of White Lantern Lights
– Scissors
Cut ten 14″ squares. Fold them into a triangle and cut the tip off to create a hole in the center of the square.
Carefully remove the lantern from the light. Thread the light through the hole in the square piece of fabric.
Carefully secure the lantern back in place and wrap the fabric around the sphere.
Tie a piece of string around the bottom of the sphere to hold the fabric in place. Using a sharpie, draw ghostly eyes and a mouth!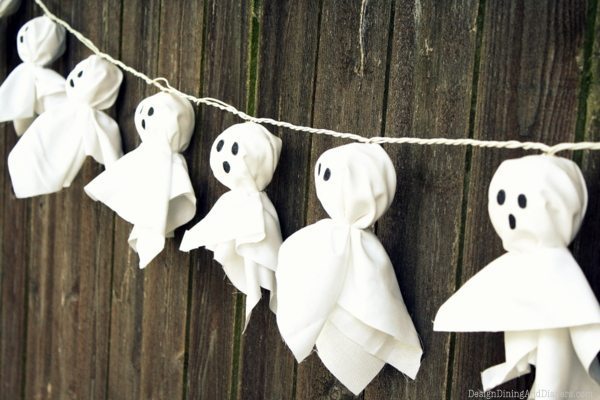 And you are done! Where would you put your little ghosts?
Other Halloween Crafts and Food
SaveSave