Happy Wednesday! It's October and Halloween seems to be at the top of everyone's minds. Today, I've partnered with some awesome bloggers to bring you a whole lot of Halloween inspiration, specifically involving witches… ohhhhh!  So are you ready to see my witch craft? Check out these Witch Hat Cupcakes, the perfect treat to take to a party!
Witch Hat Cupcakes
How fun are these? They are relatively easy to make, they are just a little tedious. But I promise the kids will love them :)
How To Make Your Own Witch Cupcakes
– Cookies
– Chocolate Chips
– Chocolate Cupcakes
– Buttercream Frosting (1/2 Cup Butter, 2 Tbsp Milk, 2-3 Cups Powdered Sugar)
– Red and Yellow Food Coloring

Start by melting the chocolate chips on medium/low in a saucepan. Once they are fully melted roll the sugar cones in the chocolate covering the entire suraface.
Next, roll the cones into the purple sugar sprinkles. I also found that sprinkling them on worked too.
They them on a piece of wax paper to harden. Mine were hard after 2 hours, but you could also place them in the freezer to speed up the process.
Now it's time to assemble the hats. Get out your cookies, cones and icing and we are good to go.
Line the bottom of the cone with the frosting and attach it to the flat side of the cookie.
Using a round frosting tip, decorate the edges.
If you wanted to, you could stop here and just have witch hat cookies, but I think they look pretty darn cute as cupcake toppers. So bake yourself a batch of chocolate cupcakes (choose your favorite recipe).
Then make a batch of buttercream frosting. I always use the basic recipe of 1/2 cup butter, 2 Tbsp milk, 2-3 cups of powdered sugar. Just slowly add in the sugar until it is the consistency that you desire. Lastly, add a few drops of red and yellow food coloring to create orange.
Frost your cupcakes and top them off with a little Witch Hat!
Cute Halloween Party Treats
Looking for more Witch Hat ideas? Check out all of these fabulous projects (click each image to see the full post).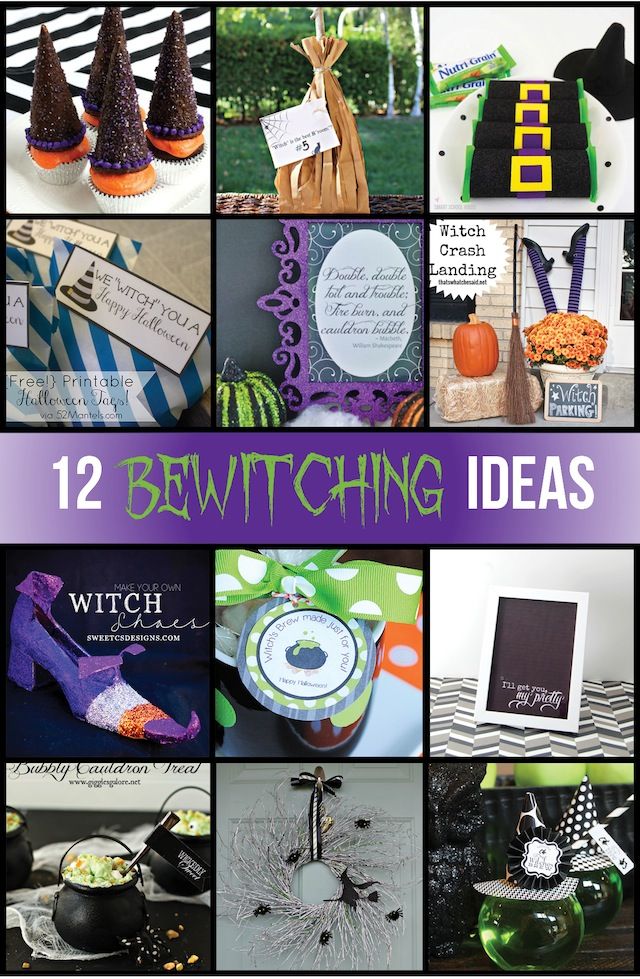 More Halloween Treat Ideas