I love quick and easy, especially when it comes to baked goods and baking things for a party! Last week, I shared my easy gluten free charcuterie board and today I am sharking the recipe for the Homemade Chocolate Bark that I put on top! It only takes about 5 minutes to make and toss it in the fridge to harden!
Homemade Chocolate Bark
This bark is rich with the dark chocolate, but the salt gives it such a good crunch and balance and the sweetness and texture of the cranberries and graham crackers really make it come together! Perfect tray to bring to a party or whip up for guests to munch on.
How To Make Homemade Chocolate Bark?
Kinnikinnick Gluten Free Graham Crackers
You can find most of these ingredients in grocery stores, but I linked them on amazon so you can identify them better.
Pour the chocolate chips into a bowl and microwave for 30-60 seconds. Stir, then microwave again. Repeat until the chocolate chips are fully melted.
Spread evenly over a pan until it is about 1/4″ thick or less. Spring the Pink Himalayan Salt over the chocolate.
Put the graham crackers into a plastic bag and using a rolling pin to crush them.
Sprinkle the graham cracker crumbs and the dried cranberries over the chocolate. Place in fridge for 30 minutes or until hardened.
Break the bark a part and place in containers for neighbor gifts, or simple place on a tray to serve!
Gluten Free Bark Recipe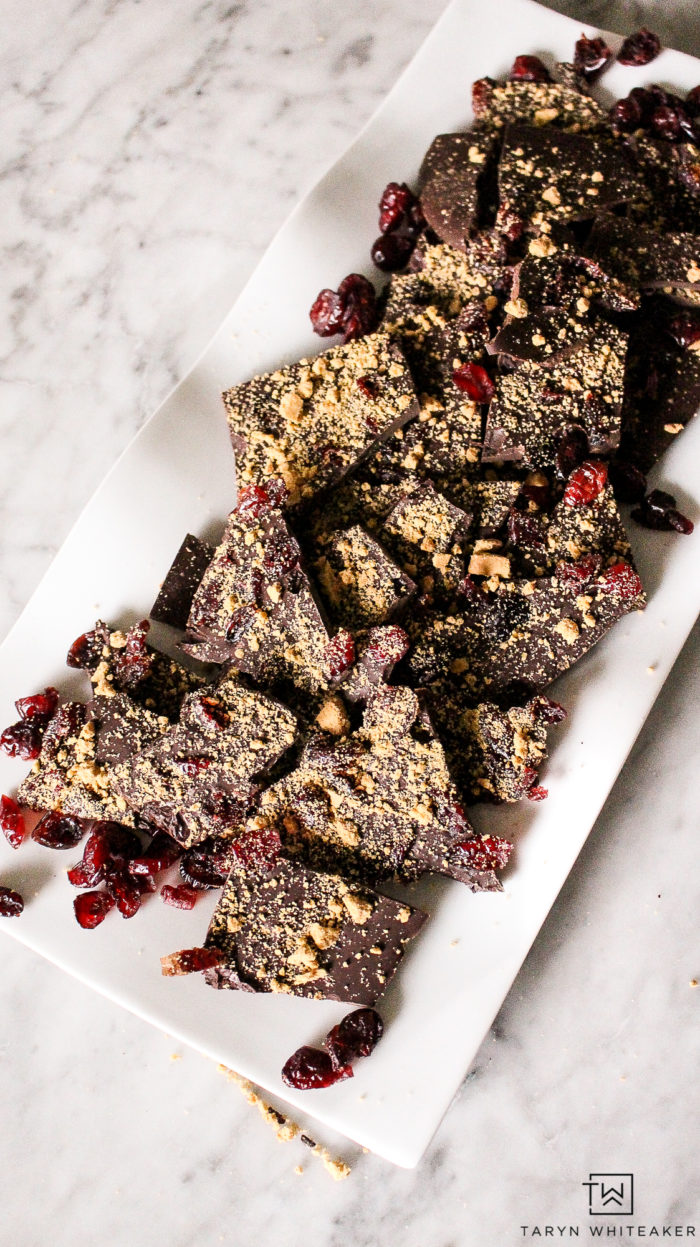 This chocolate bark is so easy to make, anyone can do it and it's a great activity to do with kids.
Here are some more holiday recipes you might enjoy!
Gluten Free Dark Chocolate Peppermint Cookies