This post has been sponsored by SC Johnson makers of the Ziploc® brand. All thoughts and opinions are my own.
When it comes to the holidays, I'm all about keeping traditions and making new ones. I've already shared many traditions with you over the years, but one that is special to us is making homemade treats for neighbors and delivering them around the neighborhood. It's a tradition my kids absolutely love and today, I'm sharing how to make Easy Holiday Gifts for Neighbors with Ziploc® brand containers.
Easy Holiday Gifts For Neighbors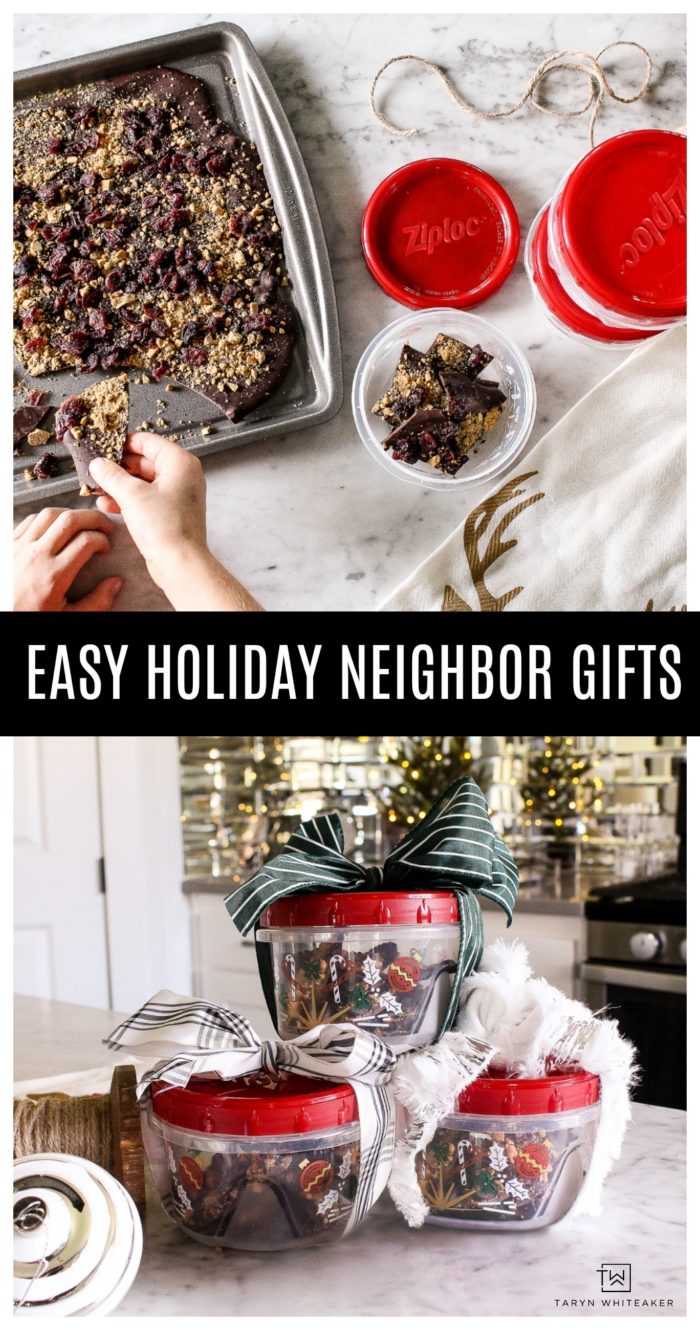 This time of year is all about giving, and it's something I want to teach my kids at an early age. I think it's so sweet that they are the ones who typically remember this tradition. They genuinely enjoy packaging up treats or chocolates and handing them out to everyone. But any time young kids are involved, two things need to happen: 1) It needs to be easy 2) It needs to be quick. Their attention spans are limited!
Ziploc To The Rescue
Here is my first tip, stock up on the limited edition Holiday Ziploc® brand Containers to package up all your goodies. The patterns are so cute and festive, you don't need to add a lot of extra gift wrap to make them pretty. Plus, they keep your cookies fresh!
Right now, you can get $1 off any 2 Ziploc® brand products while supplies last. So, stock up! Click here to download your own coupon!
Easy Homemade Holiday Bark
We really enjoy baking around here, probably too much! But during the holidays, it's ok because we get to enjoy baking together and then give everything away!
Baking has always been my middle son's and my "thing." Out of all three of my kids, he is the one who wants to be in the kitchen with me and bake. It's these special moments that I will always cherish.
Making Holiday Bark is one of the easiest desserts to make with kids. All you need to do is melt your favorite chocolate, spread it over a non-stick pan, sprinkle a bunch of your favorite toppings, and then place it in the fridge for a few hours. That's it. Incredibly kid friendly, fun, and you can get super creative making it.
We made this gluten-free, dairy-free bark and it turned out delicious. All we had to do was break it apart and toss it into our Ziploc® brand Holiday printed Twist 'N Loc containers.
Gift Wrap Your Ziploc Containers
To package them up for delivery, I added a simple holiday bow. That is really all you need with the festive prints on the outside.
Hand Delivery Your Special Treats
Time to play Santa! We load up our wagon with gifts and hand deliver them around the neighborhood. And it never fails that I have at least one kid hitch a ride :)
Re-Use Your Containers
Another great thing about using Ziploc® brand containers for gifts is that you can re-use them time and time again! So, after your guests enjoy those treats, they can wash the containers out and restock them with their own goodies or holiday leftovers. These Twist 'N Loc containers are leakproof and have built-in grips from top to bottom for easier use.