This post was sponsored by Lowe's as part of an Influencer Activation for Influence Central and all opinions expressed in my post are my own.
It's no surprise that I am obsessed with pumpkins this time of year, especially white ones. I decided to use a whole bunch of the craft pumpkins at Lowe's, along with tons of random hardware pieces to create these DIY Industrial Chic Pumpkins.
DIY Industrial Chic Pumpkins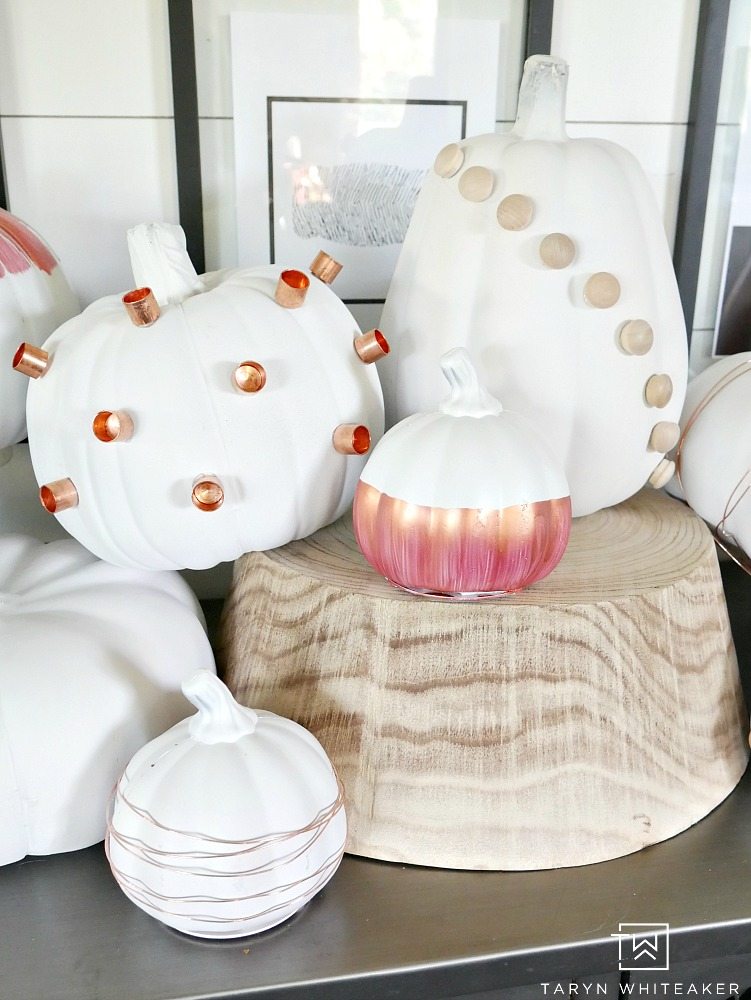 What I love about this project is that everything came from the hardware store and you would never know it! These pumpkins turned out so chic and modern (at least I think so!) and that is the beauty of using unconventional items and thinking outside the box.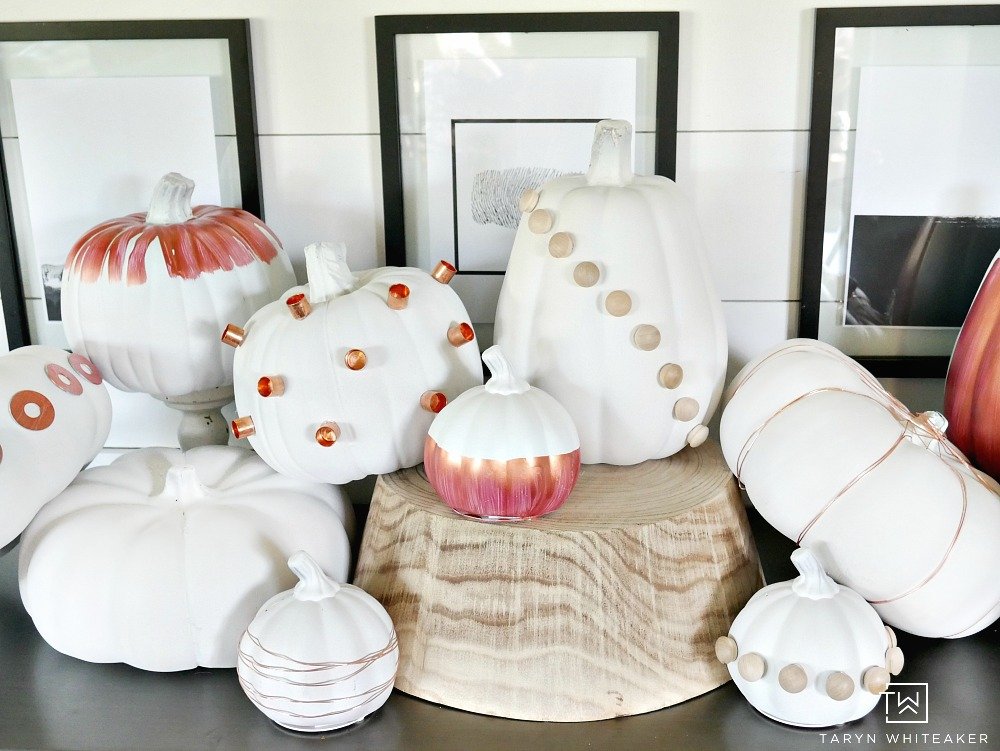 If you are someone who likes more color, you can paint these pumpkins a combination of bright colors for a more funky modern display or black for something more Halloween.
DIY Copper Wire Pumpkins
I used Copper Wire for these pumpkins and simply wrapped it around them several times and using a little hot glue to secure the wires together in the back. I tend to use this copper wire for a lot of home decor projects, it's inexpensive and gives it a really chic industrial look.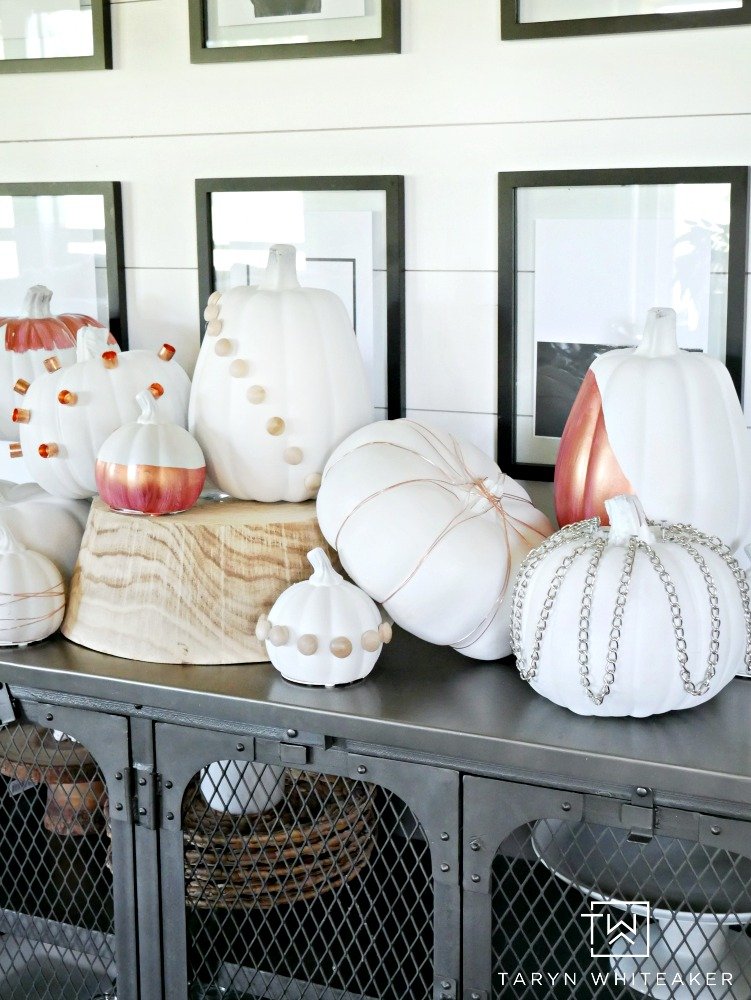 This collection was really fun to put together and ended up being a really relaxing activity. It was a chance to really get creative and is something you could do for a craft night with friends or even have the kids help with some of the simple steps. I think one of my favorite products I used were these Copper Caps I love how they add dimension to the pumpkins and look like little spikes.
So are you ready to see all of the products I used from Lowe's to create this?
DIY Pumpkin TUTORIAL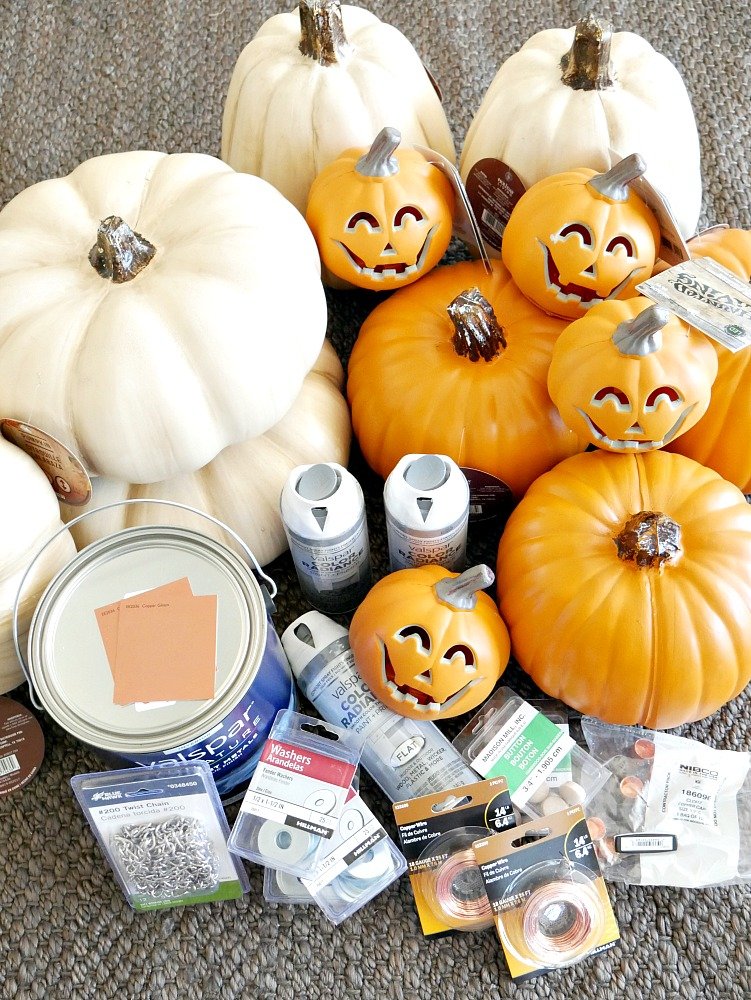 SUPPLIES
I started by spray painting all of the pumpkins white using Valspar Color Radiance in Flat White. I did two coats on all the pumpkins. I really wanted a metallic copper paint for the pumpkins to go with the metals I was using. I found out that Valspar makes a Brilliant Metals Metallic Paint and I was so excited. I got it in this Copper Glam color. It has a little pink/red tint to it and it's so pretty.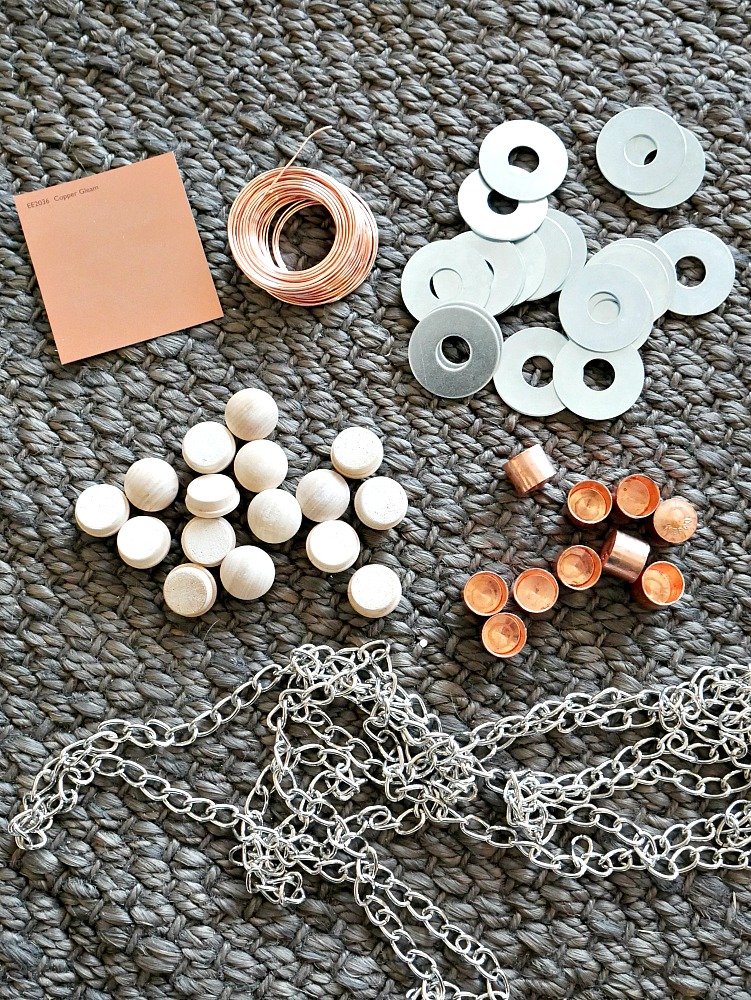 I love industrial decor and I love working with unconventional materials, which made this project so much fun. I knew I wanted to work with copper, so I searched the store for all of the fun copper materials I could work with. I also added a little metal and raw wood since that is my favorite right now!
DIY Pumpkin Display

I used a hot glue to attached all of the pieces to the pumpkins and just played around with all of the designs and arrangement. When putting together a display like this I always think about balance. I wanted to have a variety of both painted pumpkins and also the metals mixed with a few wood designs. I also think about the direction of each design so I have some horizontal and some vertical. And it all turned out just like this! I love this fun white pumpkin display and the best part is, it works for both fall and halloween! Just add a little black in there and you are really set :)
DIY Chain Pumpkins

More Decorative Pumpkins
You may also like these Paint Dipped Pumpkins or Gold Leafed Pumpkins!
SaveSave