Welcome to another week of Top Ten Tuesday! I've seen a lot of projects lately using book pages and I am feeling very inspired. I love the idea of using household objects to decorate in a very unconventional way. Using pages from your favorite book or printing out your favorite scriptures can bring a lot of personalization to a project and make a beautiful decoration for your home (or a great gift too!).
Here is a list of  10 Ways to Decorate with Book Pages
1. Blue Cricket Design created this beautiful wall art using book pages and a silhouettes of little birds
2. The Cards We Drew  created this stunning rosette book page wreath
3. Check out these adorable birds from Life on the V Side
4. I love this framed book page art from Mandy at Biblical Homemaking 
5. Book page flowers can be used in so many ways from accessorizing a wreath, to hanging on a Christmas Tree. These flowers from Under the Table and Dreaming are so precious.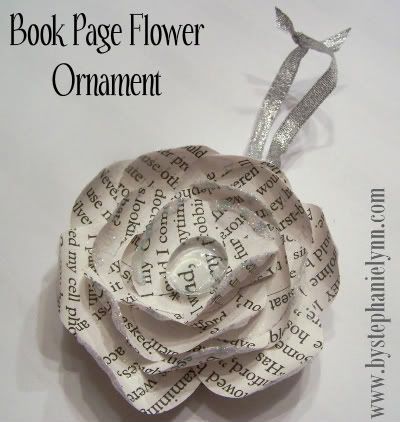 6. This is a fabulous idea for a unique wedding bouquet or for center piece (via Pinterest)
7. If you are very ambitious, try this book page wall paper! (via Pinterest)
8. These book page letters from Little Things Bring Smiles would make a great addition to an office or classroom
9. For those of you who like to make your own wrapping paper, Alisa Burke has a whole lot of ideas for you using book pages!
10. And lastly, because it's that wonderful time of year here is a great book page project to add to your fall decor! Love this book page pumpkin from Creation By Kara
I think a book page project is in my near future, I'm thinking a fall wreath #2 might be up next. Stay tuned :)