The most anticipated football game of the year is almost here! I still think Super Bowl Sunday should be declared a national holiday but I think we might have a hard time getting that one approved. Anyway, did you know that Super Bowl Sunday is the second largest day of food consumption in the U.S. after Thanksgiving (according to Wikipedia)? Not surprising. As much as I like to watch the game and the commercials, the food is definitely a highlight. What do you normally bring?
For this week's Top 10 Tuesday I thought it would be fun to share some festive treats for your next football event! I know I shared this a while back but we have lots of new faces around here (welcome!) and I thought we could use some inspiration for the upcoming game! Most of these are super simple, very kind friendly and will definitely spark some conversation.
Here we go…
1. How cute is this football inspired lunch from Kitchen Fun with My 3 Sons?
2. How about some football whoopie pies from Make Merry!
3. Cake Pops are all the craze right now so why not make some football ones? Love and Butter made these delicious looking ones..
4. These mini football cupcakes from Project Domestication are just too adorable!
5. Who says tailgating always has to be about burgers and beers? Why not bring chocolate dipped strawberries and champagne?!From Shari's Berries.
6. The party doesn't always have to be about goodies so try some football field guacamole from BlissTree.

7. Super cute meat and cheese football bites from Gimme Some Oven!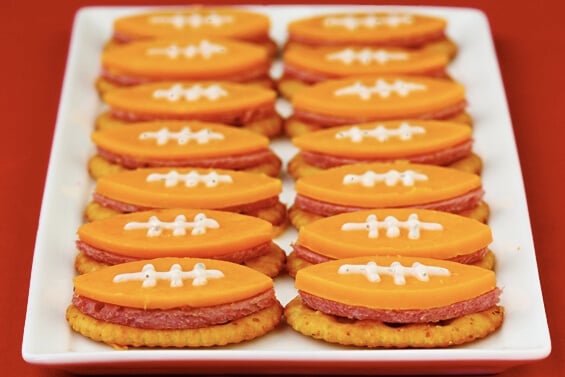 8. Football cheese ball (very appropriate if you are a Packers fan :P) from Kraft Foods!
9. How about some mini football subs from Disney Family Fun?!
10. And lastly, a few weeks ago I shared with you these Cocoa Krispies treats, you can learn all about these here.
So who are you cheering on this year? The Giants or the Patriots?