Disclosure: This post is in partnership with Milgard Windows. All opinions and tips are 100% my own. 
I'm really looking forward to today's post because I learned a lot about windows throughout the process and can't wait to share all this great info with you! I really enjoy studying residential windows from both an exterior and interior design perspective. There are so many more options than people realize and choosing the right windows can completely change the overall appearance of a home.
Today, I want to talk about residential window trends. We'll be covering different types of window frames, colors, materials and different styles. Hopefully you learn something new too!
Residential Window Trends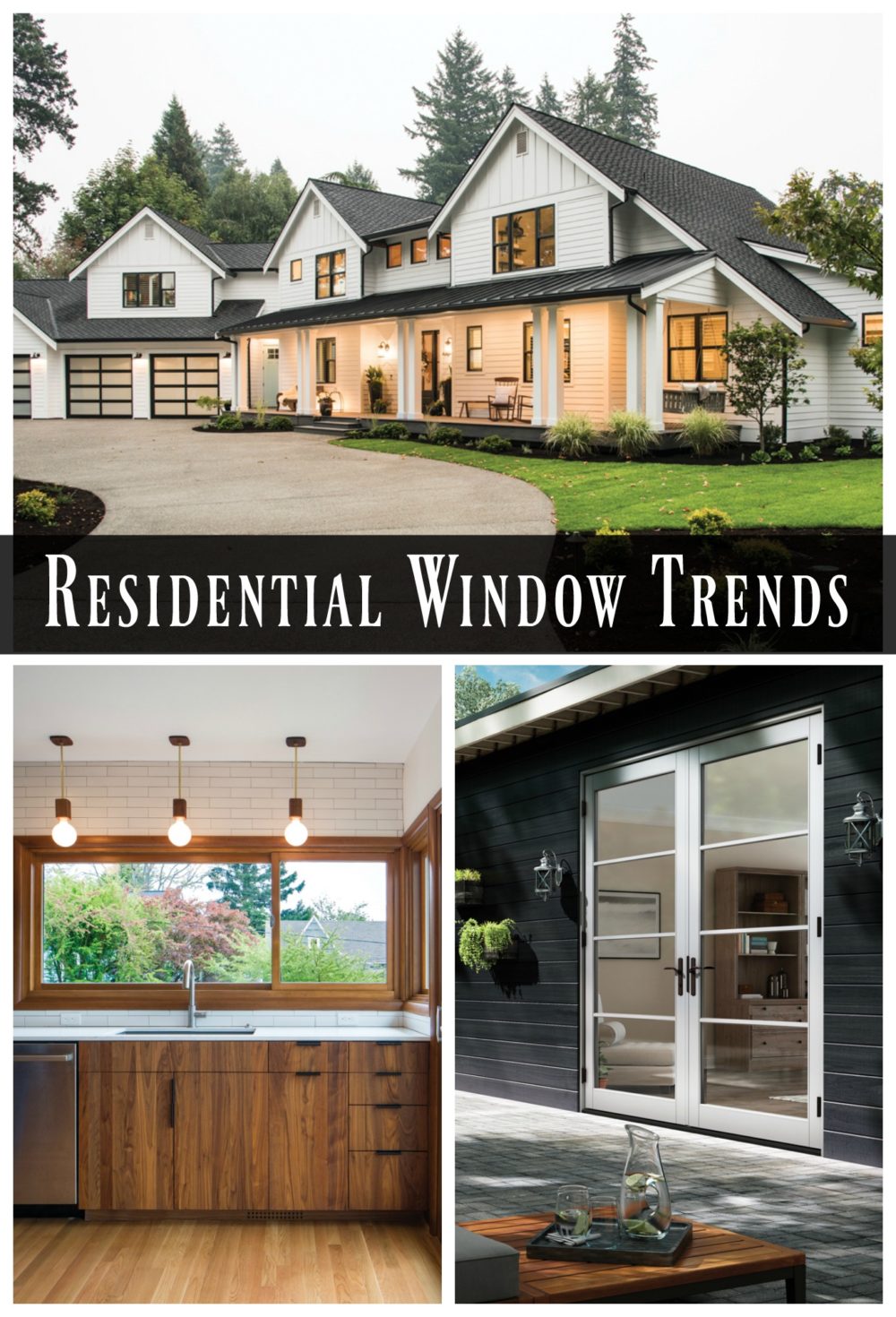 Vinyl Windows
Milgard offers a few different types of window frames, but I'm going to stick to the three most popular frame materials today. First let chat about vinyl windows. This is a beautiful window option for residential. If you are looking for an easy way to completely update your home, vinyl windows are a great place to start.
Vinyl windows are made from a high quality PVC material and are very close to maintenance free. The one limiting factor is that they only come in a few different colors, mainly white and a few other neutrals tones. So if you were hoping for something darker or in a specific color, you'll have to skip to the next option (keep reading). However, there are still other options you can choose from so let's keep chatting.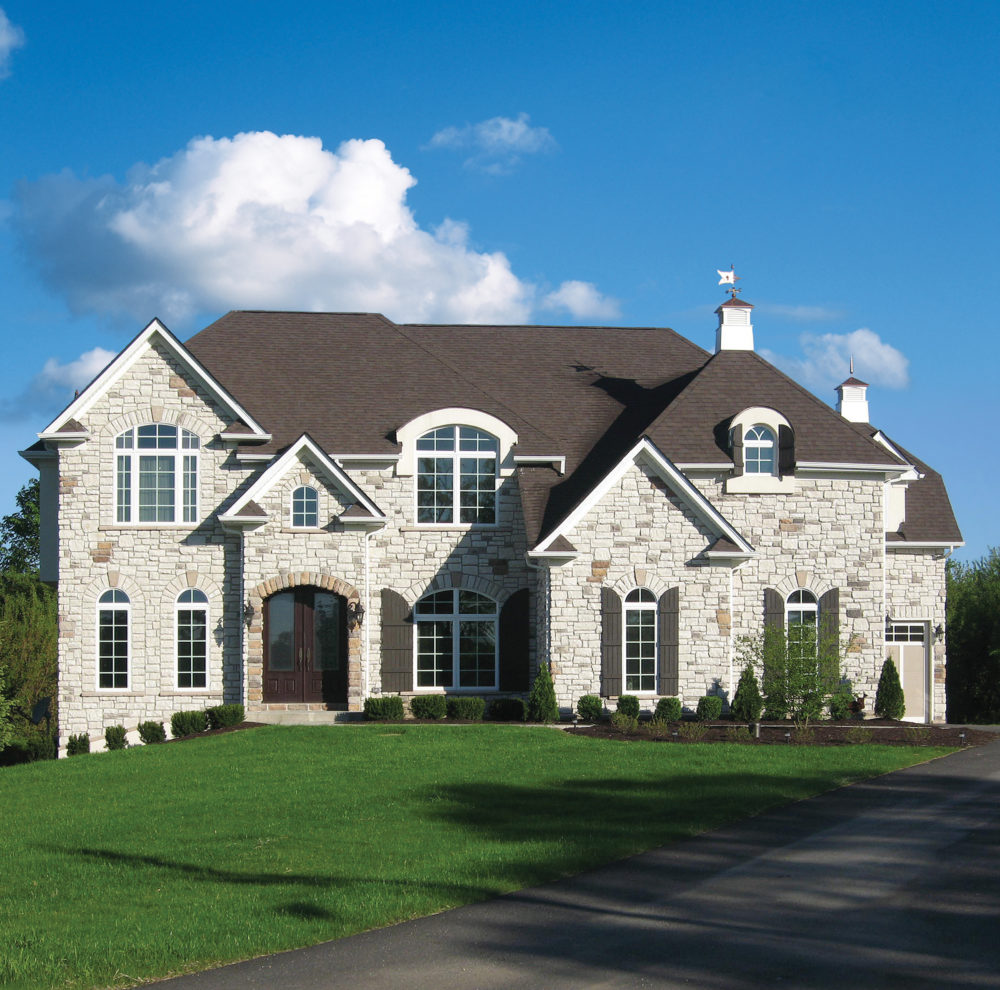 Look how beautiful this exterior is with all white windows with a subtle grid pattern. The grid pattern is a specific taste. I think it can work well in both modern and traditional homes if done right.  The great thing about working with Milgard Windows is that you can customize the grid pattern on your windows. Everything from none at all, to only half the window, and even how many grid lines you want. You can keep it more modern or very classic and traditional.
We've seen a few exterior options, now let's take a look at a few interior as well. Here is an example of what an interior vinyl window looks like in white. This window is part of the Tuscany® Series.
Here is a different interior view with the second color option, Tan, and a single hung install. This window includes their SmartTouch® lock, an easy way to open and close a window.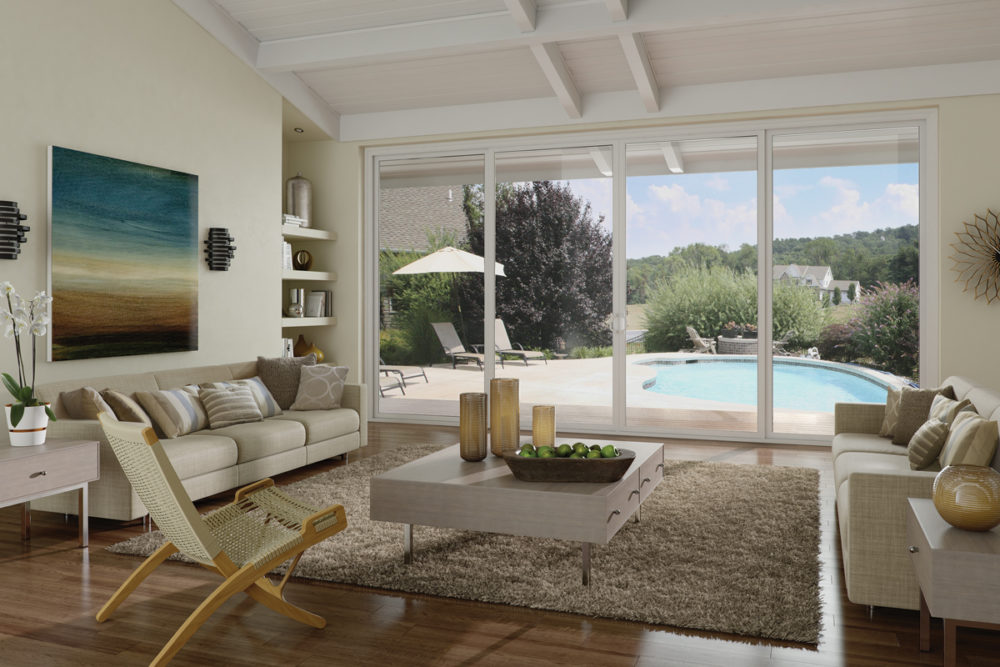 Ok, can we talk about these dreamy sliding doors. I have always loved these open concept doors. I love how open they make the space feel!
Black exterior is one of my favorite trends right now and these modern French doors make such a beautiful contrast.
Black exterior is one of my favorite trends right now and these modern French doors make such a beautiful contrast. I love the subtle grid and Oil Rubbed Bronze hardware that is so dark it looks black.
Fiberglass Windows
Let's move onto the second window frame material,  fiberglass. This option is becoming one of the most popular window trends right now due to the quality and amount of color options, especially the darker tones. You also have the option of having the exterior of the frame and the interior of the frame in two different colors. For example, you can have a dark frame on the outside for a modern look and white on the inside for a brighter interior that will go with more decor options. From rustic modern to modern farmhouse, this style of window is what you will want to look into!
Black Window Frames
Black window frames are one of the most popular window trends I see happening right now. I am in love with this entire house that is decked out in the Milgard Ultra Series Windows. These are fiberglass windows in black and completely make this modern farmhouse exterior.
This resident chose to keep the exterior and the interior frame black and it looks amazing on both sides of the house. I love the large window in this industrial chic kitchen.
Here is a closer look at the frame. I had the experience of testing out all the Milgard Window options, and this window moves up and down so smoothly! When I open the windows in our home, I have to give them a big tug to get them started, and these windows move with ease.
I also HAD to show you this bathroom! It's simply gorgeous and you can see how they made the black windows work in every room of the house keeping a very consistent style.
Natural Wood Windows
Let's chat the third option, WOOD! When you hear wood windows, I'm sure most of you automatically think log cabin or beach house. But that isn't necessarily true. If done right they can look gorgeous in any home. Just look how amazing they are in this incredible mid century modern home? The Milgard unfinished fur window frame comes (just like it implies) unfinished so you can stain it any color you want and match your existing woodwork. I love how they stained it the same color as the sleek cabinetry.
Switching to a completely different house style that incorporated wood framed windows. This country chic home uses the wood windows to bring that ranch feel to the home. I can just feel and hear that summer breeze coming through those windows!
Here is a closer look at the detail work. They are gorgeous. I'll also note here that these wood windows have a fiberglass exterior to them. SO on the exterior of the home, it will have a different finish and you can pick the color to match your home.
I love how they kept the natural wood tone in this rustic industrial office. It also reminds me of our home office so I had to share it!
In this more modern farmhouse inspired kitchen, the natural wood windows bring a beautiful wood tone to the kitchen and ties the kitchen island into the whole look.
Which window trend is your favorite right now?
If you want even more ideas, check out the Milgard Windows photo gallery  and browse through all their options. I have so many ideas now!
Pictures courtesy of  Milgard Windows & Doors