This post is sponsored by Milgard Windows & Doors, all opinions are 100% my own.
We may all be cooped up in our homes a little more, which makes that fresh air feel SO much better. Having the ability to open your windows or slide those big doors open and let the fresh air come through is such a treat right now. We have large sliding doors from our kitchen to our outdoor patio and I love it! As we think about what our next home will look like someday, I definitely want a moveable wall of huge sliding doors that create an indoor/outdoor space.
Today, I am teaming up with Milgard Windows & Doors to show you some of their gorgeous patio doors that will transform your space into a luxury showpiece. They also have a lot of creative ways to help you get your new doors during this crazy time, just keep reading!
Patio Door Inspiration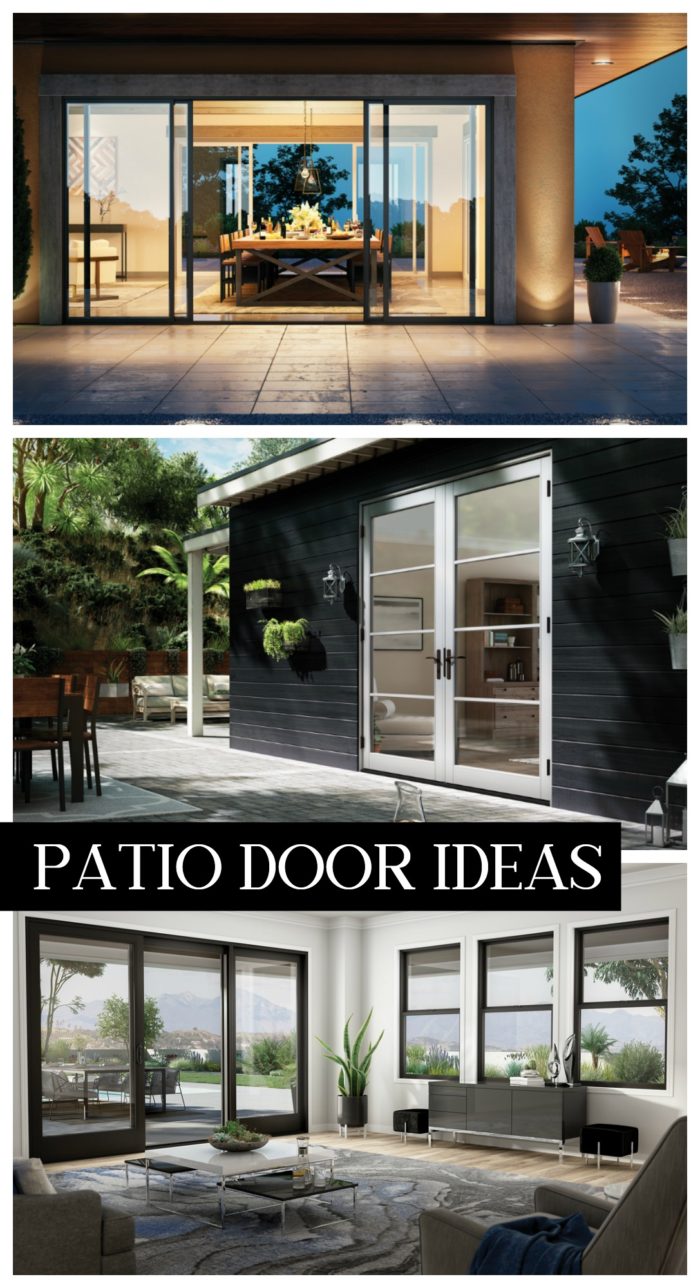 If you are thinking, "But how am I going to get my new windows or doors during this unusual time?" Milgard Windows & Doors has a variety of ways they are still helping customers.
There are still a select number of Milgard retailers who are open and are offering virtual consultations of your space!
Some dealers are still willing to come out and measure your space following the 6′ rule.
Lastly, they can also walk you through the measuring process so you measure yourself and they can provide a quote for you.
If you decide you want to move forward now, they are offering a Tax Refund program where you buy your windows or patio doors now and you can wait to have them installed when we get back to normalcy.
Now let's dive into all the different options and styles they offer.
Single Sliding Doors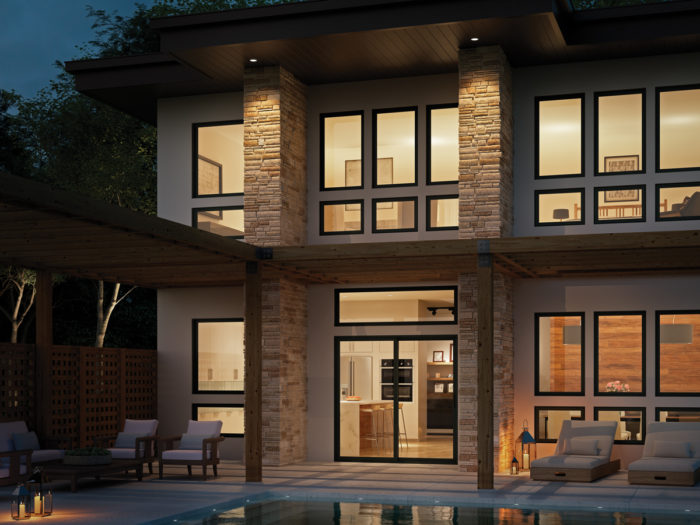 Single sliding patio doors are one of the most popular options for homeowners because most homes have enough space for at least one! Whether it's heading outside to a patio or opening up to a small balcony.
The gorgeous photo above shows the Milgard Trinsic Series sliding glass door and picture windows with Bronze exterior frame. The contemporary modern look really opens up the home and allows the sliding door to blend right in with the window design creating a really cohesive look.
Here is another view of the same sliding, door I love the rustic modern look of this exterior. This door would look fabulous in a modern cabin or modern farmhouse home.
Here is another gorgeous modern space using the Trinsic Series sliding patio door and picture windows in frost. The clean lines of the windows and doors create a very minimalist look
If your home allows for a larger sliding door, take a look at the Trinsic Series in a 4 panel double sliding patio door. This will really open up your living space on those warmer days. This home looks straight out of Italy or rolling hills of Sonoma Valley and I'm here for it.
I'm all about these Bronze doors, so I had to show you the larger version of this as well. It's so luxe and I wish our space was big enough for one of these!
French Style Sliding Doors
If you like the look and practicality of sliding doors, French style patio doors offer an elegant touch to any home and include a little more detail and larger frames. These look like French doors but slide. Keep in mind with ANY doors at Milgard, you can customize the color, number panes, types of glass and hardware. They have so many options to fit your style from frosted glass, to grid styles and more. It's NOT a one size fits all!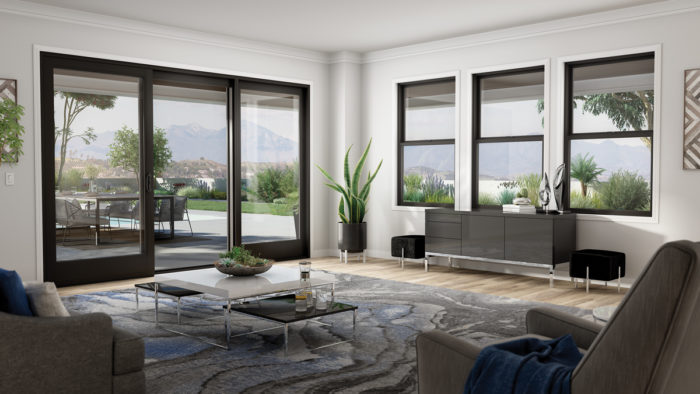 This is such a gorgeous contemporary living space. No need for drapes or artwork, the bronze door frame makes this door a true statement piece in the space.
In-Swing French Patio Doors
French doors are an elegant and timeless choice for home owners. But how they swing can make all the difference. When designing any interior or exterior space, it's all about making the most of the square footage and making design decisions that provide functionality.
The picture above shows the Ultra Series French in-swing patio door and two casement windows to the side in the color Black Bean.
Do you live in townhouse or smaller home with a small patio? Or maybe you have a master bedroom with a small ensuite balcony? You would want to install In-Swing French doors so you can enjoy every inch of your outdoor space while still providing a design feature.
The photo above shows the Ultra Series in-swing French patio door in Black Bean but with a narrow glass panel for a sleeker design. Because all Milgard patio doors are custom made to fit your exact measurements, there are so many options to choose from.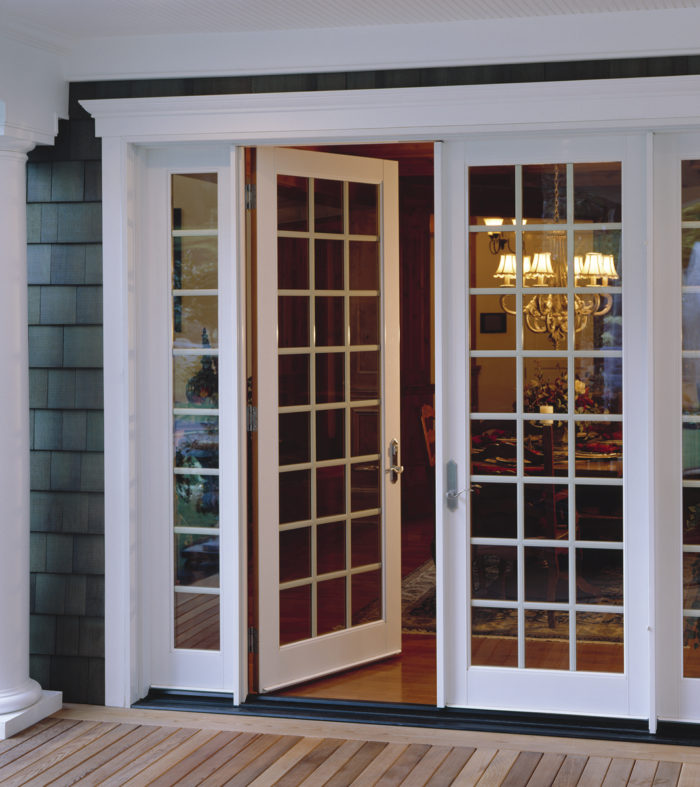 French doors can work for just about any style, but they are my favorite in a gorgeous coastal or cottage home. I love the traditional look of them and the panels really have great design feature. This is the Ultra Series 2-panel French door with sidelites and colonial grids. So gorgeous.
Out-Swing French Patio Doors
This space is truly all about the doors! It has multiple out-swing French doors opening up to the outdoor space making it accessible from just about any part of the room. Just like we talked about before, it's all about the swing! When you have a space that is well furnished and opens to the outdoors, an out-swing will give the perspective of the space opening up to the outside and enjoying the full outdoor patio. Creating a nice indoor/outdoor space.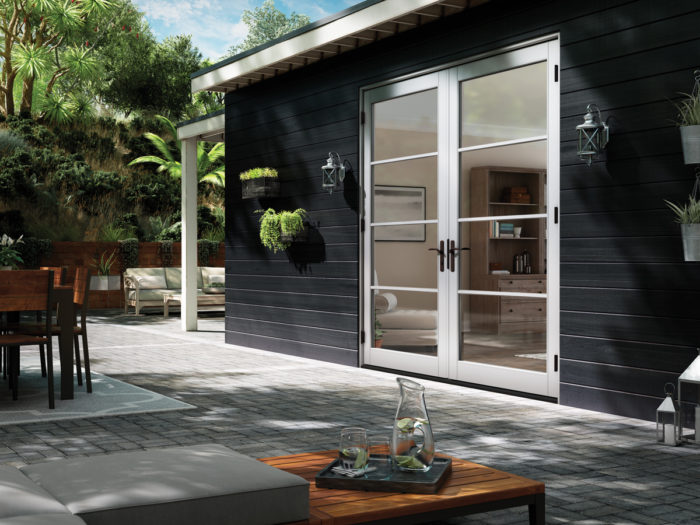 This space is one of my all-time favorite spaces! I love the modern farmhouse look, it's a perfect mixture of modern lines with moody decor paint and gorgeous traditional features such as the French doors with minimalistic grid feature.
I had to throw in this photo of this amazing outdoor space. A gorgeous Tuscan home that has a simple pair of French doors that open up to the back patio.
Bi-Fold Moving Glass Door
A moving glass wall system is the most luxurious ways to merge the outdoors and indoors of your home. Milgard Windows & Doors has three different glass wall systems including a 6-panel bi-fold moving glass door shown above. This system is made of stainless steel and set on ball bearing rollers for ease of use. The patio doors open and close like an accordion, completely opening the space. This is my favorite door style of theirs and I hope to have one in our own home one day!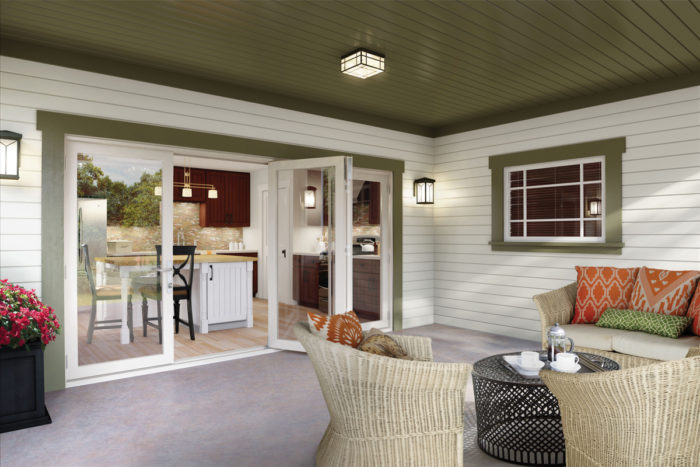 Moving glass walls come in many different styles, this 4-panel bi-fold door gives a more contemporary cottage feel with a white finish.
There are also two other moving glass door styles including a pocket door where the doors completely disappear into the walls creating a full open concept indoor/outdoor space.
And stacking moving glass doors are also an option.
Full Inspiration Gallery
If you love getting lost looking at gorgeous architecture and design, you must take a peek at the Milgard Photo Gallery. They have worked on some of the most gorgeous homes. I literally spent a few hours gawking over all the interior design and exterior inspiration. Serious eye candy. So many more ideas for our dream home :)
$50 VISA GIFT CARD GIVEAWAY
I think we could all use a little perk right now, so let's have a fun giveaway for a $50 Visa Gift Card to use on something fun for YOU right now!
How To Enter: Leave a comment and tell me your favorite patio door! That's It!
Giveaway details: Giveaway is open to US residents, 18 years or older. This giveaway is sponsored by Milgard Windows & Doors. Giveaway ends Tuesday, March 31st at midnight. Winner will be notified by email.