Disclosure: This post is sponsored by JOANN, all opinions and creative content is my own.
Decorating our mantel for fall is one of my very favorite things to do each year! I know you probably hear similar phrases from me throughout the year, but I really mean this one. Our mantel is the focal point of our downstairs and it sets the tone for the rest of the space. Seeing our mantel decorated for fall makes the whole room feel so cozy, especially when cuddled up in a blanket watching tv at night with the fire going. So are you ready to see my neutral and copper fall mantel for this year?
Neutral and Copper Fall Mantel
This year I partnered with JOANN Stores to decorate my mantel. Just about everything thing here can be found in their stores or online. They have such a wide range of decor from fall farmhouse to more modern and traditional. It wasn't hard for me to fill an entire cart with gorgeous fall items that I truly love and fit my style.
Pops of Copper For Fall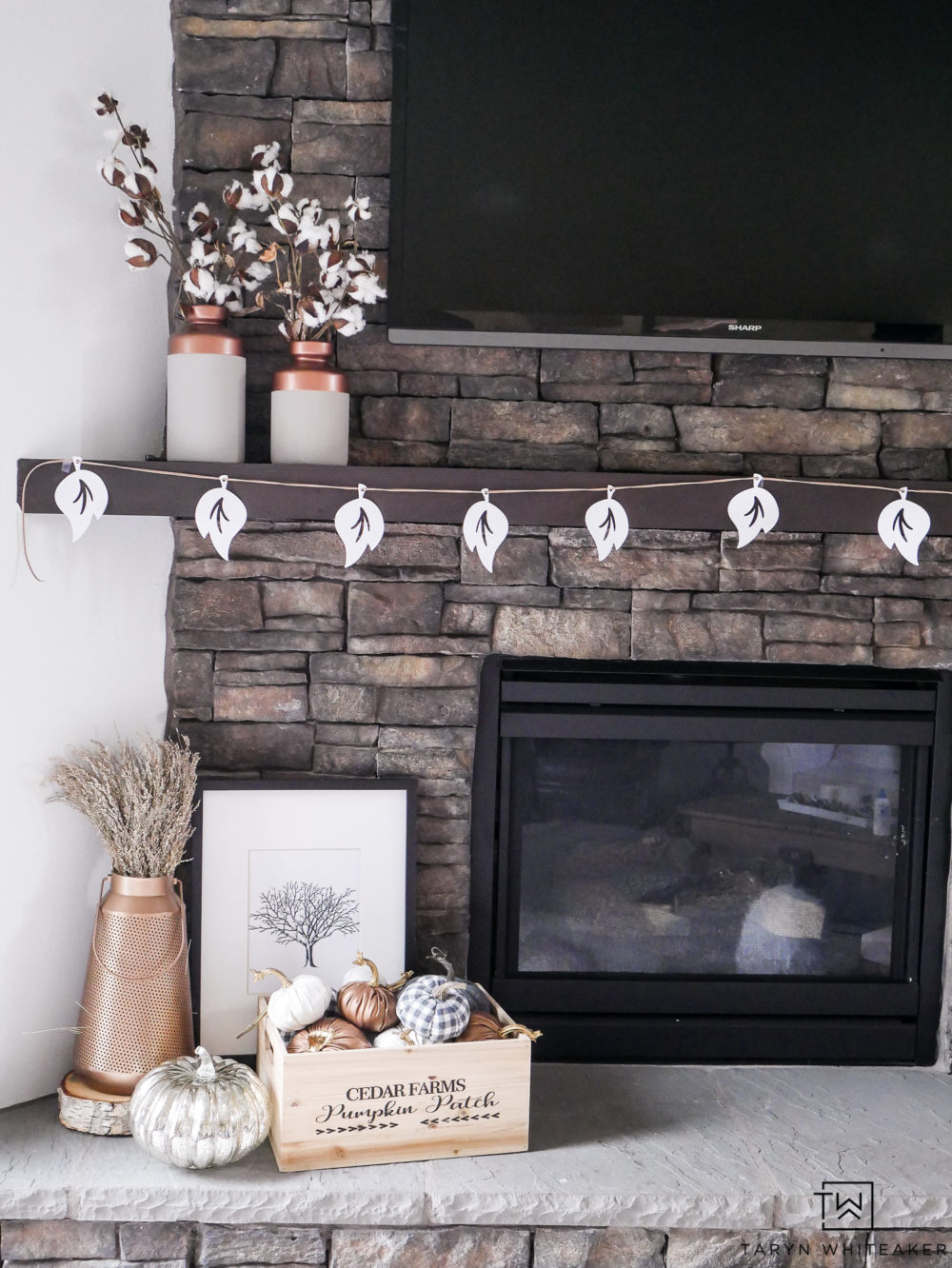 My fall theme for this year is mixing neutrals with pops of copper and metallics. I want to keep my rustic modern style but also glam it up a bit with a few metals. I found so many beautiful copper pieces that stand out so well against our stone and pull in those warm tones from the fireplace. I think they add a great mix to our standard decor this season.
Give Me All The Pumpkins
Of course fall also means tons, I mean loads of pumpkins. Like there can never be too many pumpkins when it comes to fall decor. You don't want to know how many bins I have. JOANN stores has SO many chic decorative pumpkins this year. I will honestly say that I was really impressed with all of the different pumpkins available. Not just craft pumpkins, but full on beautiful pre-made fabric pumpkins, felt pumpkins, wire ones, paper ones, succulent pumpkins. I mean there are so many cute ones.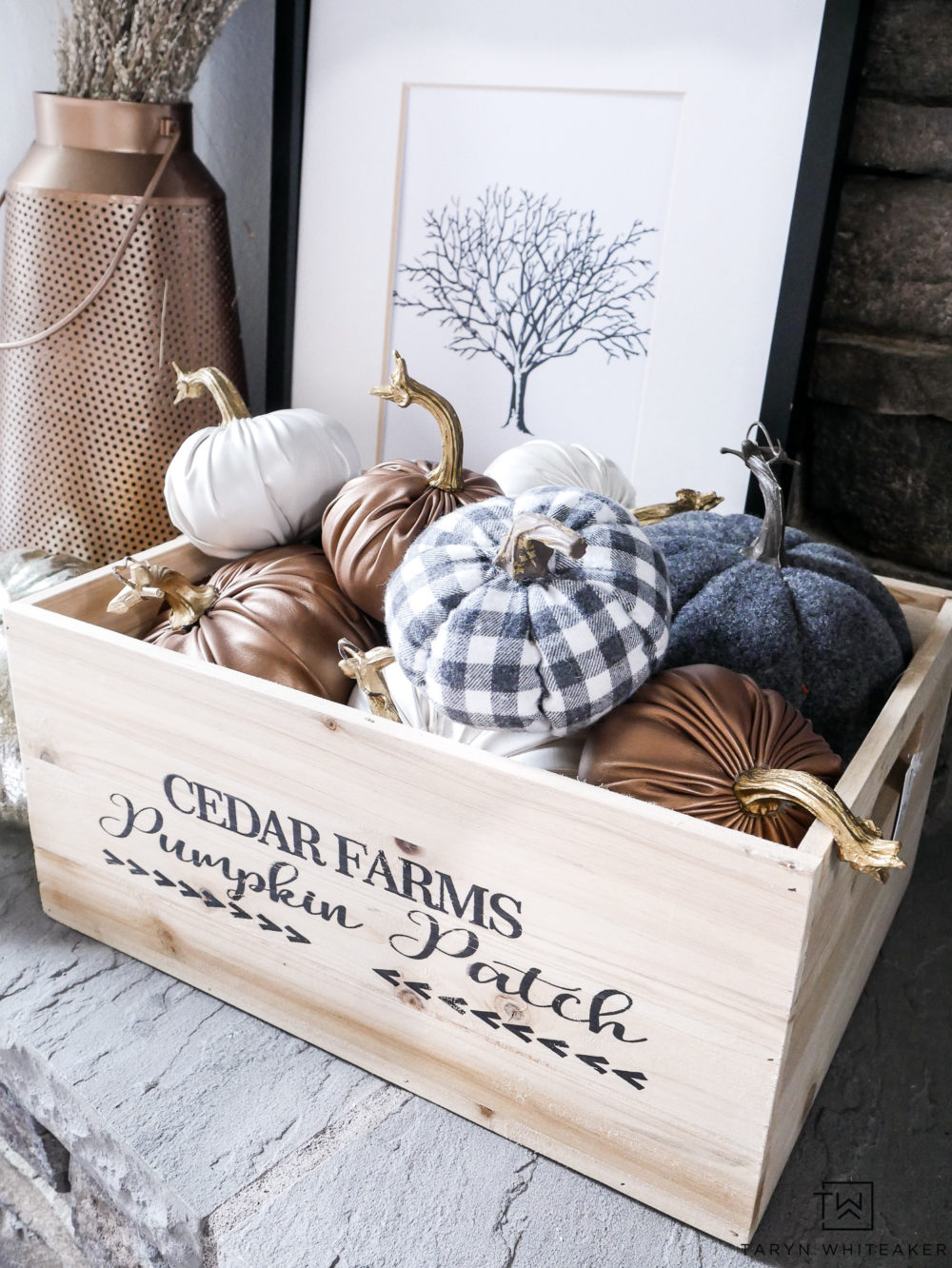 I love these fabric pumpkins with authentic looking stems. They look so cute piled up in this pumpkin patch box!
Decorative Blanket Ladder
Blanket ladders can be used year round, but they are such a great staple for fall. I found this white washed wood ladder at JOANN and it's the perfect size to lean against the fireplace. These simple throw blankets were the perfect addition and make the look even cozier.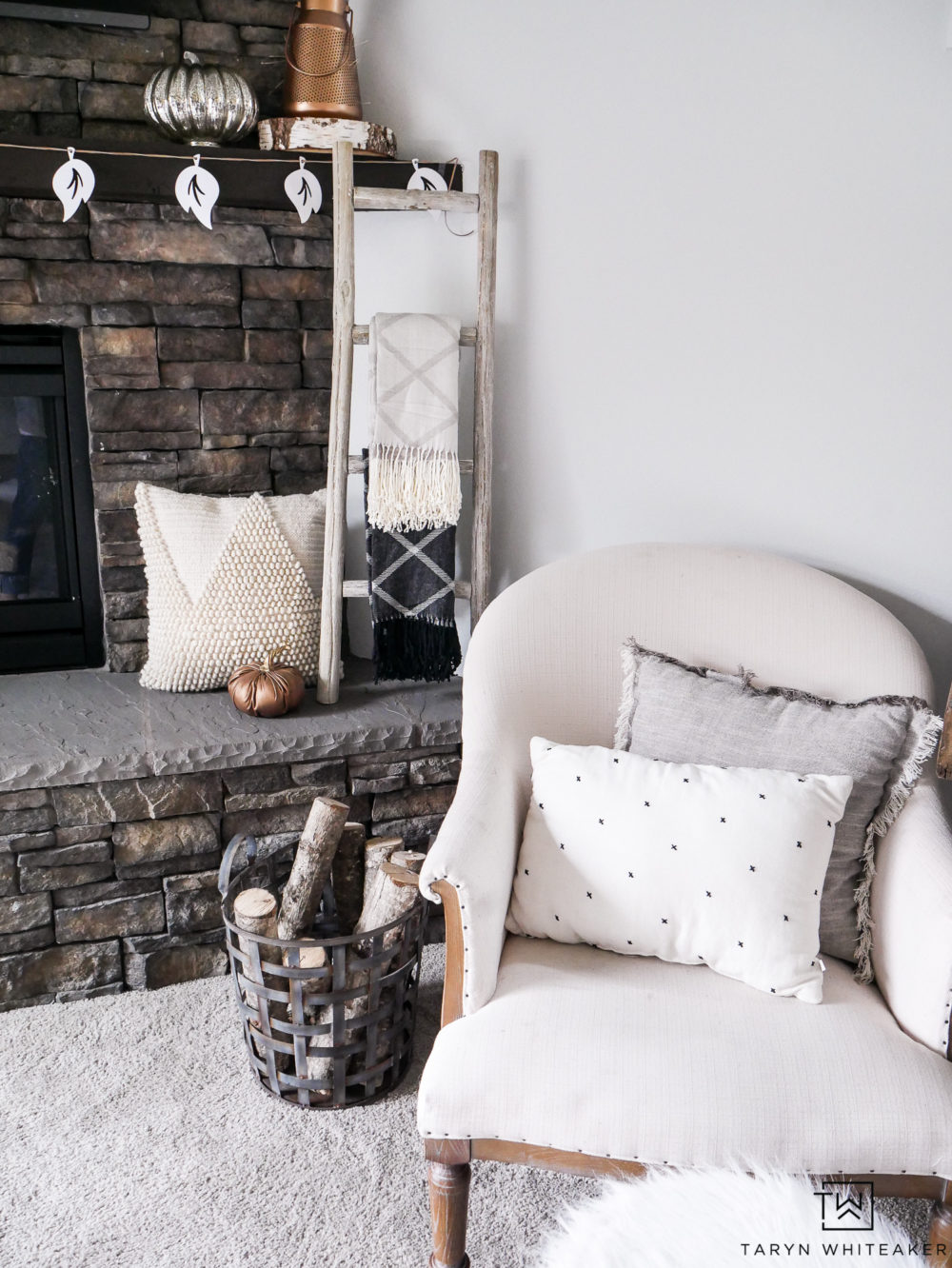 DIY Leaf Garland
To top the whole look off, I made this DIY leaf garland using my Cricut and plain white cardstock and leather string. It took just a few minutes and adds a little something to our bare mantel.
SHOP THIS MANTEL
Cotton Stems | Gray and White Plaid Pumpkins | Metallic Rose Gold Pumpkins | Gray Felt Pumpkin |Cream Leather Pumpkin | Large Copper Concrete Vase | Small Copper Concrete Vase | Copper Lanterns | Wood Ladder |
PS. I also really really fell in love with this gray cable knit pillow, but just couldn't find the right place for it!
If you are looking for more summer decor and craft ides, check out JOANN on Instagram and Joann.com!