This post brought to you by Elmer's ProBond Advanced. All opinions are 100% mine.
Little Man's room is moving right along! A few weeks ago I shared his PVC Light Fixture and today I'm sharing the Industrial Piping Shelves I built to go above his dresser. I am so in love with how they turned out. This was a pretty easy build, but a little more tedious than I had anticipated. But, you're in luck because I'm sharing some of my tips today.
DIY Industrial Piping Shelves
I knew I wanted to build piping shelves for his room, but wasn't sure of the design. So I did a little digging and found this layout in Country Living Magazine and fell in love. So that was my inspiration for the post.
Those little animal bookends were actually once colorful glazed ceramic pieces that I spray painted white for our old family room.
And my favorite piece on the shelves is the metal 'M' that I picked up on the World's Longest Yard Sale adventure this summer. It was only $9 and the only thing I could fit home in my suitcase!
If you haven't noticed, I'm having way too much fun decorating a boy's room. I cannot wait to finish it.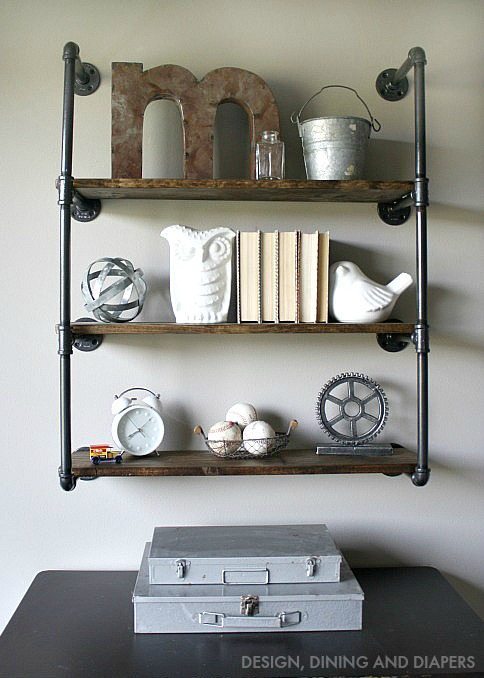 DIY FARMHOUSE SHELVING TUTORIAL
– Galvanized Piping (see image below)
– Black Hammered Metal Spray Paint
– 1″ X 6″ X 30″ Pieces of Wood*
– Dark Walnut Stain – Clear Satin Polyurethane
– Elmer's ProBond Advanced
– Elmer's Clamping Tape
* I determined my shelving length based on the distance between my studs. So yours may be different if you chose to secure your brackets into studs versus drywall.  
Here is the list of piping materials that I used.  I'll be honest, this isn't the most budget friendly project. The piping does add up, but it looks so so cool, right?! :)
I started by putting together all of the piping. Some areas are more secure than others. Since they all tightened at different angles, in order to get them perfectly level and straight, I had to leave some a little looser. But it will all be secure in the end once you attach it to the wall. Once they were built, I spray painted them in Rustoleum Black Hammered Metal Spray Paint.
Due to the weight of the shelves, I wanted to secure them to studs rather than put drywall screws in. So first I found my studs and then based the shelving length on the distance between the studs. Hope that made sense. You'll also want to use a level to make sure they are straight.
To secure the wood shelves to the metal piping, I used Elmer's ProBond Advanced. It is the perfect adhesive to secure Mixed Materials together, for example wood to metal (or glass and cement).
While the glue dried I used Elmer's Clamping Tape. This is the first time I've used this product and I really really loved it. It isn't sticky, it just sticks to itself so it won't ruin any finishes. It can be wrapped super tight. I'm going to be using this a lot in the future!
I'm so excited with how they turned out!
SEE OTHER DIY FARMHOUSE PROJECTS
SaveSave