Last summer we did a massive curb appeal makeover (that I have yet to blog about!). We actually landscaped our ugly drainage ditch and turned it into a dry stream with river rock and beauty bark and TONS of lavender and other low maintenance plants. One day I'll show you the before and after. But anyhow, this year all the lavender was in full bloom for the first time and now I have 20+ lavender plants to trim back for the fall, leaving me with tons and tons of fresh lavender to put around the house! Oh I'm loving it. So I decided to take advantage of nature's beauty and use it around the house, starting with a Fresh Lavender Fall Tablescape!
Here is a peek at my new fall tablescape!  I'm joining Lory from Designthusiasm  for her seasonal tablescape series. If you are joining from Cedar Hill Farmhouse, welcome and thank's for visiting. You can view all of the other beautiful fall tables at the bottom of the post!
Fresh Lavender Fall Tablescape

This is always one of my favorite posts of the year because I just adore seeing how everyone decorates for the seasons and tablescapes are one of my very favorites to work on. They can be different every time, I get to play with things I already have and even bring some new pieces to the mix. I've already shown you several new table decor ideas this year like my blush pink fall table , my fun football table and my new Halloween Table!
Pruning English Lavender For Fall
The crazy thing is, growing up and even into my twenties I really disliked the smell of lavender. I actually sort of hated it. That's seems so crazy for me to even think about now because I absolutely love it. I love the fresh smell and I love the real natural organic look of it.
When we were designing our landscaping, I wanted an entire row of lavender to boarder all the landscape. I think it makes such an impact and the fresh color gives a nice pop with our neutral tones. When we did all of the initial planting, we put in very small lavender plants that were super tiny knowing they would grow into beautiful bushes. I am blown away at how quickly they grew and bloomed this year!

Since this was my first time with lavender, I turned to my neighbor who is a gardening expert and she told me to trim them back in the fall if I still wanted those straight up pretty plants like I had! So that's what I did. I cut them down about 2/3. I read online this should be done at the end of August, so I'm a little late but I did it!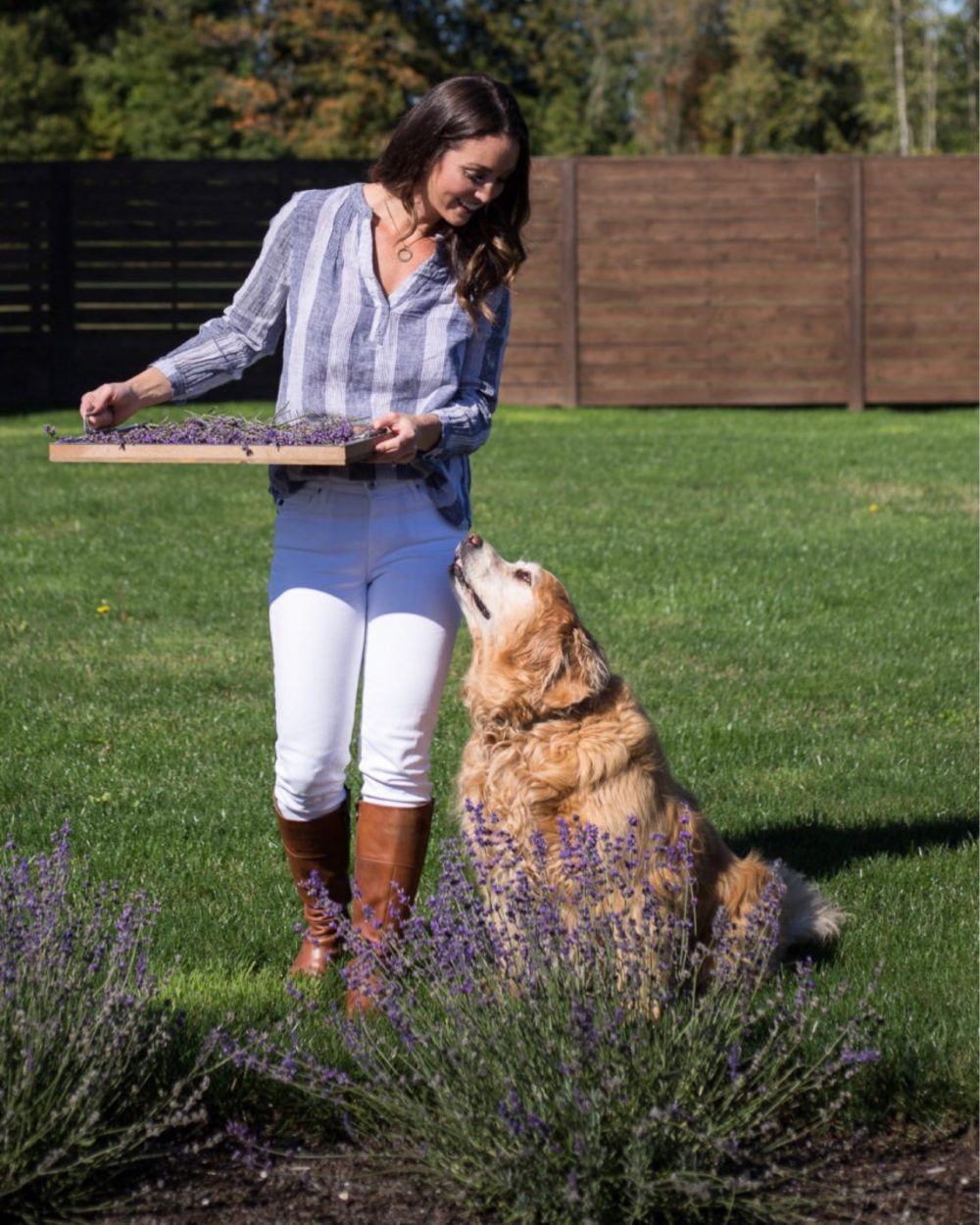 My sweet pup never leaves my side while I'm out front. She is getting old and it's harder for her to get around but she just lights being outside with us and getting that fresh air and sunshine. I love having her around with me, especially on my 'work from home days' when all the kids are gone.
Time to use these beautiful stems on the table!
Using Lavender On The Table
Now let's chat about this table decor. SO. We just celebrated our 10th wedding anniversary this summer (see our anniversary trip here), and it's embarrassing to say that this is the very first time I have taken our wedding china out for a table setting. Ack! It has literally gone from being packed away in boxes, to being nicely displayed in cabinets in this house and never actually used. I think for many many years I was too afraid to take it out in fear that my children would break all of it. And then I've done so many casual tabelscapes over the years. And sometimes I look back and I just don't know why. Anyway, it's out! And I was reminded why I picked it out because I love it so much. And I'm happy it hasn't gone completely out of style.
For those wondering, it's the Kate Spade June Lane Place Setting with Vera Wang wine glasses.

I paired the classic and elegant china with some rustic elements like these wood round chargers and the wood round cake stand.
The fresh lavender is simple, cost me nothing and adds the perfect pop of color throughout the neutral table. You could even add more texture by adding some branches or additional foliage.
Fresh Lavender Table Runner

Kate Spade June Lane Place Setting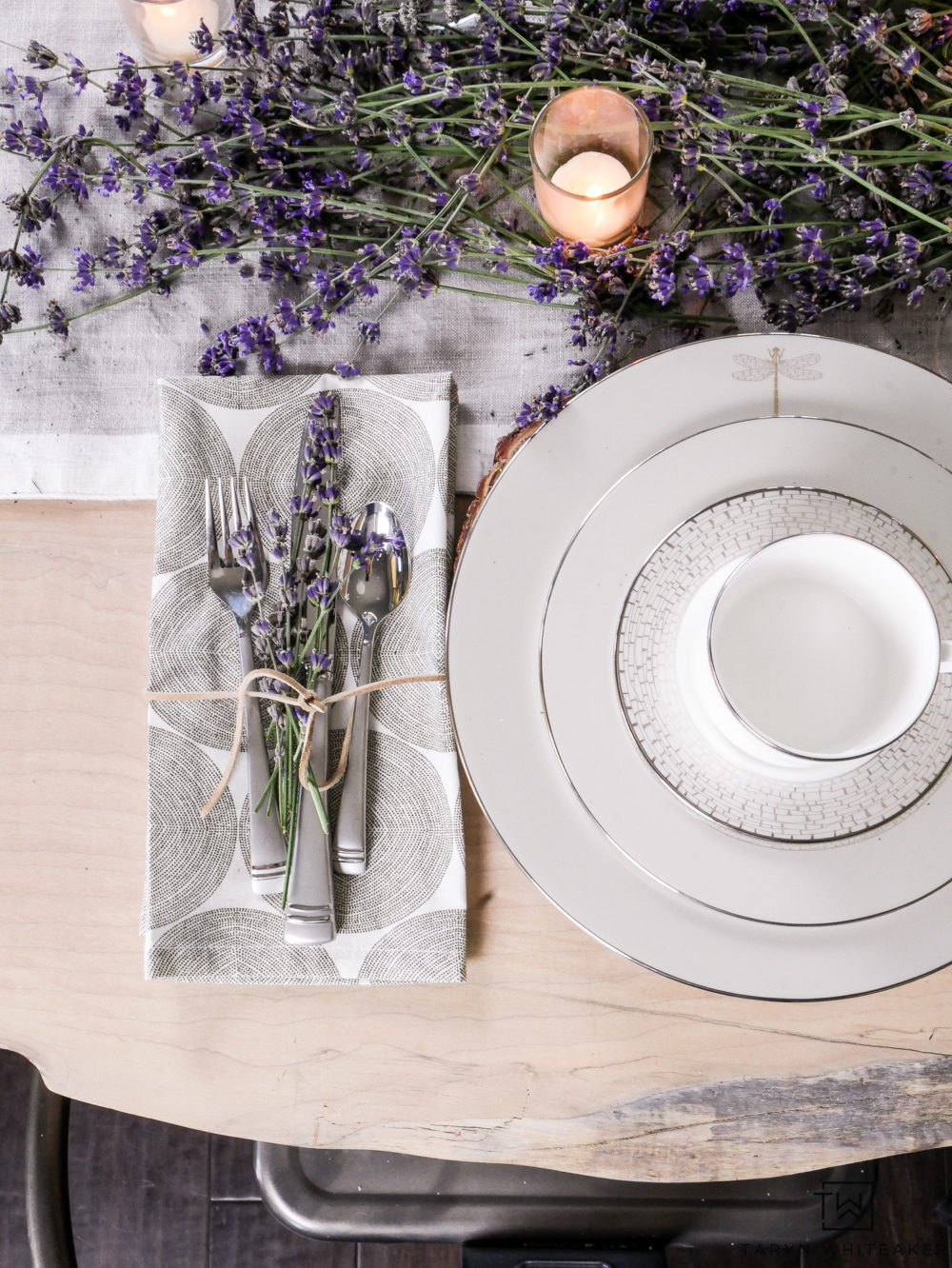 I liked neutral, classic piece when we got married 10 years ago and I still love them today. I picked out this timeless place setting with the hopes that it would always stay in style. I love the soft silver/taupe tone with the mixture of subtle pattern. And the little dragon fly is so cute. 
Pumpkin and Lavender Centerpiece Idea
For the centerpiece, I took a faux white pumpkin, cut a little hole in the top and carefully placed the lavender inside to create an eye catching fall centerpiece. I gave it a little height by placing it on a small cake stand. It's simple but definitely adds volume to the table.
Simple, elegant and something you can put together in pretty minimal time!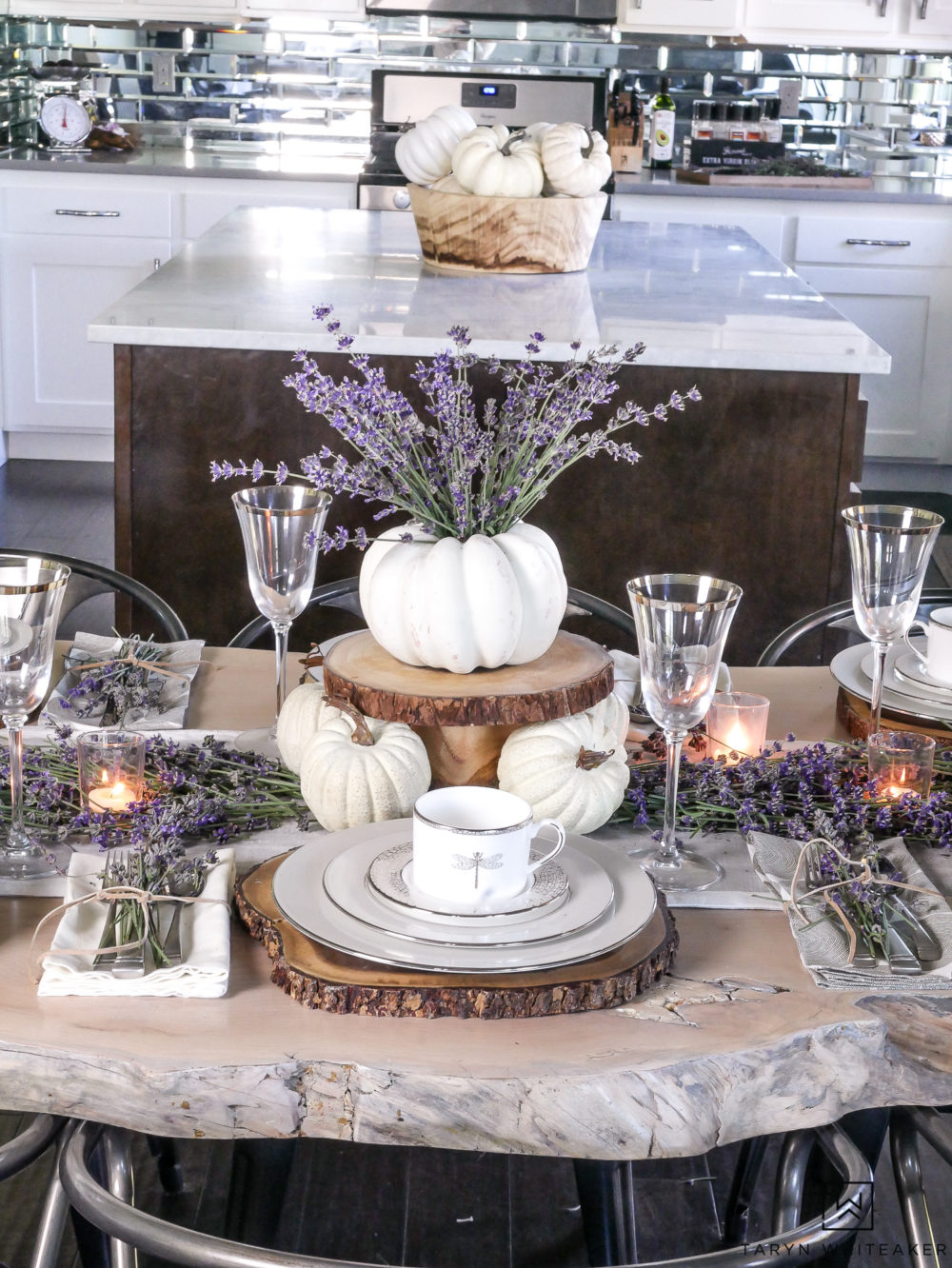 Now hop on over to So Much Better With Age and see her table that she always styles so beautifully!
Shop This Post

More Fall Tablescapes to Enjoy!
Please click below to visit the posts:
MONDAY'S POSTS
MONDAY's posts:
Life on Virginia Street | Cedar Hill Farmhouse | Taryn Whiteaker
So Much Better With Age | Town and Country Living
TUESDAY's posts:
Designthusiasm | On Sutton Place | Shabbyfufu
French Country Cottage | Julie Blanner | Craftberry Bush
WEDNESDAY's posts:
CitrineLiving | StoneGable | Maison de Cinq
Maison de Pax | Setting for Four | My Soulful Home
THURSDAY's posts:
Happy Housie | Ella Claire | Sand & Sisal
Zevy Joy | Styled with Lace | Dimples & Tangles