Hurray for fall! This is the first seasonal porch with my new door color and I'm so excited to see how it looks against the black door. I've done 6 different fall porches in this house and while they all have been different, I'm excited to do something a little different this year. I'm using more pops of color and deeper, rich tones, I've also never used heirloom pumpkins before, so let's have some fun and check out my earth tone fall porch.
Earth Tone Fall Porch
I found this porch by Jennifer at Stagg Design , I was drawn to her use of rich earth tones with the heirlooms pumpkins and the black lanterns. I also love all the gorgeous fall colors from SarahKJP and wanted to use some more traditional colors this year.
Fall Planters
I always start with new planters. I actually had the tall ones on our back patio and they were still doing well, so I decided to move them here and just add a few taller plants in there with richer fall tones.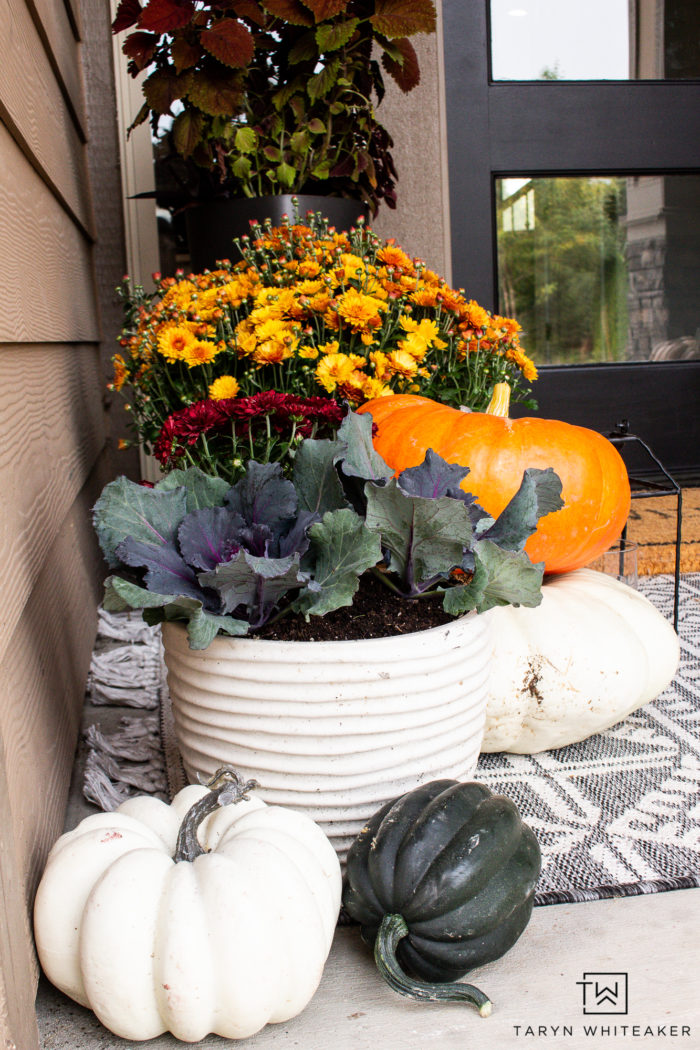 And then I added a few smaller plants with cabbage and mums! Both really reasonable plants for fall!
Heirloom Pumpkins on Porch
Want to know something kinda funny? Well not funny, but random, I have never actually decorated with heirloom pumpkins before. I'm typically an all white pumpkin girl and sometimes I'll throw a few orange ones in the mix for a pop of color. But I typically stay away from heirlooms ones. But this year I really felt like I needed to make a change and try something new. And I like it!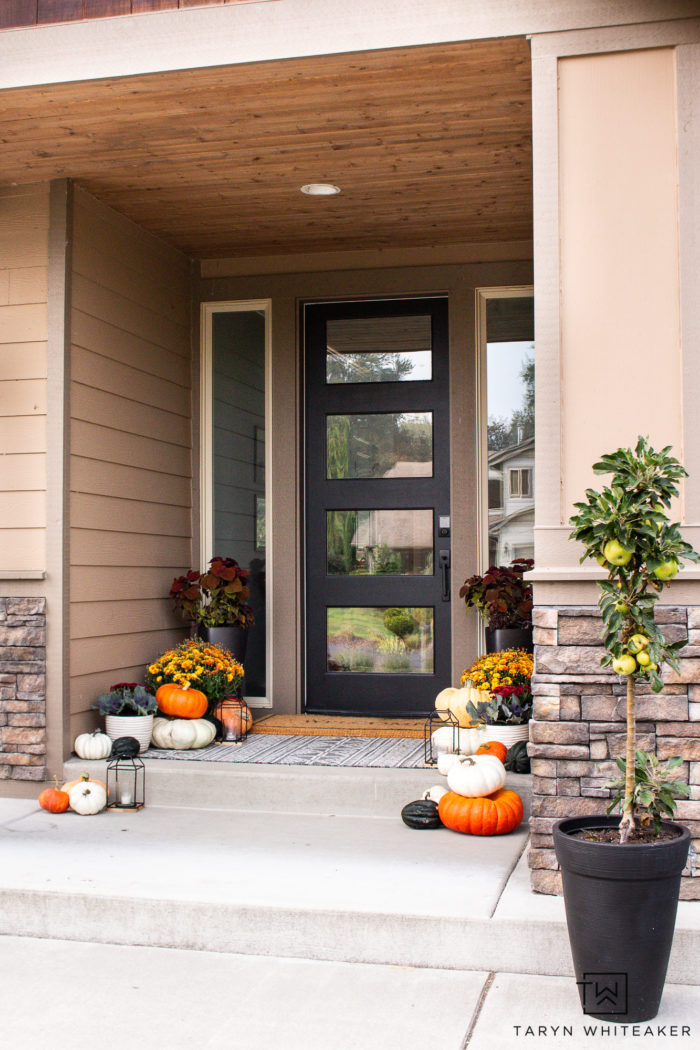 I've alway loved the look of pumpkins cascading down the stairs but I don't have the traditional ones to work with here. I tried to bring them down a little further and maybe I could have done more… but I can always add more after our many trips to the pumpkin patch this year!
Also, I might add that not all of these pumpkins are real. Can you spot the fake ones? If I did this right you won't be able to! I have a collection of white pumpkins that I swear look SO realistic and they work so well into this look.
Elegant Fall Porch Design
I'm loving the more vibrant traditional colors out here this year. I find myself using more and more pops of color around here (while still keeping things pretty neutral) and it's been fun to play around with it.
The house is starting to feel more and more like fall and I'm finally here for it. If you haven't already, check out my fall entry way right inside these doors and my kitchen shelves all ready with pumpkins!