Disclosure: Thank you to Pacific Sands Resort for hosting us on this incredible trip!
On New Year's Day we headed out on an amazing trip to Pacific Sands Resort in Canada to kick off the new year. Before Christmas, my husband and I were talking about how studies show that kids remember experiences and family vacations more than any toy they receive. We wanted to give them an experience for Christmas and the opportunity to learn and make more memories as a family.
There is truly nothing I love more than exploring the outdoors with our kids and this was the absolute perfect vacation to do that. It was the perfect balance of relaxation and exploration and after four nights, not a single one of us was ready to leave!
Visiting Pacific Sands In Winter
If you and your family love hiking, beach combing, surfing, good food, luxurious retreats and incredible experiences with nature, you will want to add this trip to your list!
The winter is consider their down time, but let me tell you this. It didn't feel like it. There was still SO much to do and explore and the town was busy. We had no problem hiking in the mist and bundling up to run on the beach in the rain. So don't let the winter months stop you. I have yet to experience Tofino in the summer, but I would easily visit here year round!
Getting To Tofino From US
Pacific Sands Resort is located in Tofino on Vancouver Island, BC. We live a little north of Seattle so it only takes us about 1.5 hours to get to the Canadian boarder. We get up there fairly often, but this was our very first time to Tofino so it was definitely an adventure! It takes about 8-10 hours driving to get here from Seattle, but don't let that scare you. Here's why.
The trip is broke up into three different sections, a short drive to the Canadian boarder, a ferry ride to Vancouver Island and then another scenic drive to Tofino.
We took the ferry from Tsawwassen, BC to Vancouver Island. The ferry ride was about 2 hours but goes by so quickly because of everything you get to see outside. Not to mention the ferry itself is like a mini cruise ship with restaurants, coffee shops, play area for kids and shops. The only thing I will note here is that the ferry does cost about $250 Canadian round trip, so factor that into your budget when planning your trip. You can also purchase tickets online ahead of time to reserve your spot on a certain ferry, this will cut down on wait times!
The drive from the Duke Point to Tofino is absolutely stunning. There are so many places to explore along the route. We stumbled upon this lookout on the side of the road and caught the most amazing view of the sun peaking through the clouds with the trees, snow capped mountains and rocky river bed. There are so many places to explore along the way which breaks up the drive and you might need it because it's a curvy road, bring some dramamine.
Pacific Sands Resort Beach House
Once you arrive at Pacific Sands Resort, you will realize that the trek up there was 100% worth it and you will never want to leave.
We stayed in one of the Beach Houses right on the water and it was incredible. The view was nothing like we had experienced before. Laying in bed listening to the ocean waves roar and then waking up to this incredible view was a once in a lifetime experience (that I hope we get to experience again!).
The Beach Houses are three stories, the bottom floor with a full kitchen, living room and balcony, a middle floor with a second bedroom and bath and then the upper floor with the master bedroom with a balcony.
One step off our balcony and you are right in the middle of nature. Even in the rain, it is so peaceful and calming.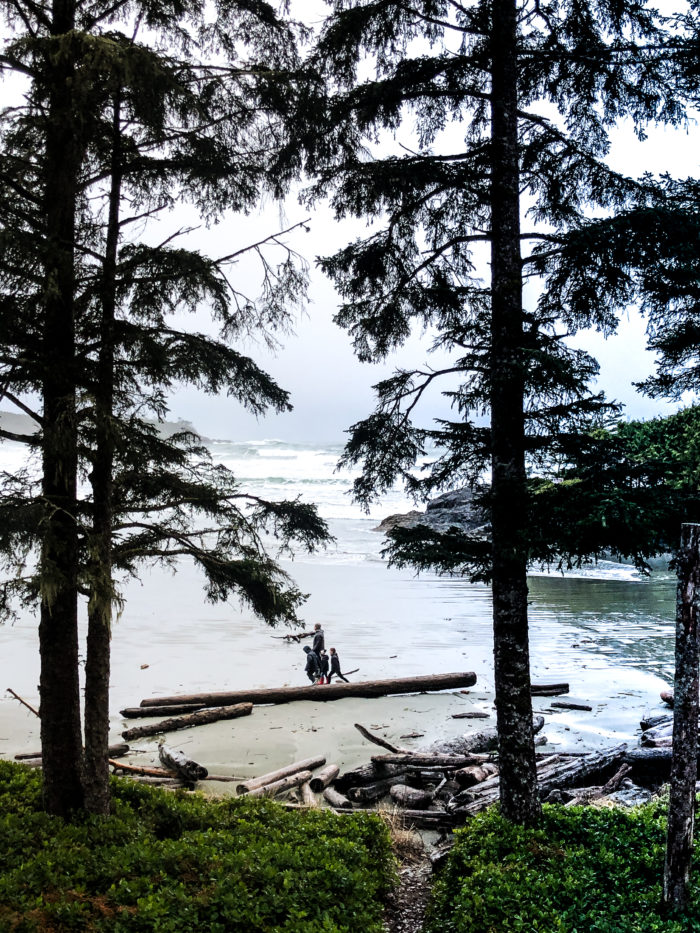 I loved how I could stand on our balcony and watch my little explorers play on the beach below.
And after a day of playing on the beach and hiking in the rain, you can come back to your room and get warmed up in this amazing tub right in your room!
It also makes for a great hot tub during a power outage! During our stay a big winter storm came in and we lost power at the resort for a few hours. Our kids decided they wanted a turn in the tub so they got their suits on and had a little spa experience of their own while we waited out the storm!
Activities at Pacific Sands Resort
Here's the deal. You could honestly spend an entire week at the resort and never leave! I was so impressed with how kid friendly the resort is, how many activities they offer and how they really think of everything. Because we were there in winter, we weren't able to do everything, but we still stayed SO busy and didn't even get through everything on our list.
Surfing In Tofino In Winter
One thing you should know about Tofino is that it is a total surfer town. Even in the winter. One of the top things on our list was to try surfing (more like boogie boarding for us). I'm SO glad we made it happen. The Surf Sister Surf Shack is located right on the resort which makes it very easy and convenient to rent your gear.
We rented our gear and headed down the road to MacKenzie Beach to catch some smaller waves for the kids (recommended by Surf Sister).
This entire experience was something we will never forget. We were worried about the kids being cold in the wet suits but honestly we all stayed warm the entire time! We were pleasantly surprised how well the suits worked and we lasted 2 hours out in the 40 degree temps!
Surf Sister does offer surf lessons for ages 5+ but our little guy is only 4 and we didn't want him to be left out. They had tons of fun just playing in the water on the boogie boards and body surfing.
While we were playing in the water we managed to experience, hail, rain showers and even sun! It was the craziest weather.
And then we turned around to see the most beautiful rainbow!
Biking On The Beach
Another fun activity the resort offers is beach cruising on Cox Bay! You can rent beach cruisers for the whole family at the front desk and take them for a spin on the beach. This was honestly one of my FAVORITE things we did together. I've always wanted to ride a bike on a beach and it was one for the books.
The one thing I will caution is that you get dirty! I wasn't prepared for how much sand gets kicked up while riding on the beach, it was totally worth it but dress appropriately.
We took the bikes out right before dusk and were able to watch the sun go down over the bay. It was the perfect way to end our last night at the resort.
Hiking Sunset Trails to Pettinger Point
At the edge of Cox Bay, you will find Sunset Trail that leads up to Pettinger Point. It's about a 10 minute nature walk to the top of a ridge with the most amazing view.
The trail is made with this wooden pathway that makes it very kid friendly. Appropriate for all ages and dogs!
As the path ends, you pop right up on this huge rocky point that over looks two bays and the ocean. The views are unreal. We ended up doing this hike 1-2 times a day during our stay. It was a great way to start the day and end it. And I loved how the views changed with the weather.
From the stormy skies and rocking waves…
To seeing the sun peak through during a subtle sunset. You could sit up here and look for hours.
Storm Watching
The winter months are considered the off season in Tofino but there is so much to do here and one of the big things for them is storm watching. The coastal storms come in fierce and we were lucky enough to be there while one hit. I love how they provide every guest with a rain jacket to help
The beach had pretty much cleared at one point because of how strong the wind gusts were, but don't worry we still managed to take full advantage of the experience. Our kids had no problem running on the beach in side ways rain getting soaked!
Pettinger Point is also an amazing spot to watch the waves come crashing in from the ocean. The swells were roaring. We don't get to experience the ocean often (Puget Sound is technically the ocean but it is sheltered), and this was such a reminder of how powerful the ocean is.
Campire and S'mores
And after a day of hiking, storm watching, beach combing and surfing, we cuddled up next to the fire and roasted some s'mores. If you forgot to pack your own goodies, don't worry because they have s'mores kits available in the lobby. They are the best!
This was such a fun way to end the night, especially when it gets dark around 4:30PM up there in the winter.
Places To Eat In Tofino
Because our Beach House had it's own full kitchen, we ended up making almost all our own meals during the trip. But we were able to snag a few delicious meals in town! We could not get over how amazing all the food was on the island. We definitely recommend, Tacofino, Shelter, and Shed.
Pacific Sands, We will Be Back!
I'll leave you with a few of my fav scenery pics from the trip. I honestly could share even more photos than I managed to pack into this post, it was THAT good of a trip. We loved every experience from the hospitality, activities, adventures and food and can't recommend Pacific Sands enough. If you love the outdoors, exploring and relaxing, put this resort on your bucket list!
See ya next time, Pacific Sands! Thank you for such an incredible trip and even more memories.