I grew up going camping every summer with my family (although it was a little different in a motor home) and to this day some of my favorite childhood memories are from those trips. Since camping has been top of mind this week I thought I would share some fun crafts for your next camping trip! All of these crafts use elements found in nature or use items that you would already be bringing with you and will create memorable moments with your kids.
Crafts For Your Next Camping Trip

Tons of Craft Ideas For Camping
Have your kids make a "Camp Box" before you head camping or while you are there. This will be a great place to store little treasures such as pinecones, rocks, sticks etc. and you won't get in trouble for accidentally throwing them out! (Via Disney Blog)
Aren't these chairs the cutest? These easy Camp Chairs are the perfect way for your kiddos to feel independent and like a 'big kid'. We got my daughter her own chair for our family room and she LOVES it so I think these would be a hit! (Via Simple Simon and Co)
These little Pinecone Owls are a fun craft while sitting around the picnic table. Simply find some pinecones out in the woods (if that works with your location) and add a few acorns and feathers and paint. (via Crafts by Amanda)
Make a DIY Bug Catcher with a left over juice bottle. (Via Disney Blog)
I know we always bring a huge amount of paper plates with us on our camping trip so you wouldn't be packing anything extra for this craft besides some glue and scissors. Use your paper plates to make cute animals. They can also be turned into masks just by cutting two eye holes. (Via DLTK)
Going on a camping trip with multiple families means multiple tents and that can be confusing to young kids. Try making these personalized signs out of a left over tin cans and prop them on a stick in front of your tent so everyone knows which tent is theirs! (Via Crafts by Amanda)
Every camp ground has rocks! Collect a few flat rocks let your kids personalize them with paint. (Via Aesthetic Outburst)
For the girly girls in the bunch, make a nature bracelet using duct tape, ribbon and flowers. (Via Mustard Seeds)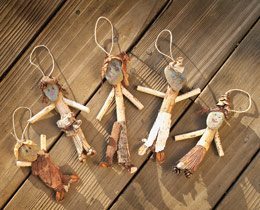 Nature Pals from sticks, bark and rocks! (Via FamilyFun)
If you have kids that like to label things and stay organized here is a free printable to help you keep your gear in check! (Via Sweet Mady)
So what about you, do you have camping plans this summer? What are some of your favorite things to do?
SaveSave