Ever since becoming gluten, egg and soy free, I have been on a mission to find a gooey and delicious chocolate chip cookie recipe. Making them gluten-free is easy, but almost all store bought chocolate chips have soy in them. UNTIL, EnjoyLife foods came out with Semi-Sweet Chocolate Chips that are dairy, nut & soy free. I have bought them online before, but that isn't the most convenient thing, especially when you are in a time crunch. But the other day I was at the store and I found them IN THE STORE in the organic food section. I about died I was so excited.
I found a recipe for Chocolate Chip Cookies on the back on the package and made a few tweaks to it so they came out just perfect. So here is my Gluten-Free Chocolate Chip Cookie Recipe.
Gluten Free Chocolate Chip Cookies Recipe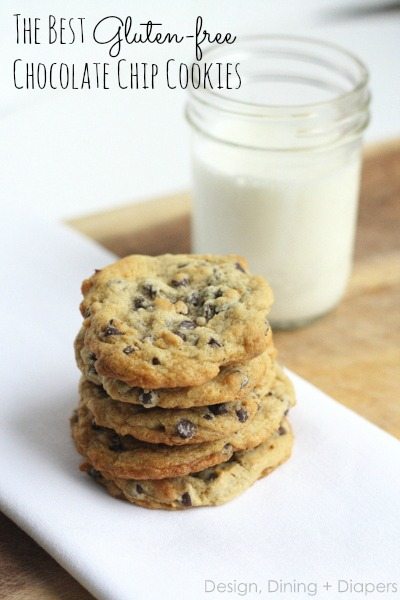 The Best Gluten-Free Chocolate Chip Cookies
The best gluten-free chocolate chip cookie recipe.
Ingredients
⅔ Cup Coconut Oil (A very loose cup, not melted)
1 Tbsp. Butter
1 Cup Packed Brown Sugar
½ Cup Granulated Sugar
1 Tbsp. GF Vanilla Extract
⅓ Cup Water
1 Tbsp. Ener-G Egg Replacer + ¼ Cup Water
2¼ Cup GF Flour Mix
1 tsp. Salt
1 tsp. Xanthan Gum
1½ tsp. Baking Soda
½ tsp. GF Baking Powder
1 10 oz Bag of EnjoyLife Chocolate Chips
Instructions
Pre-heat oven to 375 degrees.
Cream oils, butter, vanilla, water, sugar and 'eggs' together.
Slowly add dry ingredients until smooth.
Stir in chocolate chips.
Place in refrigerator for at least 10-15 minutes.
Drop a 2" spoonful of dough onto a cookie sheet. Place 2" apart.
Bake for 8-10 minutes.
Now I'm off to make another batch :)
OTHER GLUTEN FREE COOKIE RECIPES YOU MIGHT LIKE:
SaveSave
SaveSave