This post is sponsored by Vie Active. All clothing picks and styling are my own. 
If I am being honest, I probably wear loungewear and activewear more than anything else in my closet, especially in the summer. From the minute I wake up, to lounging around all morning on these summer days, to heading to the gym and the beach. I'm always looking for comfy, cute clothes to throw on.
I'm excited to be partnering with Vie Active today to show you some of their new summer activewear looks and how I styled them from morning to every day. I'm also giving you a full review of fit and comfort!
GET 20% OFF YOUR ORDER USING TARYN20 AT CHECKOUT!
Summer Activewear Ideas
Black Jumper for Every Occassion
Alright, let's dive right in with the black jumpsuit that everyone needs in their closet! There are a lot of reasons why I love this jumpsuit but it comes down to how versatile it is. That's the thing about purchasing higher quality clothing is that you want to be able to wear it more than special occasions and you will for sure get so much use out of this.
The material is SO soft that it pretty much feels like the most comfortable pair of pajamas. The Jackie Jumpsuit is light and airy and is a great piece to honestly either sleep in or just throw on first thing in the morning. I paired it with their Dempsy Duster for a really comfortable and classy lounge look. The duster is another piece that is so versatile. You can wear it over your workout gear to yoga class, or throw it on with a pair of black leggings and tee for an every day look.
This jumpsuit is also perfect for throwing on over your activewear on the way to yoga class. It has an adorable keyhole back for a little peek-a-boo look. Something unexpected and shows off your cute sports bras.
For fit- I feel like all of their loungewear fits very TTS. I'm wearing a size small in both the jumpsuit and the duster and they fit perfectly. 
I'm wearing their Sherri Bra in Petal under the jumpsuit. Aside from the back being just adorable and different, I really love the fit of this sports bra! For one, it's padded which gives a little more support and the material is just SO soft. Just a heads up though, their active wear runs a little on the small side, especially this sports bra. I went up to a size medium in this and it fits great. The small was definitely too small.
Now that you've got your workout done, time to head out for a day of errands or summer fun. Throw this jumpsuit on over your swim suit with a hat and tennies for a day around town.
A few final thoughts on the black jumpsuit, these pockets are everything! The material is so slinky and soft I could wear this all day. My only heads up is that the scoop in the front is pretty low and the back doesn't allow for a regular bra, so this is definitely something you'll want to wear with either a sports bra, bralette or swimsuit underneath.
From Loungewear to Gym wear
Let's take a look at some of their active wear pieces! They have a huge line of leggings and sports bras with adorable designs and colors. I'm wearing their Lili 3/4 Leggings in Burgundy with this super lightweight and soft Alia Twist Top in Ivory. The top has a really cute cropped look that fits perfectly with the high-waisted leggings.
And just look at how adorable the back is! It shows off the cute designs of all the Vie Active sports bras. This is the Sunny Bra in Burgundy to match the leggings.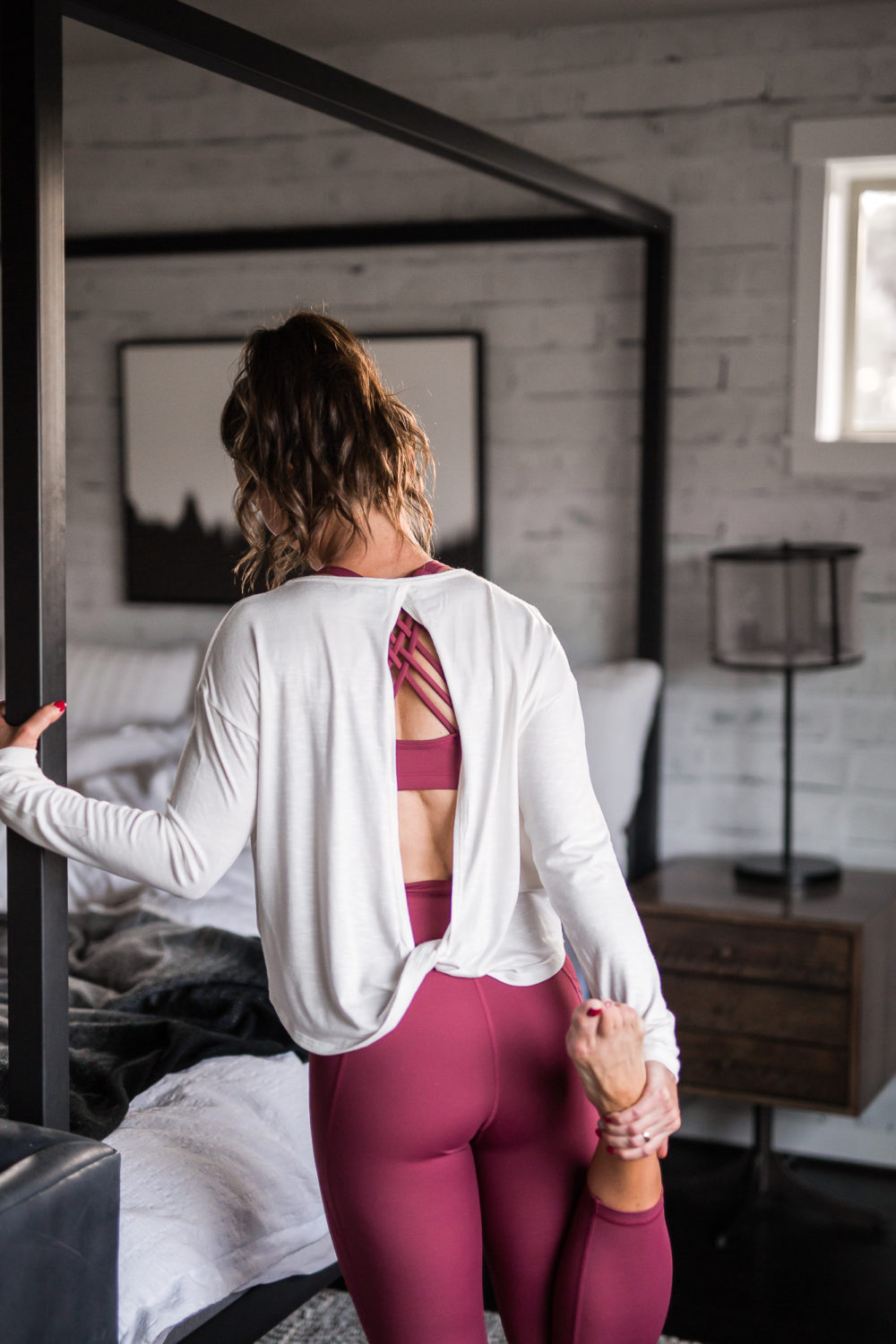 If you are someone who likes to just wear leggings and a sports bra to yoga or your workout class, this is a great shirt to just throw on before and after class. It doesn't feel claustrophobic, it breaths really well and looks great with all their pieces.
Let's talk about the fit of all their active wear pieces. In my opinion the leggings and the sports bras run on the small size. I am normally a very true size small in just about everything I wear and I sized up to a medium in both these pieces and I'm so glad I did. They fit perfectly.
The material is so incredibly soft and they fit like a glove. It's also really breathable. I ran in these on a hot humid day and they felt great!
I am obsessed with the waist height on these Lili 3/4 Leggings. They keep everything tucked in and they don't slip AT ALL! I tested out this outfit during a Crossfit workout that included a lot of running, jumping, and versatile movements and I didn't have to pull up my pants once. Which is huge! It's hard to find workout leggings that stay put during a full workout and these were a home run. One of my new favs for sure.
Here are links to all the pieces I'm wearing today but they have so many more cute designs and pieces to choose from!
GET 20% OFF YOUR ORDER USING TARYN20 AT CHECKOUT!
black jumpsuit / Tan Dempsy Duster  / Sherri Bra in Petal / Alia Twist Top in Ivory / Lili 3/4 Leggings / Sunny Bra in Burgundy
Special thanks to Shaylynn Marie Photography for capturing this shoot.