This post is sponsored by Lutron Electronics. All opinions are 100% my own.
We love the large windows in our family room because they let in so much natural light, sometimes a little too much. In the summertime the sun rises bright and early right outside these windows and is blinding! We noticed early on that we needed blinds in here to block out the sunlight for those early morning cartoons or to keep the heat out in the evenings. We have definitely noticed how important window coverings are down here in Dallas!
I wanted something sleek, more modern and something very user friendly given how tall the windows are. I decided to go with the Serena Smart Shades by Lutron. They are wireless (they do have a wired option though!), and you can control them with the app on your phone or the remote. Picking out the right window coverings seems to be a hot topic among home owners so let's get into the details.
Wireless Roller Shades
Here are how the shades look! I went back and forth on an inside or outside mount. I ultimately went with the above trim mount. I felt like this option was really sleek and it didn't block any of the existing window when fully rolled up. It also makes the facia look part of the moulding versus taking away from it. I think an inside mount would have worked great as well, you would just see the facia inside the window box and it would reduce visibility out window. I think it's a toss up.
Before Windows
Here is what our windows looked before. You can see how seamlessly the Serena Smart Shades work into this space below.
Picking Out Your Serena Smart Shades
When picking our your Serena Smart Shades you have SO many options for customizing them to fit your needs. Things you will need to decide on 1) What type of mount do you want? Inside or outside or above the trim? 2) Battery operated or wired (you would need an electrician to do this for you) 3) blackout or semi transparent or 4) Type of material.
The process is very easy to navigate on the Serena by Lutron website. If you have ANY problems, their customer support line is amazing. I called them a few times to make sure I was doing my measurements correctly and they were a dream to chat with. So helpful.
Just a heads up when ordering the facia option. They have two facia options, fabric wrapped that is more rounded and the architectural option that is straight and sleek. I went with the architectural option and it is a very stark white and it is also made out of an aluminum material so it's not easily paintable. Our moulding is very creamy so there is a color difference. I am going to try and prime and paint mine so they are the same color as our trim. I will report back!
The roller shades were relatively easy to install! You can watch a video on how to install them here. I did them 100% by myself, it took me a day or so. Some I had to work at to click them in right, but I was also being really picky. And having two people to install might help :)
Choosing Your Shade Material
I am a neutral girl through and through so I sampled a TON of neutral fabric samples to get an idea of what we wanted in here. Did we want total black out? A semi-transparent so we can see some light coming in? A linen material? Serena by Lutron has so many to choose from and in beautiful textures. It was a very hard decision!
I went with 100% blackout shades in here to block out the sun completely. I chose the Luna Blackout 0% Collection in Sunglow.
Setting Up The Caséta Wireless Remote
I connected the Serena Smart Shades with the Caséta by Lutron Pico Smart Remote. It sits on a nice little pedestal on the coffee table so whoever is watching TV can simply use the remote to close or open the shades.
Caséta By Lutron App
I also have the roller shades connected to the Lutron App on my phone. I use this app for all of my Caséta by Lutron products. I use it to turn lights on and off remotely, along with setting schedules for lights that I want on certain times of the day. You can even pair the Serena Smart Shades with your Alexa and ask it to open/close them for you!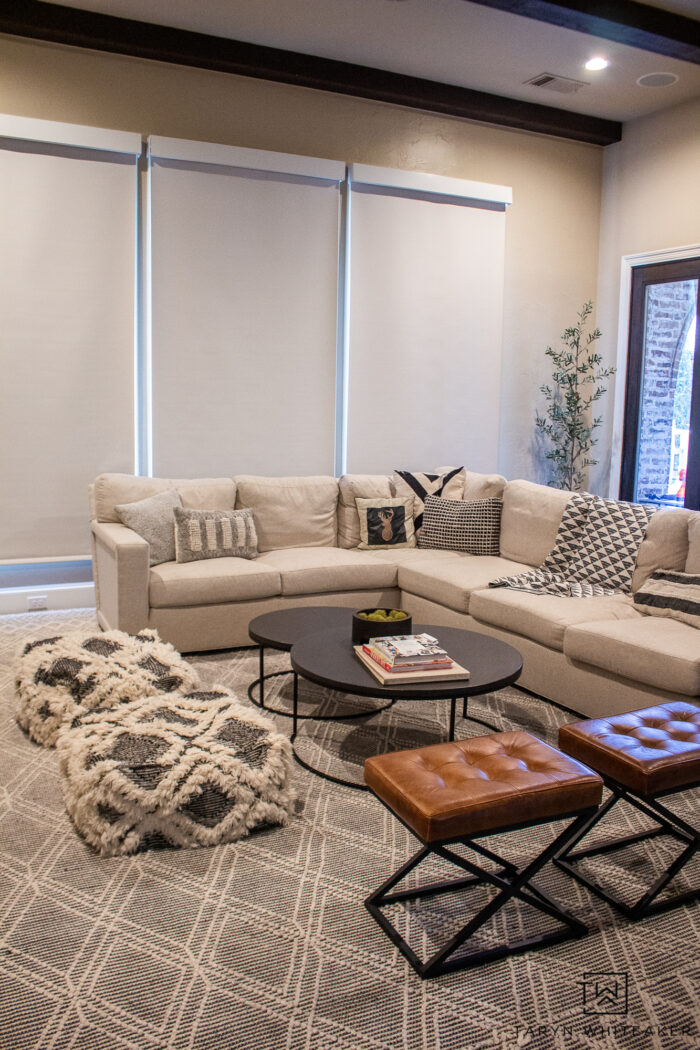 They really turned out perfect. Our kids love using the remote ( a little too much! ) and it helps with redirecting sunlight throughout the day. I can't wait to paint this room white so it all flows together even better. I'm also already thinking about what windows we can do next.
Click here to learn more about the Serena Smart Shades by Lutron.
You May Also Like: