You guys! I cannot believe I am JUST now getting this up on the blog! The most exciting moment of my career and I'm 3 weeks late posting about it. (I blame it on all the Christmas posts). If you follow on social media, you may have caught wind that I filmed a segment for The Rachael Ray Show! So crazy huh!?!


I went on the show for what they call their "Viewer Tipoff". They invited two home decor bloggers, two fashion bloggers and two food bloggers to go head to head in a Holiday Tipoff.
You can view the whole segment on your DVR (it aired on November 23), or you can view a shortened version of the segment here.
This was one of the coolest experiences. I am so humbled by the opportunity and incredibly grateful for the experience. It was SO much fun. This opened up a whole new realm of possibilities and it was a dream come true.
So how did it happen?
The whole process happened so fast. It was a Friday morning before Halloween, I was out running errands with my two year old, trying to find the perfect frames for a new gallery wall and I hear an email come in on my phone. I briefly looked at it, saw something about Rachael Ray, assumed it was just a general announcement and almost deleted it. Put the phone back in my pocket and continued shopping.
But something made me look at the message again. When I really read it in its entirety. I was shocked. I couldn't believe what I was reading. I finished up my shopping trip, hopped in the car and gave them a call back (and prayed that my two year old wouldn't start screaming in the middle of it).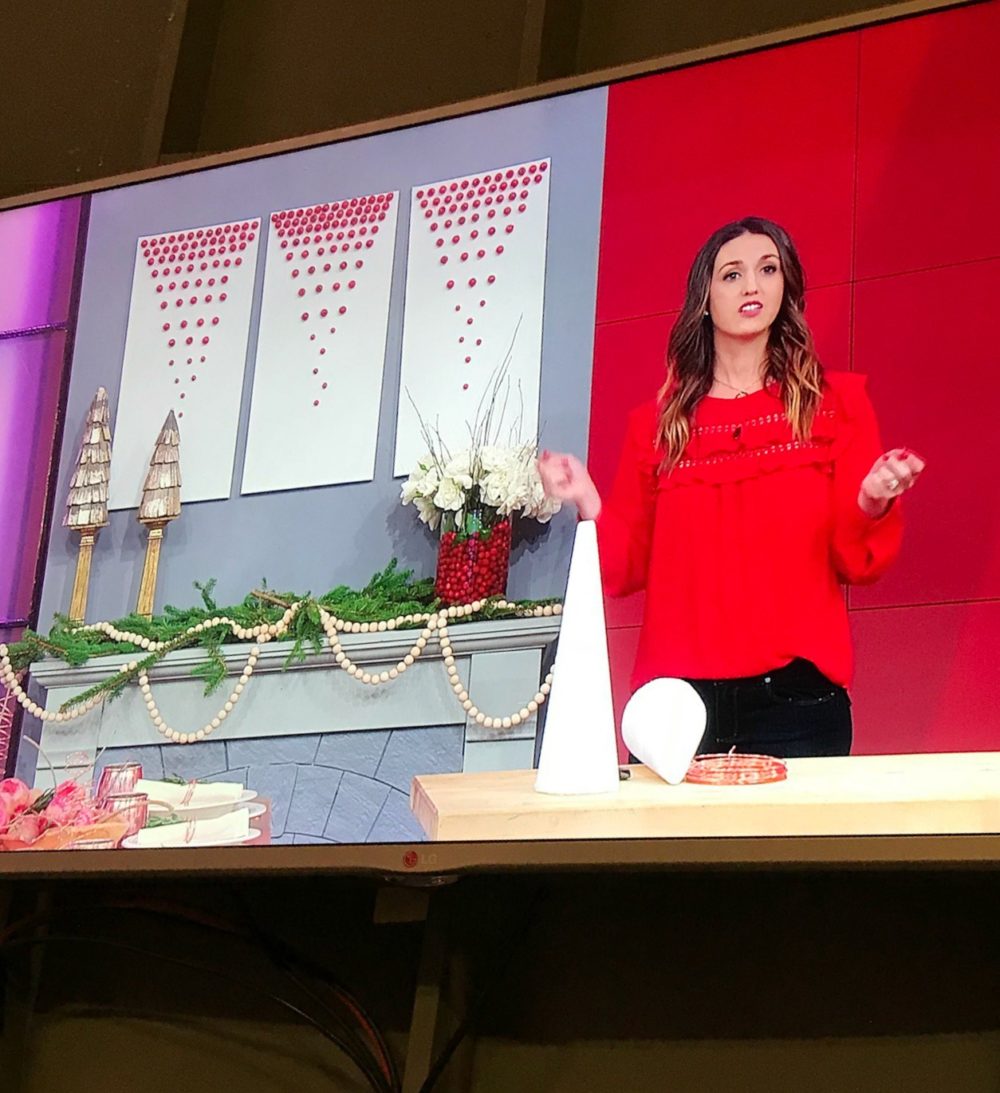 Well the next few hours were filled with several phone calls with various producers, tons of nerves, excitement and a lot of "I can't believe this is actually happening"conversations with my husband.
Keep in mind this was all happening on a Friday afternoon. THREE days later, I was on a flight back to NYC to film the episode!
When I arrived at the studio, I discovered that I'd be 'competing' with Jen from City Farmhouse. She is absolutely amazing, SO talented and I've looked up to her for years. We actually met in person last year at the BHG Stylemaker event in NYC, so it was fun to hang out again and experience this together.
We spent the day in our green room (so fancy) and crafted our little hearts out in preparation for the segment. We were both given a set to decorate for our Holiday Tips. I went with a Modern Winter Wonderland Theme with pops of red and copper. Here is a glimpse at the tablescape I created using a soft neutral base with pops of dark greenery, pomegranates and copper. I showed the audience how to make these wire trees (view here) and I'll hopefully have a few tutorial up on the blog for you soon!
Jen had a beautiful Woodsy Nordic Theme in black and white. Her use of scarves throughout the segment was so creative! She did an great job giving you easy centerpiece tips and tricks too.
We both shared three different tips during the segment and then the audience voted on which one they wanted to win. Here is the cranberry art that I showed on the segment, you can also view a tutorial on the blog here!
You can view the whole segment on your DVR (it aired on November 23), or you can view a shortened version of the segment here.
The day was fast paced, crazy, a total adrenaline rush, but SO much fun. It would normally take me three full days of working (or more) to put together a set like this and have it look exactly how I envisioned. We had just a few hours!!!! While there are so many things I would do differently, I loved the entire experience. It was a huge learning opportunity and I am incredibly grateful for it.
One of my favorite parts of the day was hanging out with Genevieve Gorder!!!! She has been such an inspiration for me over the years. I have watched her on Trading Spaces and other shows over the years and I am so amazed at her creativity and eye for design. We shared a green room with her for a few hours (umm talk about surreal moment) and she is the absolute nicest person.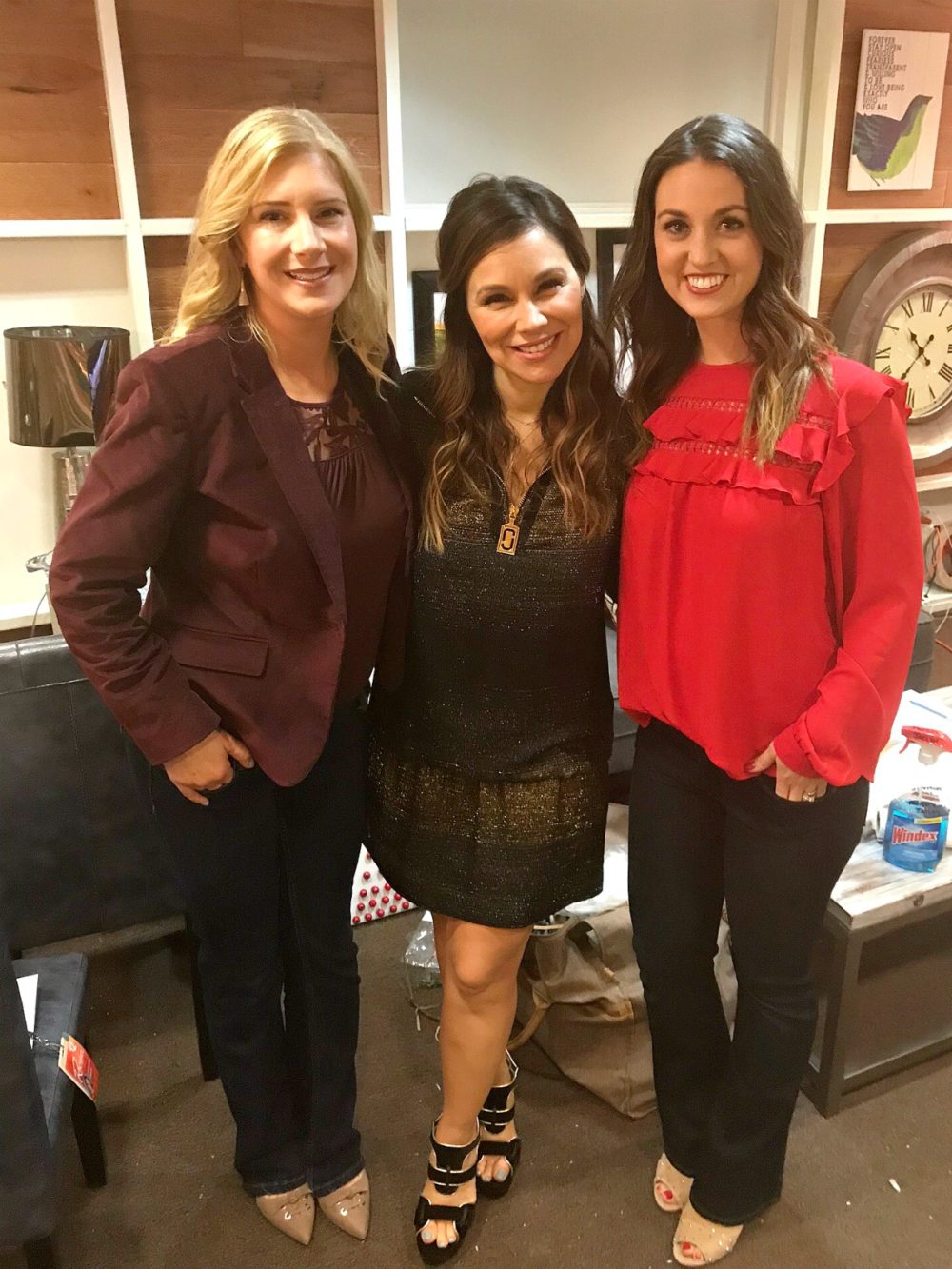 We were also able to meet Gretta Monahan, fashion expert who is as cute as can be!
I hope you are able to catch a glimpse of the show, and a HUGE thank you to everyone who reached out with yoru sweet messages. It really means the world to me and I am so grateful for all of you who have been cheering me on with this crazy adventure. Including my awesome friends and family, love you all!
And in case you were curious, here is a link to my outfit details!