This post is sponsored by Floor & Decor. All opinions are 100% my own
Hey All! If you follow me on Instagram and Facebook, you may have seen me at the Floor & Decor Grand Opening Event in Tukwila, Washington! I have heard SO much about this store and I've always been jealous of the people who have one near them. So to have this mega flooring and tile store near me now is a dream come true. I wanted to give you a glimpse into the new store and all it has to offer.
New Floor & Decor Store
If you are remodeling your home, a master at flipping houses, or getting ready to build your dream home, you HAVE to take a trip to your local Floor & Decor Store. I was honestly amazed at the square footage of the store and all of the flooring and tile selections that they have. If you have an idea of what you are looking for, I bet there is a 99% chance they have it or something super close to it and then you will probably see five other options that you have never seen before and will want to work into your design!
Based on a lot of feedback I get through the blog, I know that when it comes to design a lot of people just don't know where to start. You may know you want white subway tile and white cabinets but you aren't sure on specifics or how to tie everything together (anyone nodding right now?). Well, there is an awesome design team at Floor & Decor who will help you for FREE! Just bring in a pic of your space, some rooms that you are inspired by and they can help you design your dream space. You can even schedule an appointment online here!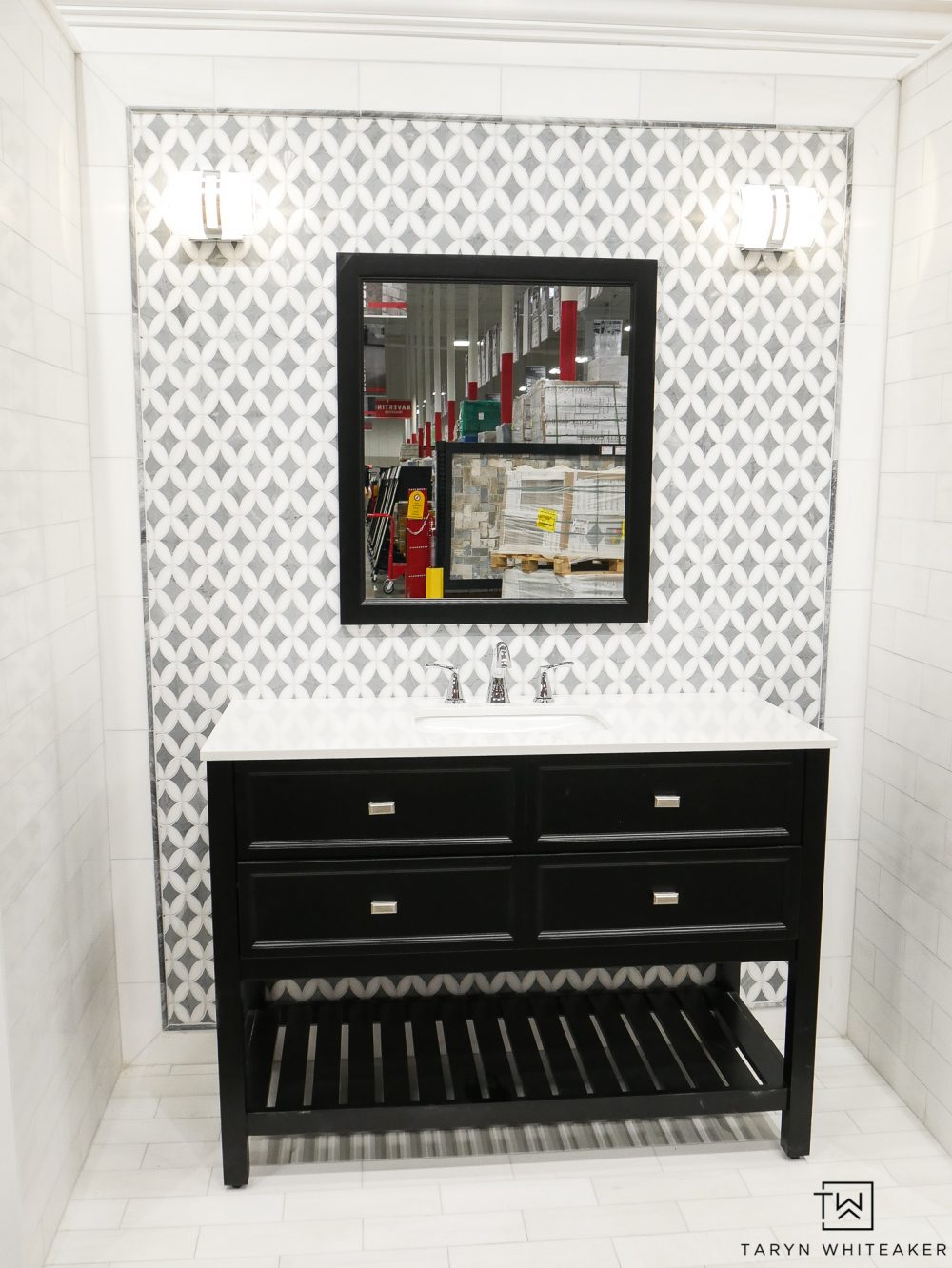 I loved walking around their show room and seeing all the sample spaces that they put together. I was really impressed with the design work, especially the bathrooms! Here are a few of my favorites. I am really loving the trend of mixing different tile styles together where you have a solid and then an accent pattern to frame out the tub or the sink.
We have a lot of this faux wood tile in our own home and I will never get tired of it. It is the perfect blend of rustic and modern and it goes with just about anything!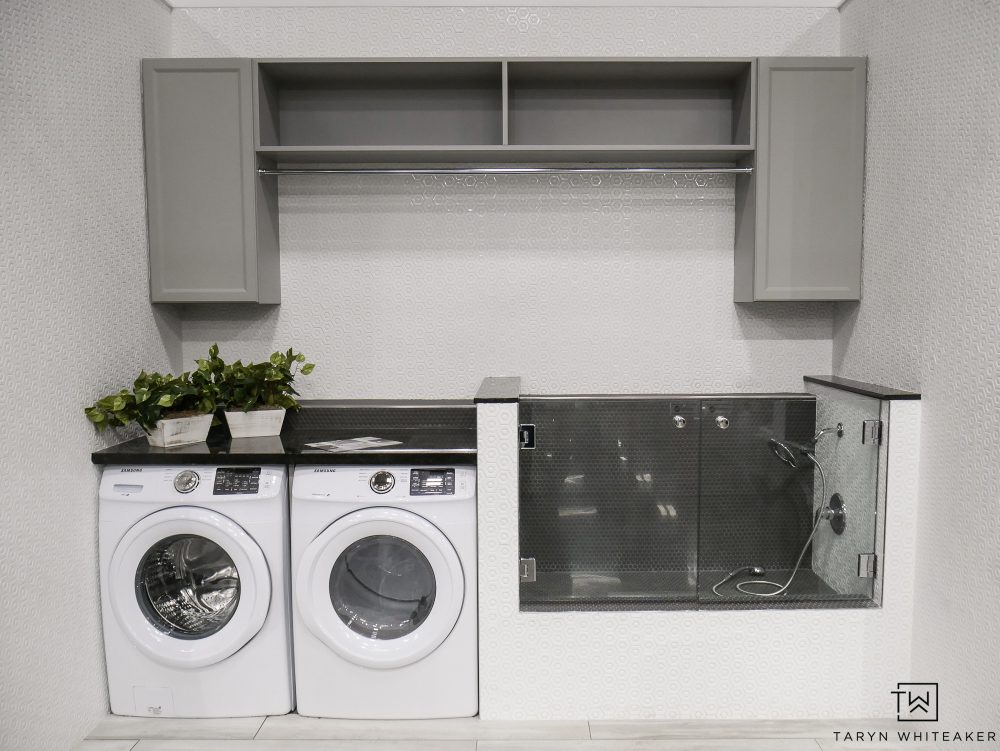 I had to snap a pic of this laundry/mud room because we have dreamed of a dog shower ever since we moved into this home! I would love to toss our dog (heck, even our kids) in there after a day at the river or playing in the mud. This is heaven.
Patterned Tile Selection
I am amazing at all of the patterned tile that they offer. This is just a small sampling but also includes some of my favorites.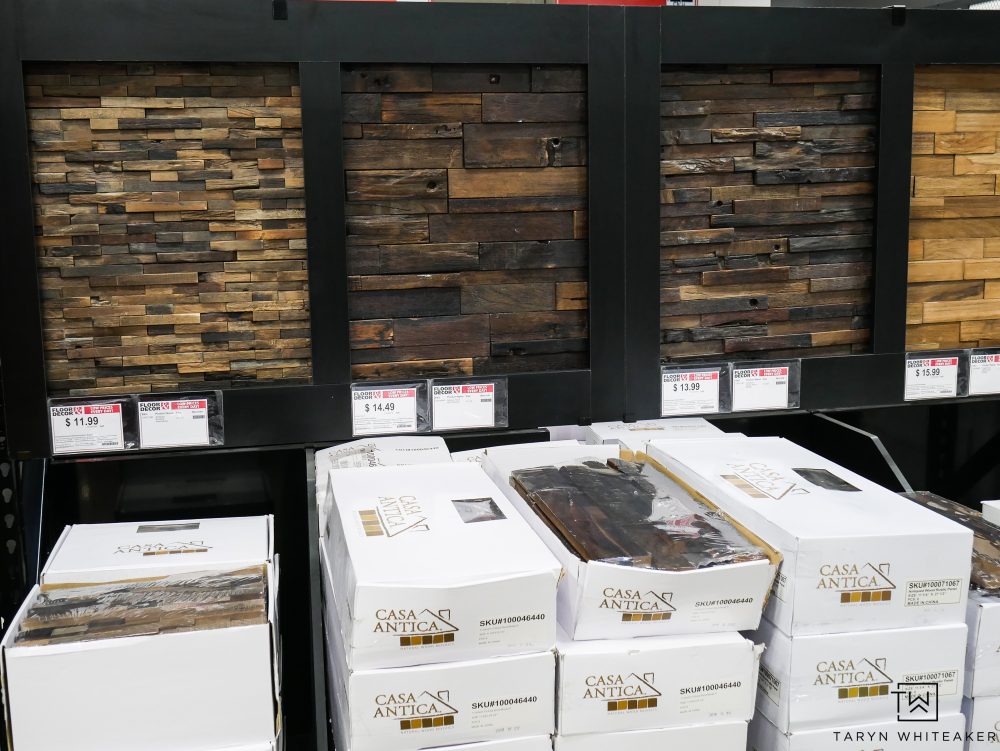 Now let's talk about my absolutely favorite thing I saw in the store… these wood mosaics. They are made out of real wood and you don't install them like normal tiles. They come on sheets much like mosaic tile, but you just use a special adhesive to apply them to the surface you are working on. You can pick up a bin of the adhesive at Floor & Decor. No grouting or anything like that involved. I just love this concept and they look really easy to put up. I keep thinking of where I can sneak some these into our home! An accent wall? Wrap around a kitchen island or maybe even a wainscoting?
This gray tone is beautiful. It would look great with both farmhouse style decor or even something more modern contemporary.
Flooring Options
Now onto my favorite flooring. I'm all about industrial decor and I have always wanted a cool industrial loft in a city with concrete floors ( I can dream, right?). I saw these oversized porcelain tiles and about died. These are perfection. They would look so amazing in a studio space or a large open floor plan. The tile is called "Cementi Gray".
The flooring section is like nothing I've ever seen before. It has more hardwood colors than I've ever seen in one place. If you are looking for a specific wood tone, they probably have it. From every shade of gray, white washed, natural, dark espresso and black.
They also have bamboo, vinyl, and all other alternatives as well.
By the time I was done walking through the store, I was so excited about all the flooring and tile options that I told my husband I need a house to flip just so I can have a place to play with all of the fun stuff!
The grand opening also included a big event with tons of prizes and games! The million dollar dice roll was a huge hit for obvious reasons. And yes, you actually have a chance to win a million dollars by rolling the dice and spelling out FLOORS. I watched several people win $100 and even $1000 gift cards within a few minutes. It was tons of fun!
Click here to find the nearest store to you! I can't wait for the next one to open super close to me this year!
SaveSave
Let's Go On A Tour!