Once you have kids, anything you can do to make life easier becomes a priority! It's been about two years since I revealed Miss E's whimsical girly girl room and it's time for some little updates! When I originally did her room and upgraded her to a queen bed, she inherited an old comforter and shams from our old master bedroom and it was time to get something just for HER – new Beddy's Bedding.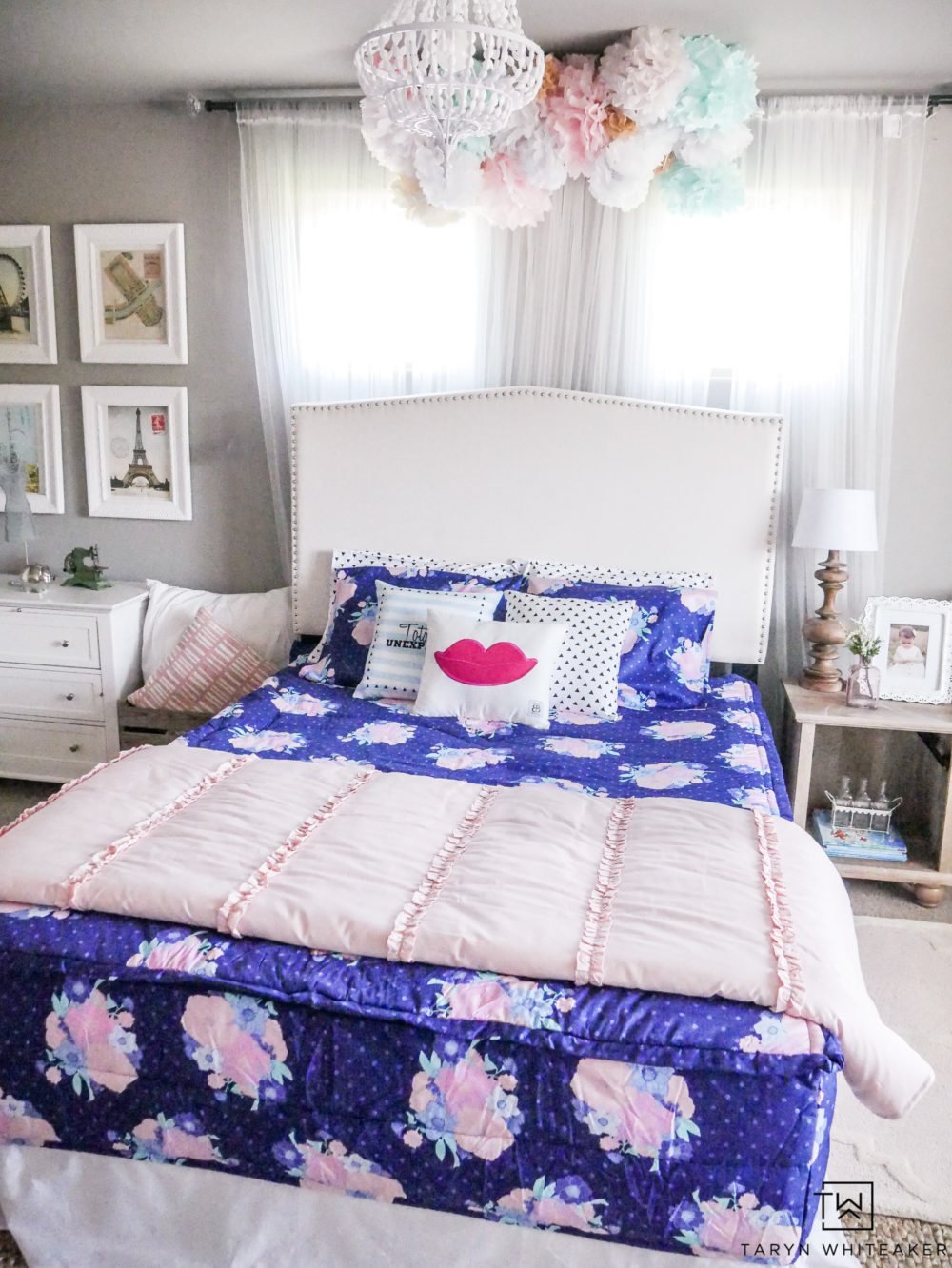 She has the hardest time making her bed in the morning because the big comforter was too heavy for her to pull over and her top sheet would be pulled off by morning. I needed something cute, lightweight, and convenient for a 6 year old! I have been eyeing the Beddy's Bedding and thought this was the perfect room to try it out. 
Beddy's Bedding – totally unexpected
I let Miss E pick out her new bedding herself! The kids' rooms are the one place where they have a say and I love that they are all so particular about their own personal spaces and styles. Since we did the pastel look before with white bedding, she wanted to go with a completely different look and decided on the Totally Unexpected bedding set. I love the new bold and beautiful look to her room, and of course she still has her two favorite colors, pink and mint included! Beddy's provided us with the bedding for review and I'm ready to give you our full opinion!

Beddy's Bedding – blankets
I think every bed needs a pretty blanket draped over the end. It just really completes the look and is also so cozy. My kids are all obsessed with blankets, super soft blankets to be exact and they curl up with them every night. This minky backed blush blanket is so perfect. I was a little sad when all my kids grew out of their baby minky blankets. I love how this blanket is a great upgrade from baby to kid! It's lined with the most amazing material but also has a chic style.

My daughter turns 7 in a few weeks and her room is suddenly looking more and more grown up and I'm just not so sure how I feel about it. The new bedding definitely adds a teeny tiny bit of a more modern look with the black and white sheets and bolder pattern. The slight style change and the addition of the navy, now have me wanting to make a few more small changes to the room. I think she needs her own little desk space so I'd love for that be next on the list!


Every bed, sofa, chair, basket all need throw pillows, so naturally I had to stock her bed up with them too! Beddy's has a Totally Unexpected Throw Pillow Collection that goes perfectly with the bedding.

While reading some of the comments online, a few people mentioned that they thought the comforter was even cuter in person and I have to agree! The exact color is a little hard to capture, but it is a very pretty navy blue.


Beddy's Bedding – best for little kids
So let's dive into why this bedding is the BEST for little kids (anyone, really!) The bedding set comes into just two pieces, the fitted sheet with the blue patterned outer layer, and the top comforter lined with the minky. They simply zip together and fit perfectly on top of the mattress! SO all you have to do is unzip to get in, zip yourself up and zip your bed all back together in the morning!
Beddy's Bedding – the zipper
You can either zip one side down or both if you like a looser fitting top sheet. This reveal the fun patterned accent sheets!
And zip it back up and you have yoruself a perfectly made bed! My daughter couldn't be happier with her new bedding, she is seriously so excited to make her bed every morning now. I don't have to ask her 500 times to do it and she can now easily do it the whole thing herself which helps a ton. My son is now super jealous and wants one of his own!
Beddy's has quite a few different patterns to choose from, you can check them all out here. Everything from solid and ruffles, to modern geometric and flowers. Not to mention coordinating pillows,  blankets and more. But most of all, they makes things SO easy!