Hi All! Happy Thursday! How is everyone doing today?
This week, I've been busy accessorizing and trying to finish a new space!  It's probably the part I struggle with the most when it comes to decorating. I love it, but sometimes I have the hardest time putting everything in just the right place. Anyone else feel that way? The other day I picked up this really cool vintage inspired crate from Hobby Lobby and wanted to do something different with it. I turned it on its side and used it to display jars and trinkets.
Instead of displaying plain mason jars, I picked up some jute and washers and gave them a more vintage look.
This project reminded me of my Shabby Chic Vases I made from old mason jars last spring. These projects take hardly any time at all and can really tie together a space.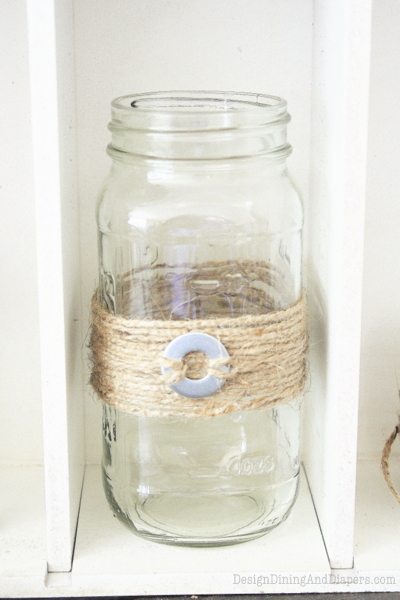 I love working with mason jars because they are so easy to come by. Would you have guessed mine were actually recycled spaghetti sauce jars? I soaked them in hot soapy water, scrubbed off the labels and ran them through the dish washer.
After thoroughly cleaning the jars, I wrapped them with some jute (or twine). I wrapped them until there was a band about 2″ thick.
To create the washer embellishment, I picked up zinc washers from the hardware store. They were 97 cents a piece.
You'll want to cut 2 pieces of jute at 14″. Take one piece and fold it in half. Thread the loop through the washer like the picture above. Take the end and bring it through the loop and pull tight. Repeat with the second piece of jute on the opposite side of the washer.
Then place the washer piece on top of the jute and tie in the back.
Simple, yet can really add character to your jars to vases.
You can also fill these with candles or other rustic objects. I chose to keep mine nice and simple.