Disclosure: This post is in partnership with WORX Tools! All opinions are my own.
When we first started looking at homes in Texas, one of the first things I noticed are the NICHES! Big, small and lots of arches. Let me just say these can often be tricky to decorate with and there are definitely some that I would just remove and drywall over. We have two large arched niches in our downstairs and I actually like them. I think they are the perfect place to feature artwork. However, ours definitely needed a little refresh. I wanted to turn them into a design element versus just a blank niche. First step was to paint, next step is to add square ceramic tile to give it some neutral texture and dimension. When I first shared this project on Instagram, I was often asked, 'But how are you going to cut the tile for the arch?'. Today, I'm diving into the details on exactly how to cut curved tile, or detailed tiles cuts in general.
How To Cut Curved Tile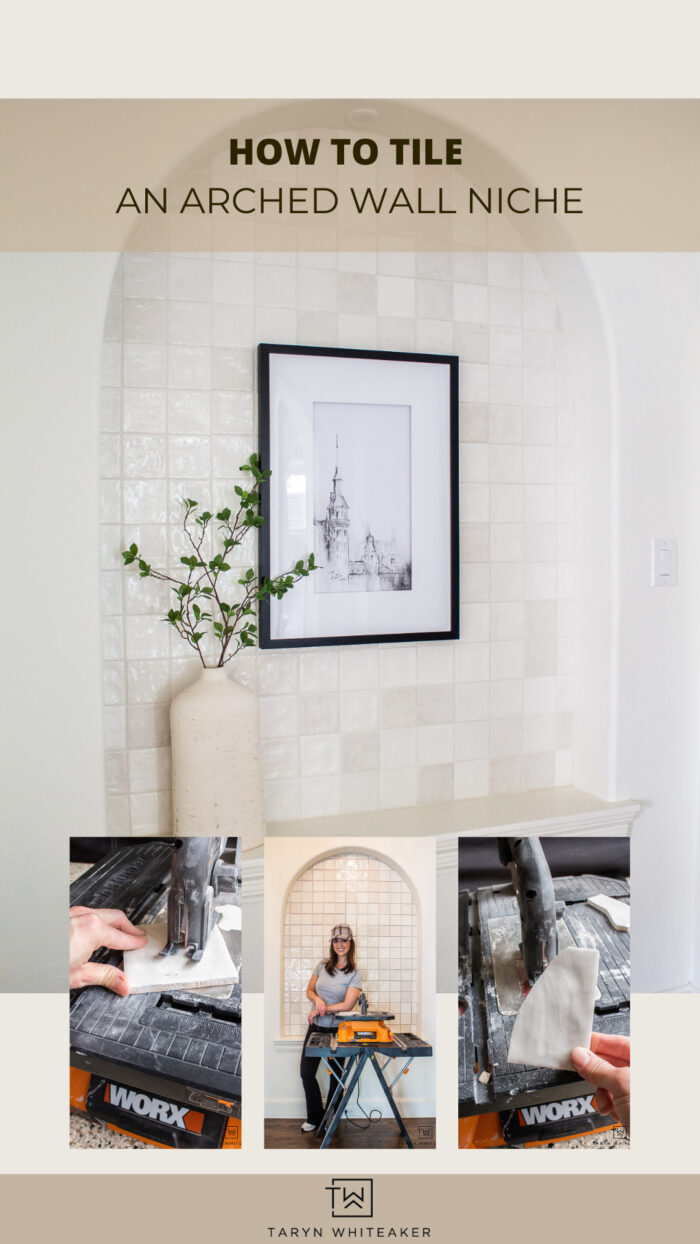 I have been tiling for many years. I have tackled all sorts of tiling projects from flooring, showers and backsplashes. But this was my first time tiling a niche, and an arched one at that! Even though I had never done it before, I wasn't worried because I knew I had the right tools for the job! Which is the most important part of starting any project.
Before Hallway
Here is what the hallway looked like when we moved in. I started by giving it a fresh coat of cream paint and now it was time to add a more modern element to the niche.
Tiling an Arched Niche
To start, I tiled the bottom half of the niche where I was just laying straight pieces. This was really simple and only took me a few hours to do! I a using these 4X4 ceramic square tiles for this project and decided to use a tile adhesive for the first time, versus a thin set. I ended up really loving it. It made for a very simple project, no clean up and a lot less messy!
Next, I laid all of the remaining full pieces and was left with all of the curved outer edge pieces. In my experience, cutting the few remaining detailed cuts, takes the same amount of time as laying ALL the full pieces. The details take the most time for sure, with all the precise measuring and often times redoing cuts.
Cutting Curved Pieces of Tile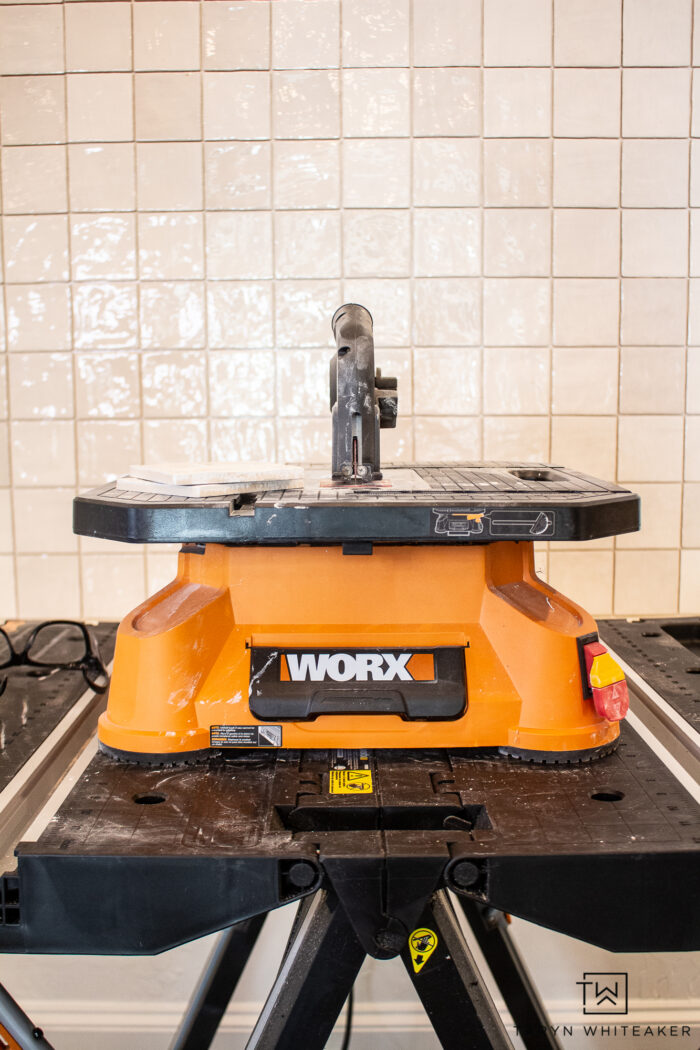 For this project, I am using my BladeRunner Portable Table Top Saw by WORX Tools. There are a lot of different tiling tools out there, but most are for straight cuts. This is the ONLY tool I will use for curved, circle or detailed cuts. It works amazing and allows you to really maneuver the tile.
This is a very versatile tool. You can use it as a basic table saw, cut LVP, cut round pcv pipes or copper pipes, and so much more. It's very light weight. I set mine up inside the ouse with my Pegasus Folding Work Table (another must have for me. I have two and use them for every project).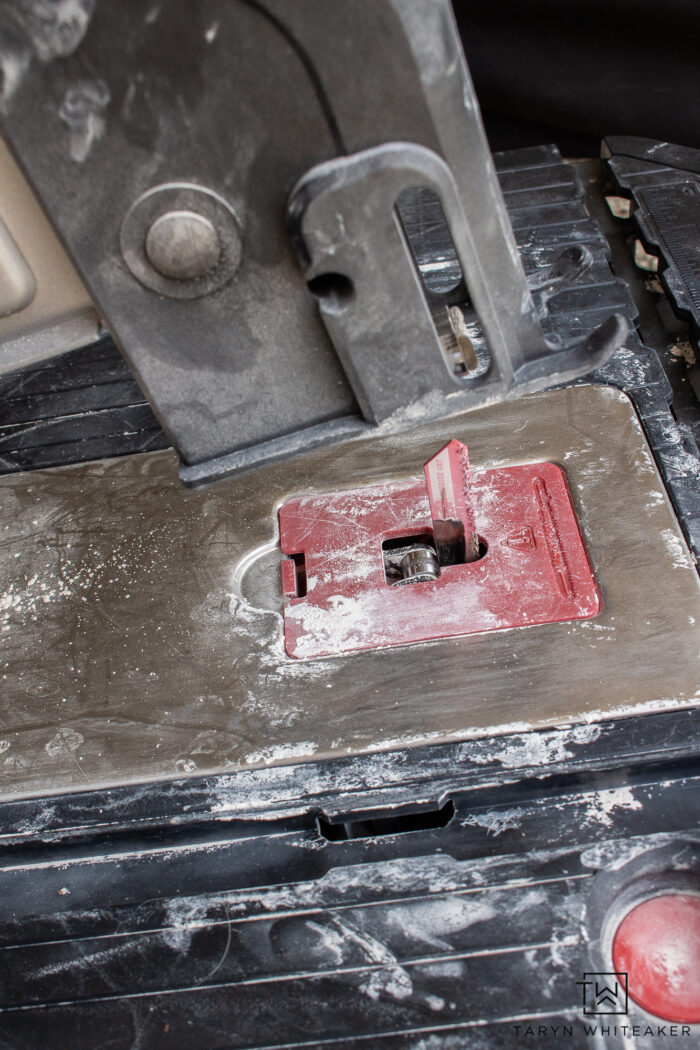 When cutting tile, you first want to make sure you are using the correct blade. The BladeRunner uses a standard jigsaw blade, so you just want to make sure you are using a ceramic tile jigsaw blade. My other suggestion is to replace it fairly often. If you find that it's taking a while to cut through a piece of tile, check the blade and make sure it's not too worn out.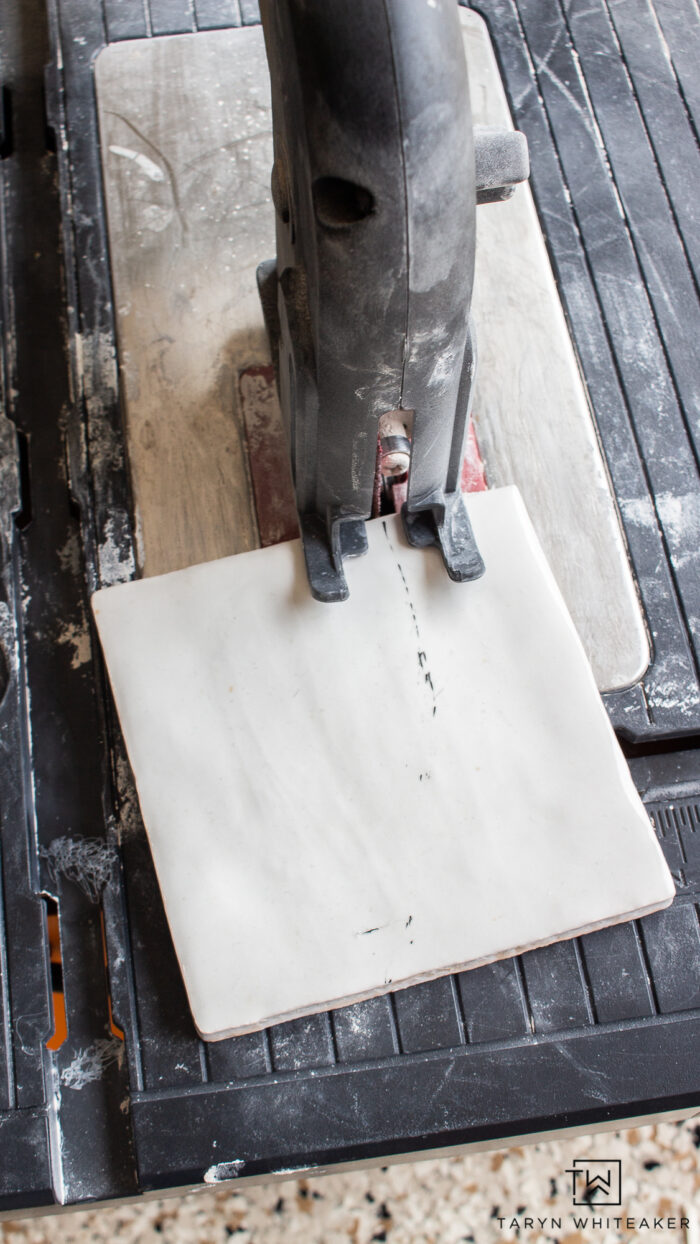 To cut the edge pieces, I first created a template using a piece of parchment paper. You can see more on this in the video below. But I simply held it up and traced the spot, and then transferred the angle directly onto the tile.
Once you have your lines, gently feed it into the saw. You have to be patient, put pressure on the tile and gently push it through. But don't force it or else it will crack.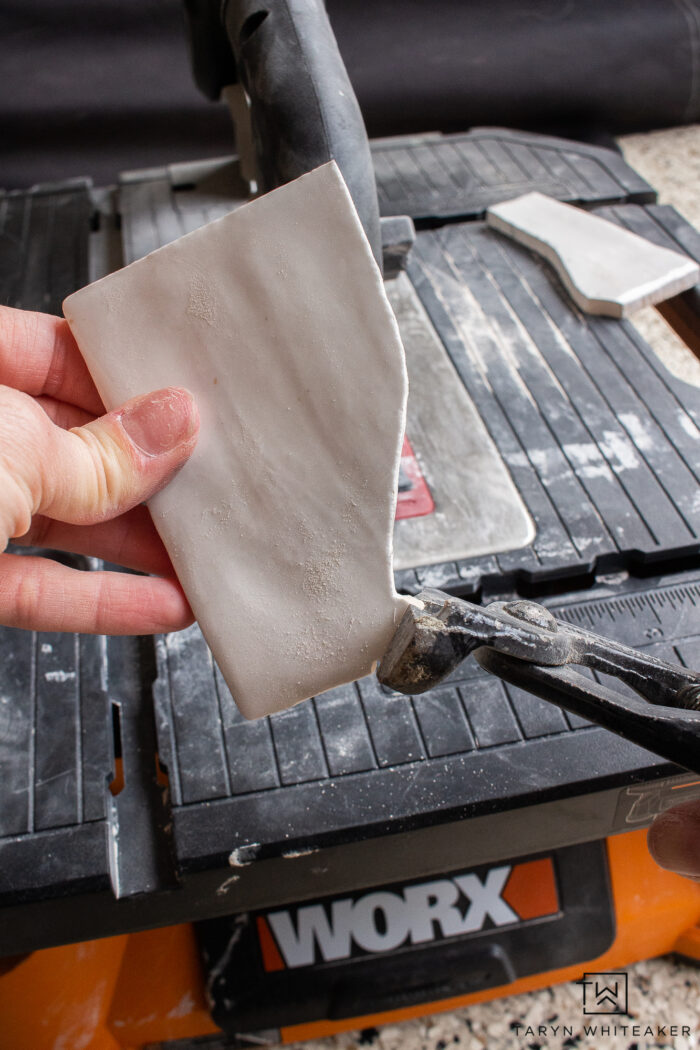 Quite a few times, the very last piece would be left on the tile or the shape was slightly off from me angling the tile wrong. This is an easy fix. Just take use a pair of tile nippers to carefully chip away the tile. It's very easy.
This shape is something you cannot do with a wet saw or tile snapper. You will most definitely need the BladeRunner for cutting angles like this on tile! I also used this to cut circles around all the plumbing in our last bathroom renovation in our previous home. It worked amazing and made the tile work look so professional.
I have to say, I'm pretty darn proud of myself for this one! Those were some intricate cuts that really didn't take that long.
Tiled Arched Wall Niche Design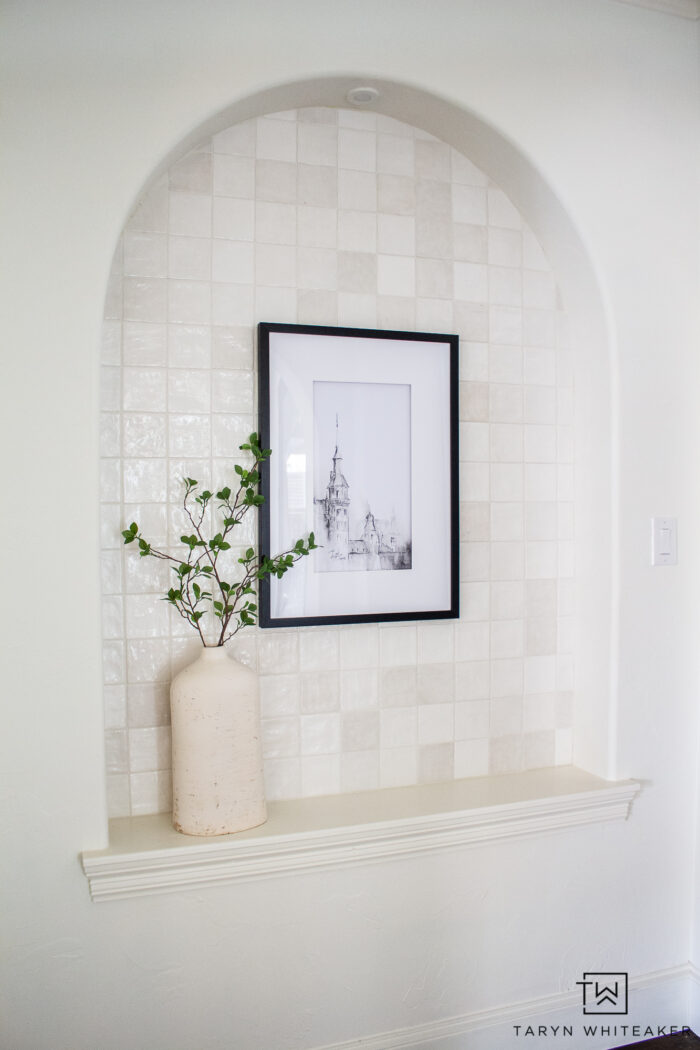 To finish it off, I grouted the tile using this white premixed grout. It definitely isn't pure white, it's very creamy which worked perfect with the wall color and warmth of the tile.
What I love most about this project is that it's subtle but also made a really big impact on the space. I could have done a statement tile with a lot of pattern for a big bold look. But I didn't want it to be over powering. I wanted it to be neutral but also add texture dimension. Something to modernize it but wouldn't get tired of in a year since I look at it a million times a day!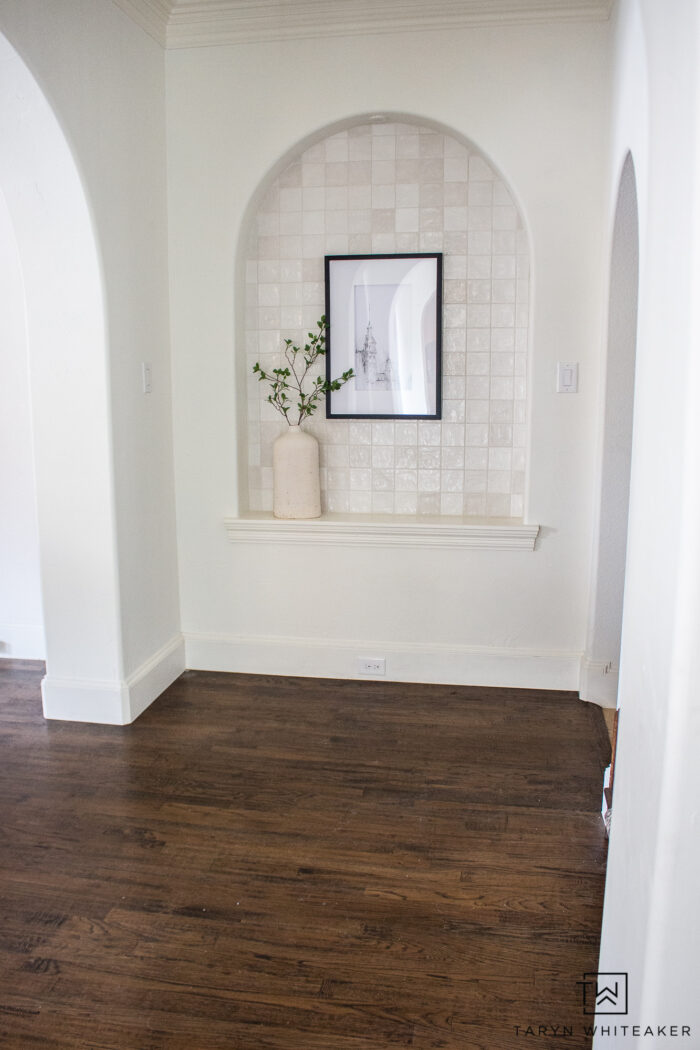 I couldn't be happier with how it turned out. This is one of the few projects I have done where I wouldn't have done anything differently. In fact, we have the exact same niche on the opposite side of this room, and I'll be repeating this project over there soon too!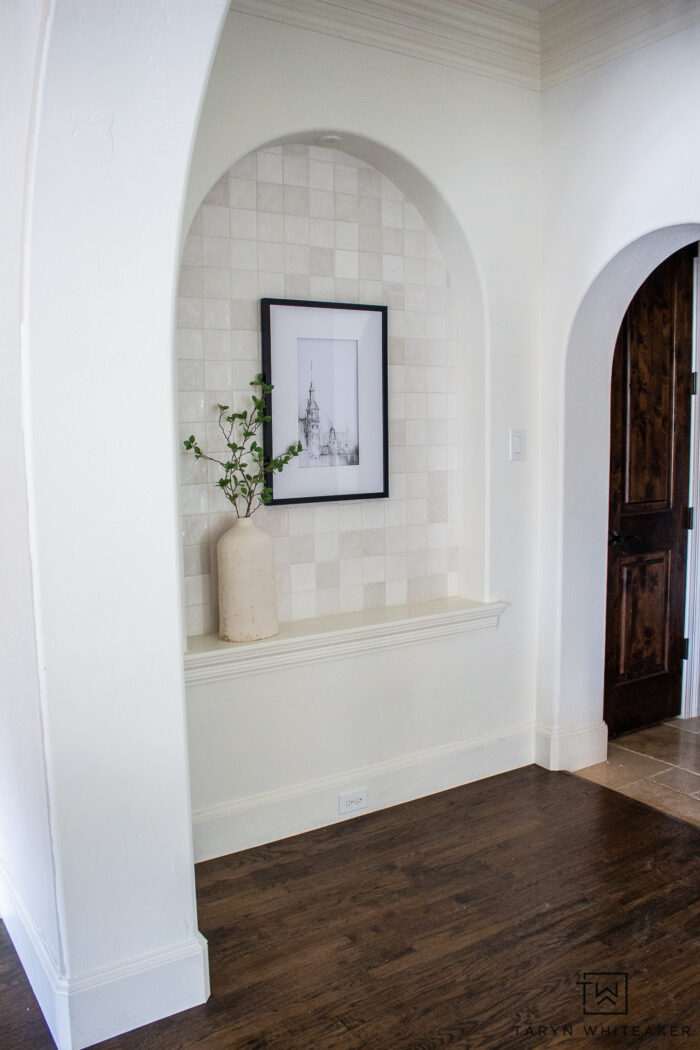 Be sure to check out WORX Tools to see everything they have to offer. They have a tool for everything, I love their NITRO Power Tool line, along with their landscape tools.
WATCH THE PROCESS