This post is in sponsored by Michaels Stores! All opinions and creative content is my own!
First of all, thank you so much for your feed back on yesterday's post. It's always refreshing to hear your feedback on what you want to see on here and I'm taking it all in! Anyway. So let's get honest here. How many of you have purged your house after the holidays, donated bags of toys and clothes and now find yourself saying, "ok, now how do I organize the rest of this stuff". I'm raising my hand because we have done that exact thing over the past month. When searching for organization ideas, I always opt for things that are both decorative and functional. One of my go-tos are large decorative baskets. They are easy to throw things in and also so cute!
Today, I wanted to show you Five Ways to Style A Basket in your own home. All of these ways are both decorative yet functional as they help organize things around your house. I picked up an adorable metal basket at Michaels and I'll be using it for every look to show you how versatile one basket can be.
1. PLACE WOOD IN IT
Whether you have a real or gas fireplace, placing a basket of wood next to it makes everything look sooo cozy. If you have a real fireplace, you obviously need a place to store all of your wood and what better way than a basket that makes a statement piece.

2. DISPLAY YOUR THROW PILLOWS
Throw pillows are my weakness. Period. Every season I buy way too many and I am a total sucker for them! I picked these adorable black and cream pillows up at Michaels the other day and I am obsessed with them!  When my couch as surpassed the pillow limit I need to find other places for them. Sometimes just having a basket next to a chair or a couch filled with pillows can do the trick. It's a place to store those extra pillows and it also makes a space feel extra cozy with the added texture.

3. STORE EXTRA BLANKETS
Just like pillows, I have a lot of blankets and the couch can only hold so many and I don't like clutter! In every single room of our home, I have a large basket designated for extra blankets. It doesn't take much to fold them up and throw them in a basket. It's perfect for those cozy nights or when company is over.
4. TWO IN ONE STORAGE
Whether you use your basket for pillows or throw blankets you can easily turn your basket into an ottoman by placing a round piece of wood on top that you can find at Michaels! Depending on the width of your basket opening, you can find a pre-made piece or cut one of the pieces of craft wood. Now you have a place for your feet and a drink!
5. TOWEL STORAGE
I'm not a fan of towel racks, I prefer hooks. But that also means I don't have a great place to store towels. I love the look of crisp clean towel rolled up in basket. It's classy and makes everything look nice and organized.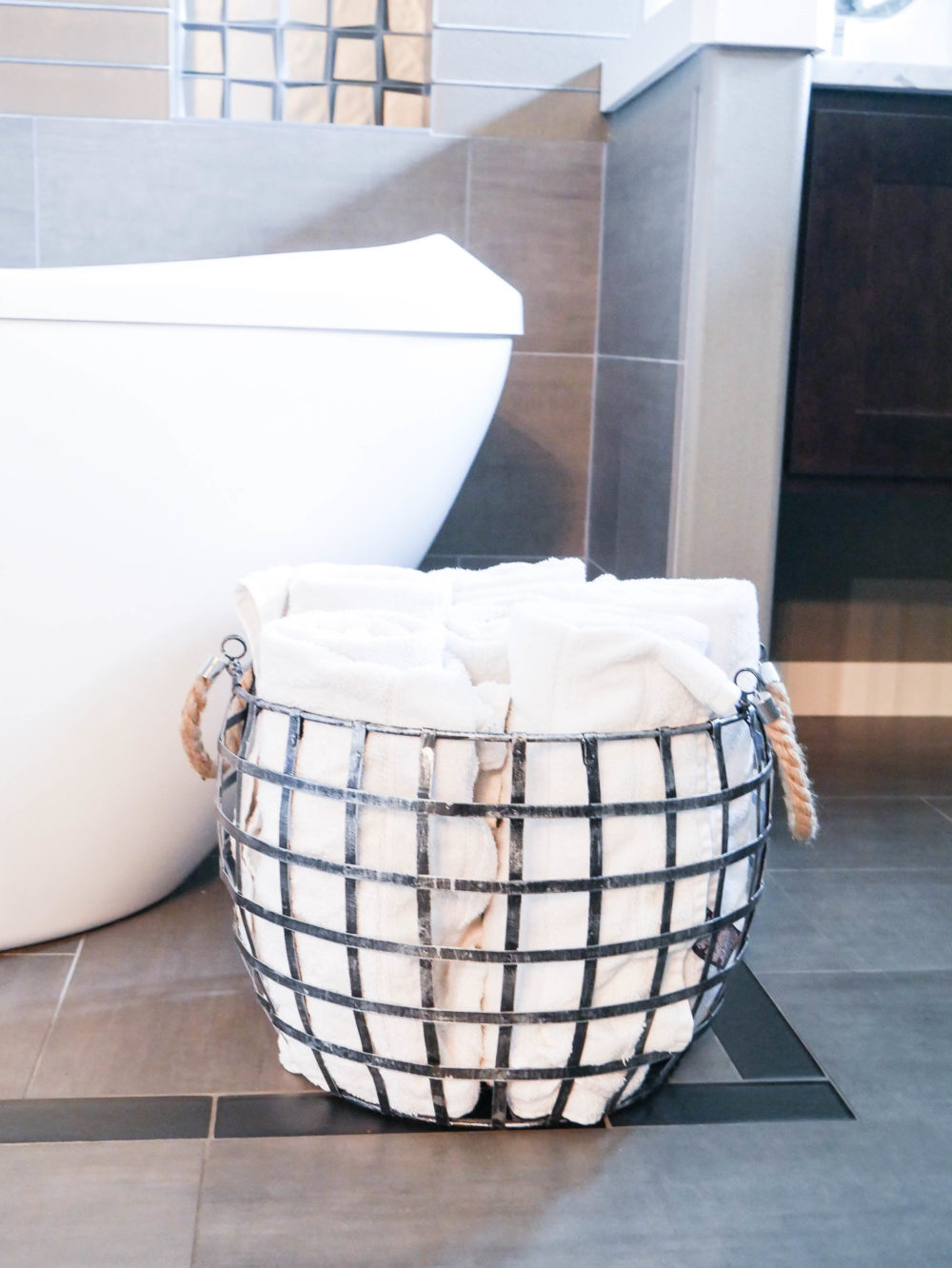 Hope you enjoyed some of the ways I use baskets around my house! This basket comes in three different sizes at Michaels, I love the industrial look of it!
Michaels has everything you need to get organized for the new year! From washi storage to lexington carts, you can MAKE your year the most organized one yet!