I love fall. I love everything about it. It is absolutely my favorite time of year for so many reasons. The crisp mornings, the way the fog rolls in, the changing of the leaves,  the smell of candles burning and warm meals cooking. The sound of football playing in the background, the start of a new season of activities and coming home at night to a warm and cozy home. I love everything about it.
I wanted to share my fall tablescape with all of you this year. And guess what, I added a TINY bit of color. Are you proud of me? I always lean towards neutral tones, but I went with a bit of a warmer, eclectic look than I normally would. I like to change things up every once in a while :)
 One of my favorite things about decorating is that it always tells a story. Even a tablscape like this.
 I love that this tablescape brings together so many different people and eras of my life. To the outside it may look like a traditional fall table, but for me this is a collection of memories.
This summer, those tree rounds were used as the center pieces at my brother's beautiful wedding. The galvanized bucket was once used by my grandma and is nearly 50 years old. And the grapevine pumpkins were the first piece of fall decor I purchased during our 1st year of marriage.
Even the rust napkins were a wedding gift several years ago.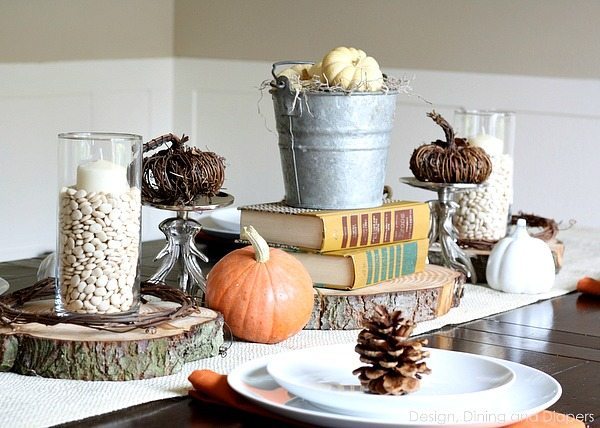 And this year, I added a few new pieces to the collection, the burlap table runner and the antler candle holders. Even though they were simple store purchases, when I see them years ahead I'll think back what was happening in my life the year I bought those. And this year is definitely one I want to remember.
Do you find meaning in the pieces you decorate your home with?