This is a sponsored conversation written by me on behalf of JOANN & Cricut. The opinions and text are all mine.
A few weeks ago I shared the big reveal of my Woodland Chic Christmas Tree I put together with the help of JOANN. With every tree design, it's fun to include at least a few handmade ornaments! I want to show you how to make DIY Marbled Ornaments that are adorned with black glitter Christmas designs. These are a fun DIY Christmas ornament you can make this year. I made using my Cricut Explore Air 2 in the new cobalt color which is exclusive to JOANN.
Today, I'm going to show you how easy they are to make with this amazing machine!
How To make DIY Marbled Ornaments
I've always loved these big glass craft ornaments, they are perfect to get creative with. I have been wanting to try the marbled paint look for a while now and decided to give it a try with these. I thought they would add a little pop of color to the tree and add a touch of personalization. I finished off the ornaments by cutting out Christmas silhouettes on my Cricut Explore Air 2  in black glitter vinyl and placed them on the front of the ornaments.
I was browsing through my JOANN store this season and stumbled upon this Folk Marbling Paint . I have seen marbled ornaments before but I didn't know there was specific paint for it! I immediately picked some up and wanted to play around with it. I am absolutely amazed at how easy it is to use and how quickly I made these marbled ornaments.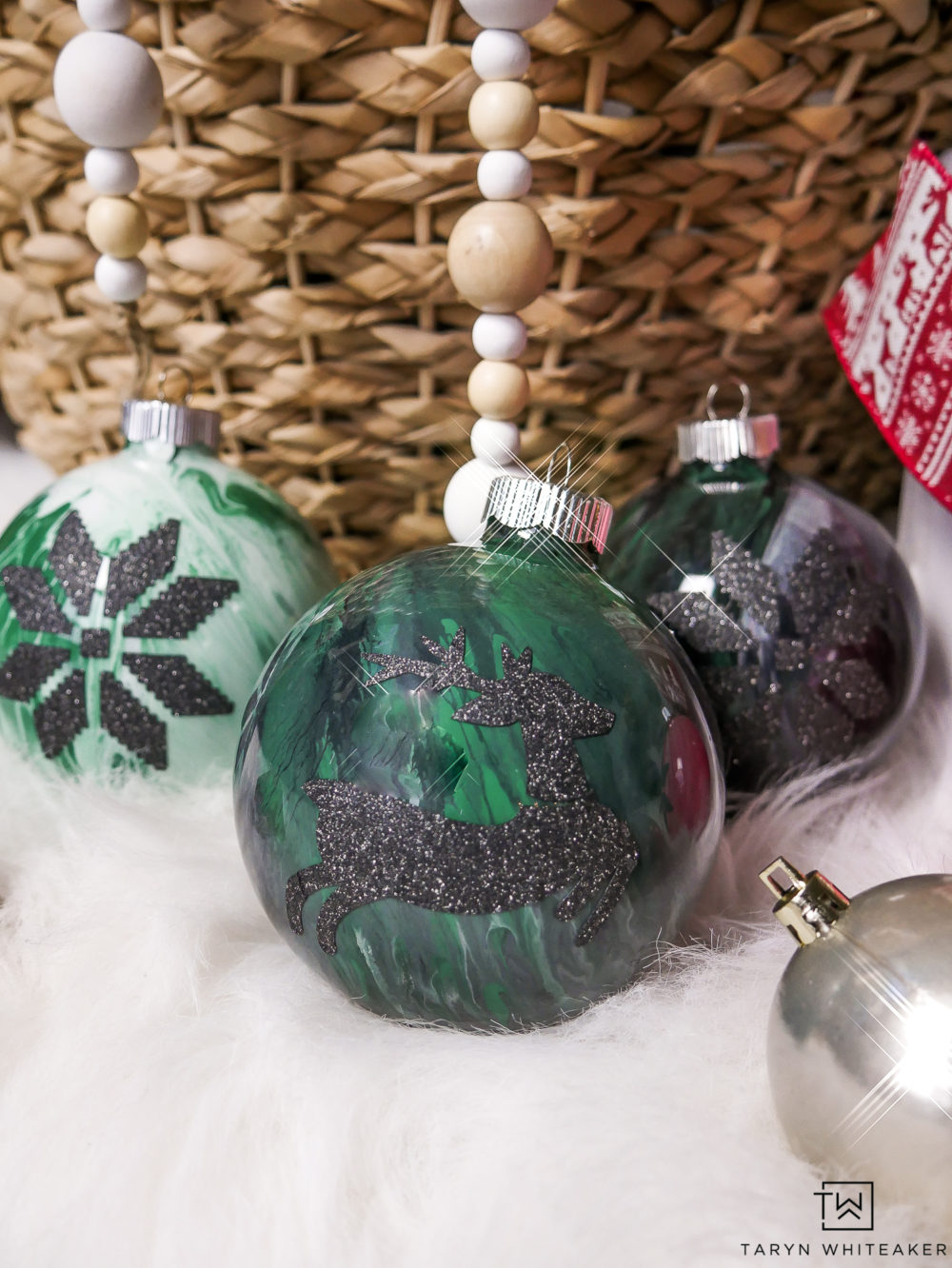 But I didn't want to stop there. I'm all about the nordic inspired details this year and added some glitter vinyl decals I made on my Cricut Explore Air 2 in cobalt which is exclusive to JOANN.
DIY Marble Ornament Tutorial
Marble Ornament Supplies
Where to Purchase Marbling Paint
Start by picking your Folk Marbling Paint  colors. I found mine at JOANN Stores, they have tons of colors! I went with red, white, black and green. The green was a normal acrylic paint though and I'll share with you how that went as we go along.
Creating Marbled Ornaments
All you have to do is squirt a good amount of red and white paint into the ornaments and slowly swirl it around until all the paint covers the inside of the glass. This paint marbles so beautifully together. It really does everything for you.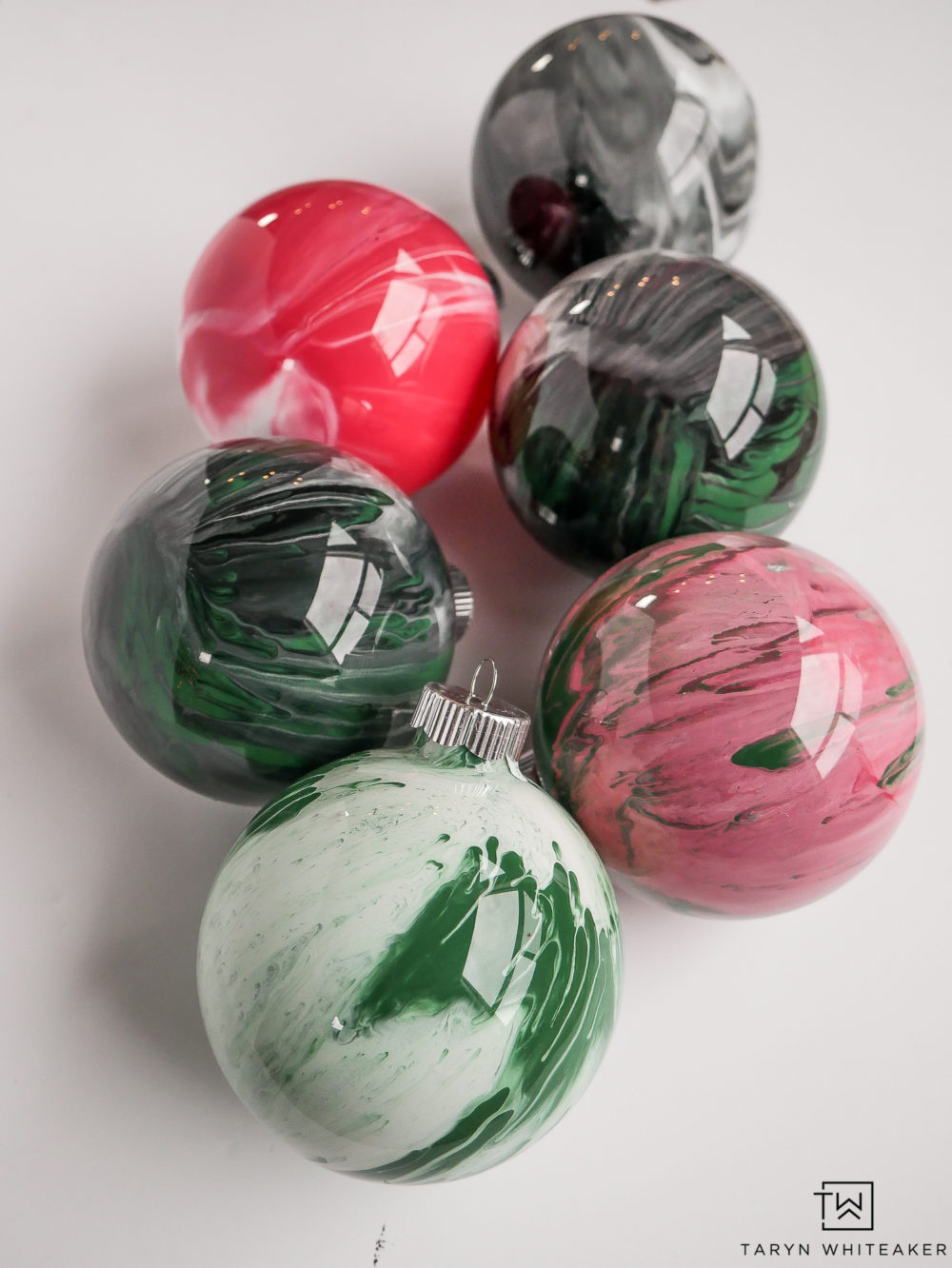 Here is how my black and white marbling paint turned out. I think this is my favorite!
And here are all six of them! I tried blending three colors together on a few and that also worked great. The green acrylic paint was not specific marbling paint and it was definitely different than the other colors. It still worked but the marbling paints definitely worked well together.
Now let them dry. Here is my tip: keep them away from heat! I ran into a little problem with that! Anyway, time for next steps!
Cobalt Blue Cricut Machine at JOANN
Now that our ornaments are made, it's time for the best part. Personalizing them! I am creating black glitter silhouette designs using this amazing Cricut Explore Air 2 machine in cobalt; exclusive to JOANN.  It's such a pretty color! I have been using a Cricut machine for a while now and I absolutely love mine. It cuts so easily and quickly and can I say pretty quiet too?
The Cricut Explore Air 2 can cut and write up to 2X faster than previous Cricut Explore® models with this DIY speed machine. It also cuts over 100 materials, everything from cardstock, vinyl and iron-on to specialty materials like glitter paper, cork, and bonded fabric. Quickly. Beautifully. The dials make it so easy to switch from different materials.
How To Make Personalized Glass Ornaments
I used this black glitter vinyl for the first time and I think I need to make more things with it! I heard glitter vinyl can be a little trickier but it worked out just fine for me. Included in the roll is a heavy weight transfer paper which was really helpful!
I opened up my Cricut Design program and browsed through all the different designs within the program to find the exact ones that I wanted to use for this project. I picked the nordic snowflake, the reindeer silhouette, ornament and a tree. Then all you need to do is turn your dial to "vinyl" and push "Make It".
Applying Glitter Vinyl To Glass Ornaments
Once your designs are cut, peel off the excess vinyl to reveal your designs. Sometimes it's hard to see the cut lines on the glitter vinyl, so I read a trick online to hold it up to light. I put mine right up against the window and was able to see my cut lines to see where to peel.
Then put a sheet of transfer paper on top and get ready to create your design.
Applying the design to a round object definitely requires a little patience, but it works. You just have to work at it a little bit.

And now I have fun personalized glass ornaments that match my tree and my decor perfectly this year! You could easily change up the design and add names, dates or other figures.
PIN TO YOUR IDEA BOARD