Who doesn't love a good apple pie? I love them, but unfortunately pie making isn't my specialty. I wish it was. Definitely something I'm working on! So when I saw this idea for mini apple pie bites floating around I thought it was brilliant.  The only thing is that they use actual pie crust and I wanted to make them even easier so I decided to make Apple Pie Bites Using Pillsbury Crescent Rolls! They are SO easy.
Unfortunately, due to my food allergies I can't eat these (boo), but the rest of the family really enjoyed them!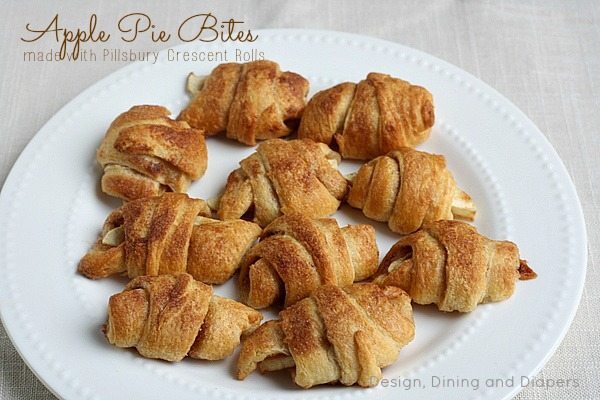 Apple Pie Bites – Pillsbury Crescent Rolls
My grandma grew up on an apple orchard and has made every apple dish known to man, and she only uses Golden Delicious Apples for baking, so of course, that is what I do. I learn from the best! Pair that with a package of Pillsbury Crescent Rolls, butter and cinnamon and sugar and that's all you need.
Unroll the crescent dough and cut each triangle into two, so you will end up with 16 pieces.
Apple Pie Bites – Slice'em Thin
Peel the apples and cut them into thin slices. If you cut them thin enough you can easily get 16 slices in one apple, but if you make them thicker you'll need to use both apples.
Apple Pie Bites – Lots of Cinnamon & Sugar!
Place the raw crescent rolls onto a baking sheet and spread a layer of butter then sprinkle with cinnamon and sugar. Lots of it :)
Apple Pie Bites – Roll'em & Bake
Place an apple inside and roll them up and top it off with more butter and cinnamon and sugar.
Place in the oven and they are ready to serve! We've served them hot out of the oven and cold and they are both good.  If you liked this recipe, check out our Cinnamon Roll Crescent Rolls.
Apple Pie Bites Made With Pillsbury Crescent Rolls
Author:
Prep time:
Cook time:
Total time:
Make these easy mini apple pie bites using Pillsbury Crescent rolls.
Ingredients
1 Package of Pillsbury Crescent Rolls
2 Golden Delicious Apples Peeled and Sliced
1/4 Cup Butter (divided)
1/2 Cup Sugar
2 Tbsp. Cinnamon
Instructions
Preheat oven to 375 degrees.
Peel and slice apples into thin slices.
Unroll the package of crescent rolls and cut each piece in two.
Place the dough on a baking sheet.
Layer with butter and sprinkle with a good amount of cinnamon and sugar mixture.
Wrap one apple slice into each crescent roll.
Top with more butter and cinnamon and sugar.
Bake for 15 minutes.