Ready to plan your next trip? Last November I headed out on a much needed girl's trip with my best friend from college. We wanted to go somewhere sunny, warm, relaxing, with a beach and good food. After lots of brain storming we ended up in Santa Barbara, California. One of the prettiest places to visit! It was the perfect place for a girl's trip.
I wanted to share some of the gorgeous scenery that we experienced there and also give some tips for visiting Santa Barbara included restaurant recommendations and things to do!
VISTING SANTA BARBARA
First of all, flying into the Santa Barbara airport was amazing. You follow the coast line and the 101 and the views are incredible. The airport basically sits right on the beach. It is actually a little nerve wrecking landing there because you get so close to the water you feel like you are going to do a water landing. The airpot is super small, it honestly looks like a small resort than an airport. And the best part is, it's really just a 10 minute ride to downtown.
We stayed at the Santa Barbara Inn, just 5 minutes from town. It sits right across from the beach and is such a beautiful hotel! It's very charming and quaint and boasts of old-school luxury. I would totally stay there again.
We booked through Expedia just a few weeks before the trip and ended up getting a really great deal on our stay. Sometimes it helps to procrastinate or be spontaneous :)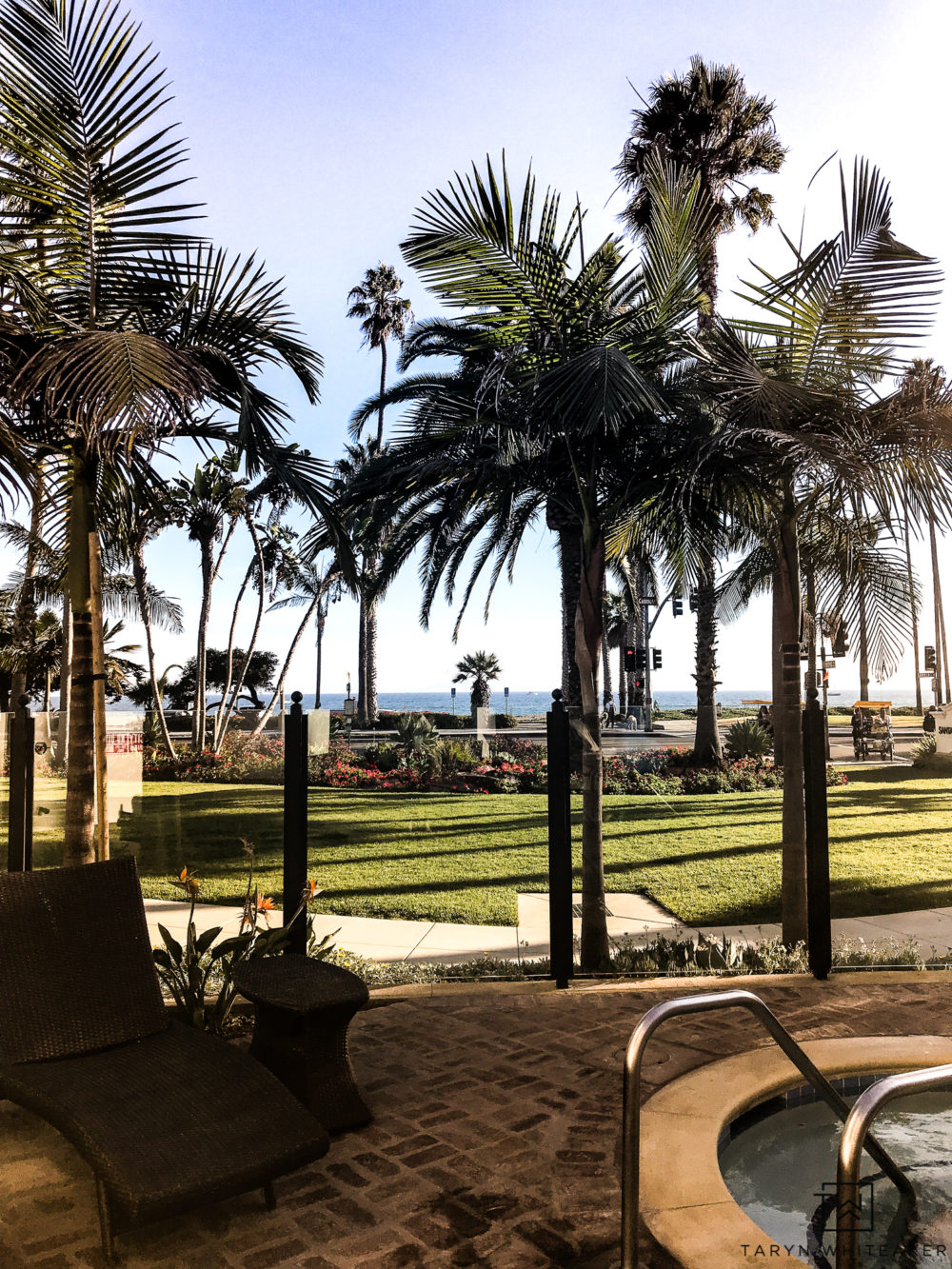 Here is the view from the pool area. There is a road right in front, but with all the palm trees and views of the water it is still gorgeous.
If you haven't noticed by now, my favorite time to take scenery pics is at sunrise and sunset. They make for some incredible photos and I love the drama. If you follow the line of palm trees around that small bay, you end up right in down town Santa Barbara. It's a good 15 minute walk but it's so pretty to walk at sunset.
Seriously, if you live near a California beach, could you please promise me that you will head to the beach at least once a week and watch the sunset on the beach? It is one of my very favorite things in life, so don't take it for granted that you have it at your finger tips!
It also amazes how quickly the views of the sunset can change in a matter in minutes. I love how the entire beach can go through so many colors and phases in just 15 minutes.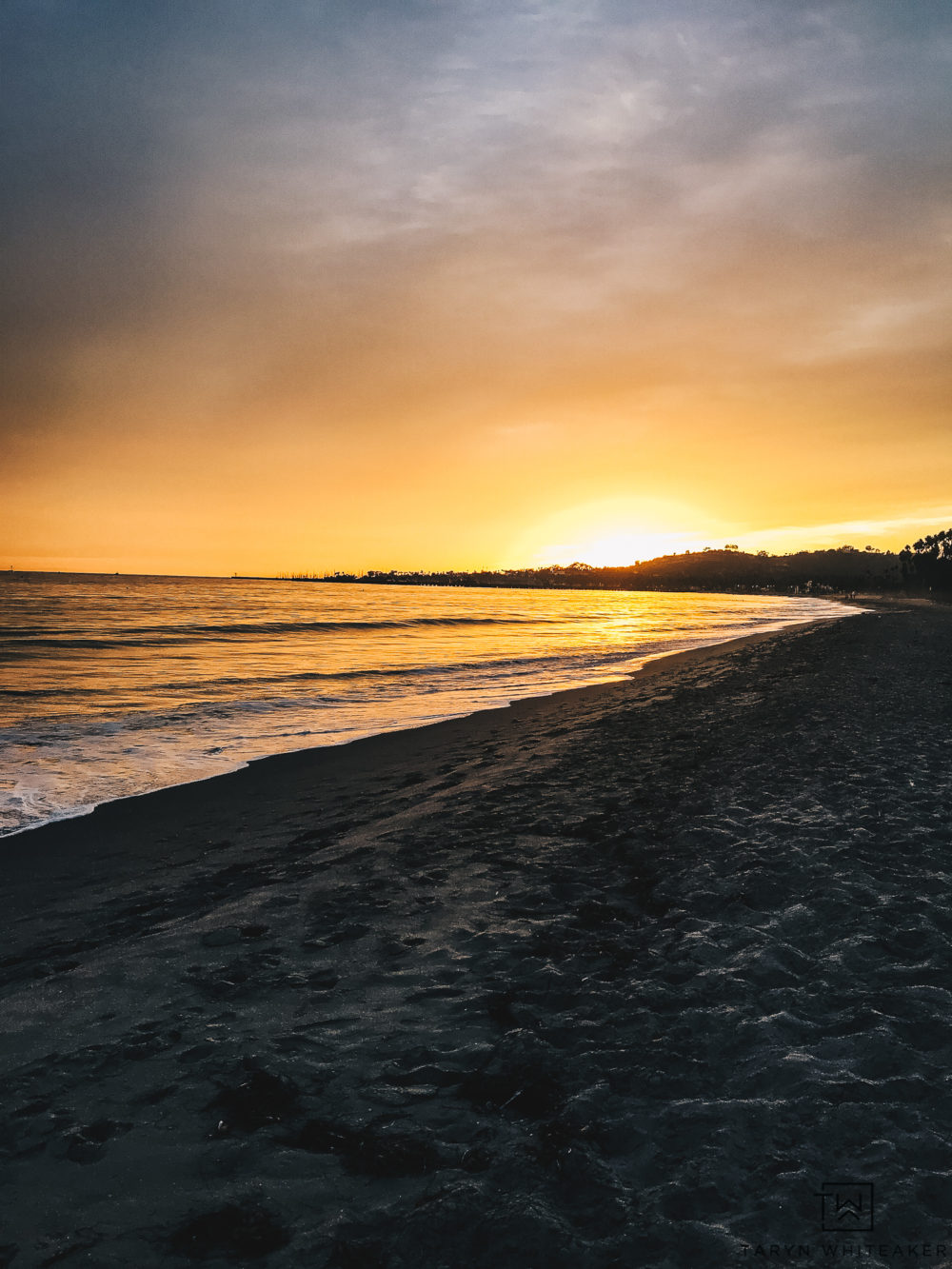 And you better believe this PNW girl ran into that water, even though it was freezing, just so I could experience it!
OK so here are some of my recommendations:
WHAT TO DO IN SANTA BARBARA
The Lark – This place has such an awesome ambiance. It has a very rustic industrial feel, if you love dining at places where you can stare at all the decor, go here! And the food is AMAZING. Just be sure to make reservations.
There are SO many places to eat, just be sure to call ahead. Even with just two of us, we had a hard time getting into nice restaurants without reservations.
Visit the 'Funk Zone'. Bases on the name alone, I was reluctant about the recommendation from all of the locals. It sounds like somewhere I would have gone in college but not when I'm a 30-something mom. Anyway, it was actually a really great area. The Funk Zone is the area with all the great places to eat and tons of wineries and tasting rooms. This is definitely the area you want to be in if you want a little bit of night light and lots of good food.
Go wine tasting! There are tons of great wine tours in the area. We went on one to the Santa Yenz area and it was beautiful. Most tours are only 4 hours so you can get back for a good dinner!
Walk out on the wharf.
SHOPPING!!!!! The Paseo Nuevo outdoor shopping mall is incredible. Maybe it's because we don't have many outdoor shopping areas in Washington, but this place is beautiful and you can find just about everything from major department stores to small boutiques and of course Restoration Hardware :)
I only had a small taste of the city and I would go back in a heart beat! If you've been before, comment with some of your favorite restaurants or activities!