Thank you First Alert for sponsoring this post. Don't let the beep steal your sleep.
We talk so much about design and decor trends and entertaining people in our homes. But sometimes it's good to step back for a second and talk about keeping our homes safe, so we can do all those fun things with the people we love. So here is my big bold question, when is the last time you checked or updated your CO alarm? I want to chat today about the awesome program First Alert has for easily updating your CO alarms and who should be doing it!
Updating Your CO Alarms
Here's the scoop. Did you know that in 2011 many states adopted new building codes that will require you to check your carbon monoxide alarms because they might be expiring soon!   The states affected are California, Idaho, Kentucky, Louisiana, Nebraska, New Mexico, North Dakota, Oklahoma Oregon, Virginia, Washington (oh heyyy that's me!), and Wisconsin. If you live in one of these states (and everywhere else) you are going to want to check your CO alarms! First Alert has a great resource page available to help you learn more about the initiative.
What Is Carbon Monoxide?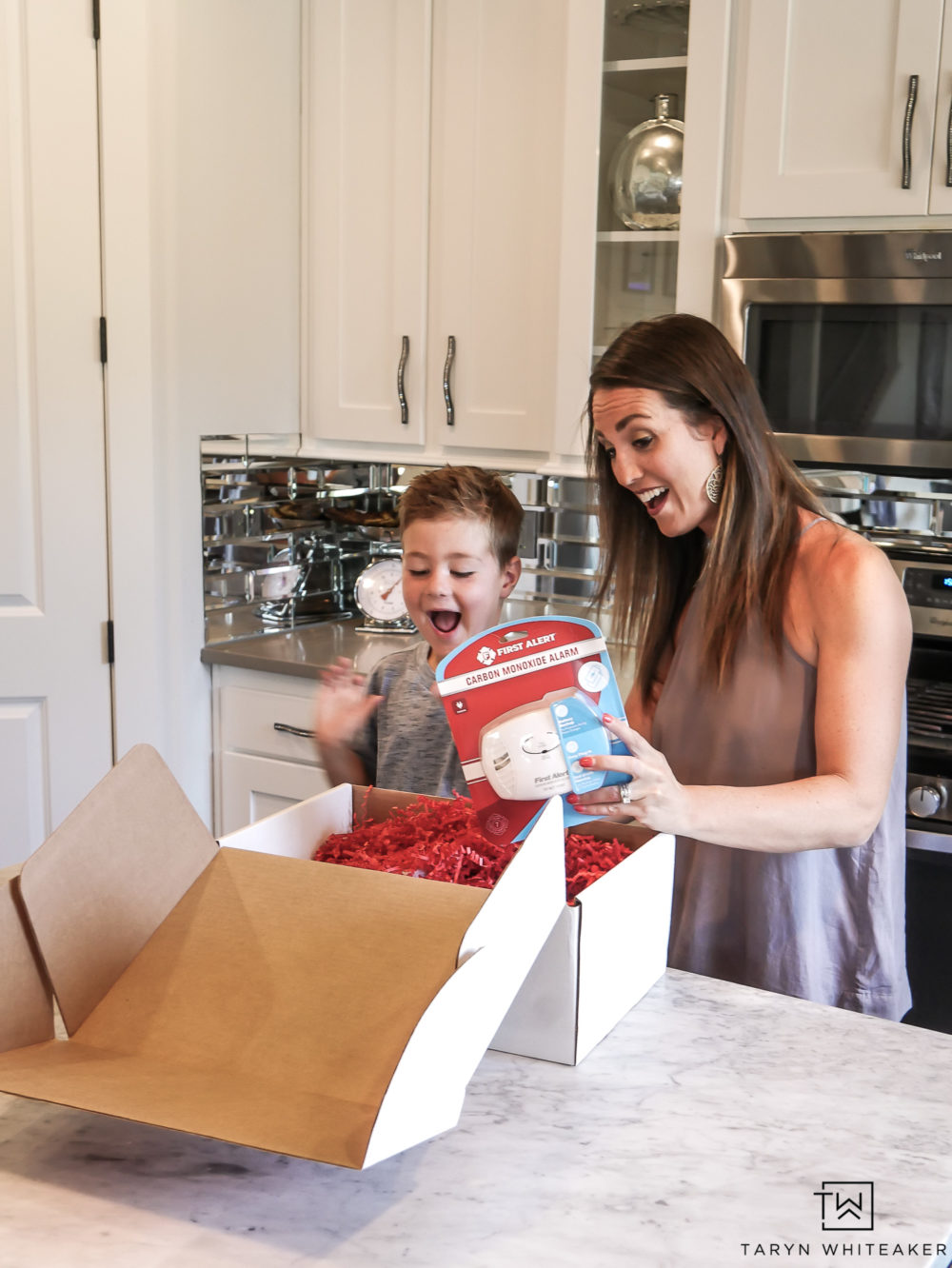 If you are sitting here wondering what is CO/Carbon Monoxide and why do I need to be concerned about it, let's back it up for a second. Carbon Monoxide is an invisible, odorless and deadly gas that can be produced by any fuel-burning device i.e. gas stove, furnace, cars, dryer vent, etc. When too much of those gases seep into your home they can become extremely dangerous and the scary thing is, you can't detect them because you can't see them or smell them. Which is why it's SO important to have working CO Alarms to alert you when those gas levels get too high.
Keep Your Home Safe From Carbon Monoxide
First Alert sent us this awesome CO Safety Kit to help make sure we are sleeping well at night knowing our family is safe from these gases. My kids love it when we get fun packages in the mail and they always love a good unboxing!
In our fun little package, we received a variety of CO Monitors, some battery operated, some plug-in and others with great backlit visual displays so we can easily see the gas levels.
Love the sleek look of this one, it can easily blend into a night stand or kitchen counter.
Replace Your Batteries!
And then little brother woke up and says, " hey! I want some of this fun!". So 'Don't Let the Beep Steal Your Sleep'. When you hear the slow beeps on your alarms, it's time to replace them! Updating your CO Alarms is so important!
I was selected for this opportunity as a member of CLEVER and the content and opinions expressed here are all my own.