This is a sponsored post written by me on behalf of BarkBox. All opinions are 100% mine.
There is a member of our family that I owe an apology to. She is our first born, has curly golden hair, always has a smile on her face and happily greets the delivery guy on the porch almost every day. She watches him drop off our packages and then momma and the kids anxiously rip them open. She wags her tail at the thought of sneaking something delicious out of them, but quickly realizes her dreams aren't going to come true this time. Until this week!
This week, our sweet Kona Girl got her very own package in the mail labeled just for her. Kona, I hope your new BarkBox makes up for all the times you got your hopes up because this one is JUST FOR YOU!
Here is a true queen of the household. She is guarding that box with all her might. Don't be fooled by her sweet golden looks, this girl won't let you near her food! (Just kidding, she really is the sweetest dog in the world)
If you enjoy spoiling your furry family member or are like me and need to make up for putting the other kids first, BarkBox is such a fun subscription service. This was our first time using it and I loved the box. They have different boxes available for different size dogs, we got Kona the large breed box and it was perfect for her.
She didn't waste any time diving into her goodies. She may or may not have tried to eat the packaging paper because it smelled so good :)
On a total side note, can I tell you how much I enjoyed this shoot with Kona? I take so many pictures of the kids and our house and I was looking through all these pics thinking how grateful I am for them. She is our first baby and is getting older and I love having these fun shots of her in our home. She is the BEST furry family member and is my late night buddy when the rest of the family goes to bed. Love her.
Now back to the good stuff. Each BarkBox contains 2 bags of treats, 1 chew, and 2 toys and each box is themed. The subscription runs $29 a month, and if you sign up for multiple months at a time you get an even better price per box. I honestly think this is a great deal, especially if your pup goes through toys and treats quickly!
Kona's favorite was definitely the chew stick….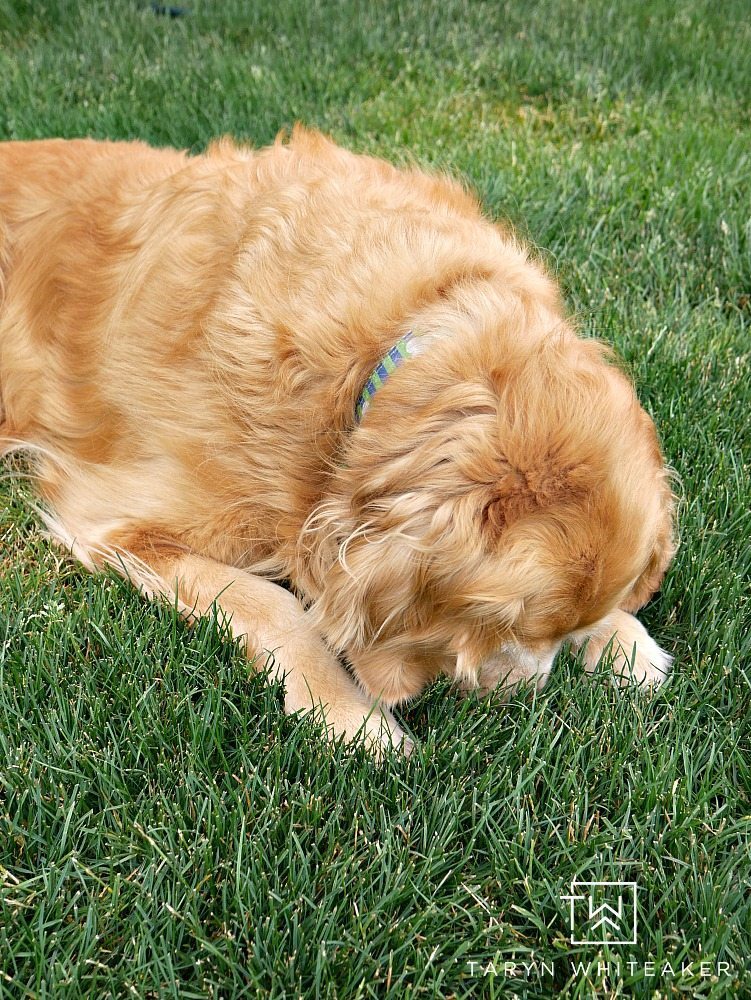 …you know it was good when she nuzzled her nose in the grass for what seemed like foreverrrrr hoping to get every morsel that may have dropped!
And her next favorite was this fun squeaky ball that actually looks like The Statue of Liberty! Kona is pretty gentle on her toys, but if you want tougher toys they have and option for heavy chewers. If you note 'Heavy Chewer' on your account, they can send tougher toys. You can contact them via chat, phone, email or text to figure out what works best for your dog!
And this might be my favorite picture of Kona ever. I think I need to frame it on the wall. Thanks BarkBox for creating such a fun playtime with our forever puppy.
If you are ready to order your first box, it will ship right away! I got mine is just a few days. And then following boxes ship on the 15th of each month. If you are a new puppy owner, this is a great way to treat your puppy to new toys and treats!