It's time for another edition of Trash to Treasure! In case you missed it, we kicked off this new series last month that's all about upcycling old items, giving life to thrift store finds and recycling what could be considered trash.  This is one of my very favorite kinds of projects. I'm always trying to recycle what I have and reuse my current decor in different ways, it's also really fun to challenge yourself creatively and see how you can completely change the look of something.
Ever since the start of the new year, I've been cleaning and organizing and selling things I don't use anymore. I recently went through my decor stash and had a huge pile of things that I was getting ready to list. I kept looking at these glass pedestal vases/candle holders I had trying to figure out what to do with them. I loved the lines but I never used the glass version (keep scrolling).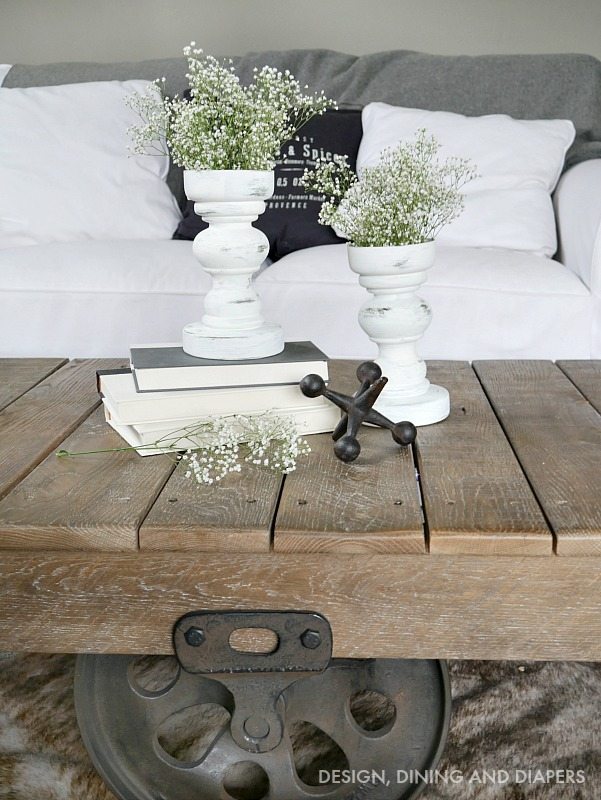 For this challenge I decided to give them a new look with a little chalk paint and distressing! It didn't take much to transform them into a new piece of farmhouse decor for the living room. With just a few sprigs of baby breaths and these were perfect for spring!
Here is what they looked like before. The glass just wasn't my style anymore and I never knew if I should fill them with vase fillers or use them as candle holders.
Now they are a perfect addition to my decor!
CHECK OUT MORE TRASH TO TREASURE POSTS


Thrifted Stool Makeover by A House And A Dog
Vintage Mason Jar Vases by A Burst of Beautiful
DIY Industrial Tea Light Holders by AKA Design