Welcome to the first Top 10 Tuesday of 2012! I'm kicking off this year with some unique ways to create shelves in your space. Shelves don't always have to be plain and simple and 'practical', they can become works of art. Today I'll be sharing some crazy cool ideas on how to create shelving units out of thrift store finds and common household items.
Let's dive in!
1) Take an old suitcase and cut it in half to make a floating shelf (Source: Something Created Every Day) 
2) Pick up some old books from the thrift store and create shelves for an office or kids room (source: Real Simple)
3) Up-cycle old picture frames to create these fun little shelves (source: Change of Scenery)
4) Create rustic shelves using reclaimed wood and rope (source: Imperfectly Polished)
5. Turn old crate sideways to create a shelf/storage system (source: Baily's Home & Garden)
6. Turn a skateboard or snow board into a shelf. Great for boy's room. (source: PB Teen)
7. Pallet shelf (source: Ana White) 
8. Fabulous reclaimed wood shelves with a hidden drawer (source: Not Just A Housewife)
9. Shelves from old pipes (source: ScrapHacker)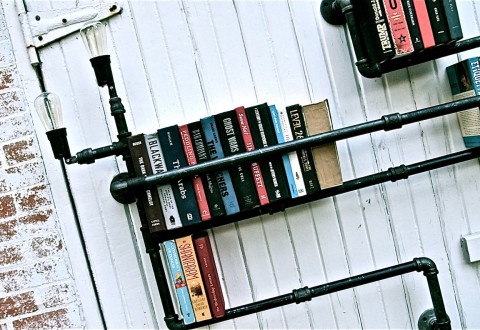 10. Wall of shelves from old tables cut in half (source: Dornob)
Have you made shelves out of anything interesting? Leave me a link to your project!