Who is ready for some serious eye candy? For this weekend's shopping guide I'm taking you right into the amazing Restoration Hardware The Gallery in University Village that opened up late last year. I had the opportunity to attend the grand opening right before the holidays and I was blown away by every gorgeous detail. It's full of luxurious designs that I want to transport right into my own home. This place is dreamy, and done so right. Ready for a small tour?
RH Seattle, The Gallery at University Village is four levels and more than 60,000 total interior and exterior square feet. This place is seriously amazing. I could spend days just looking at everything. Restoration Hardware has been a huge inspiration for how I decorate my own home. I have always appreciated how well they blend, classic furniture with modern lines and rustic touches. It's perfection.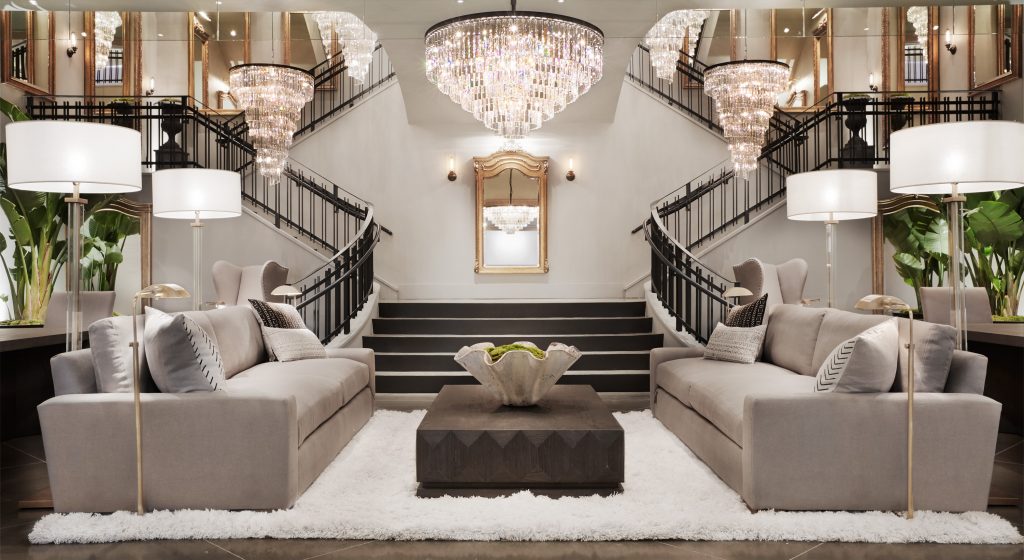 Talk about a first impression. I have always loved a grand staircase at an entryway, if we ever build our own home, this is definitely something like this. It's luxurious and elegant and is quite the way to welcome guests.
The crisp white couch paired with a wood coffee table and simple greenery is simple yet so stunning.
I love how they blend so many amazing textures and neutral tones in this pace.
One of my main take aways from my visit at RH The Gallery were all of the amazing bedroom designs. I was so drawn in by the large oversized canopy beds pairs with statement chandeliers hanging from the center. This is inspiring a lot of changes we will be making to our own master bedroom.
Can we chat about those leather straps on those chairs?! I have never seen anything like them before. they are rustic and classy and I LOVE them.
The Gallery features a design center where you can browse through gorgeous rugs, textile samples and receive help designing your owns space.
What I love most about The Gallery, is that each floor has a slightly different design approach. There is an entire floor dedicated to RH Modern with an integrated RH Contemporary Art Gallery.  The picture above is from RH Modern, so many mid-century modern pieces and room that really steps out of your normal restoration hardware look.
On the top floor is an open terrace featuring their outdoor collection and stunning views of the Pacific Northwest.
I mean, you could get married up here! I think this would be such a gorgeous set up for a wedding, it's chic, cozy and different. All the black and white and pops of greenery.
If you are in the Seattle area, you must visit RH The Gallery. It's full of perfectly executed designs that will inspire you to make changes in your own home. There are galleries in several other cities now too, check to see if there is one near you, you won't regret it!
Now I'm going to go revaluate my own home.
*Photo Credit: Restoration Hardware