Disclosure: This post is brought to you by Blinds.com . I was not compensated for this post but I was provided with product to review. 
I'm back! After a nice long Christmas break I'm back and ready to roll! I've shown you some peeks of our living room with our Fall Mantel and Christmas Home Tour, and now I'm giving you an even bigger look! Over Christmas break all of our new furniture was delivered and now I'm having a blast putting the whole room together and working on the little details. I still have a ways to go, but you are getting your first glance today.
One of our first priorities when moving in our home was installing blinds. This was important on so many levels. Privacy being number 1, but also to help keep the heat in and help the sun from fading our carpet and furniture.
As you may be aware, I like to tweak our decor fairly often (quite possibly every day) and I wanted something for our downstairs that was classy and timeless and could adapt to multiple styles. So I went with the Norman Roman Shades from Blinds.com.
Our entire house is filled with rich neurtals, mostly gray, white and taupe. I wanted the blinds to complement these tones so I chose the slate gray color. It ended up working nicely with our new gray couch.
I know a lot of people are scared of measuring and installing blinds themselves, but it was actually a really easy process and our blinds fit great. Blinds.com has tons of tips and tricks to help you measure accurately and so far I've had such a wonderful experience with their customer service department. They are incredibly helpful.
Here is a little tip when installing your blinds.  Whether you purchase the roman shades or wood blinds, I suggest holding them up in the window frame first and manually marking where the brackets are supposed to go. Our instructions told us to measure exactly 3 inches in from each wall and that was not accurate for us. Once we figured out the flaw, the installation process was a synch.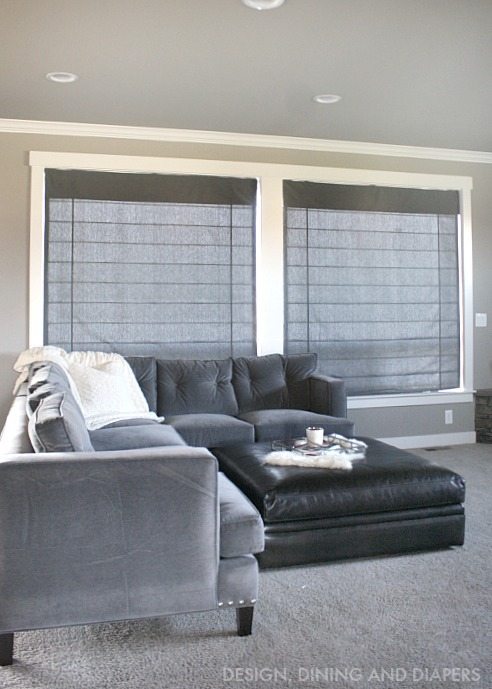 I love the clean lines of these shades and the look they bring to our space. It's definitely off to a great start, but I've got a lot more up my sleeve :)
Do you want to know my favorite part about these roman shades? They are completely cordless so I don't have to worry about any safety hazards when the blinds are up. LOVE. One less thing to worry about as a parent. :)
To see how easily the blinds roll down and lift up, you can watch my little video here:
I can't wait reveal more as the room come together!
Shop This Room: