This post is sponsored by WORX Tools, all opinions are 100% my own.
If you have been following along on InstaStories, we started our big backyard project! We are barely getting it in before our cold weather settles in for the winter, but we are trying super hard to get phase 1 complete before that happens. But it for sure won't be done until next spring. Since we have been spending so much time on outdoor projects, I thought it might be helpful to share my Must Have Yard Tools for your home!
Must Have Yard Tools
WORX Yard Tools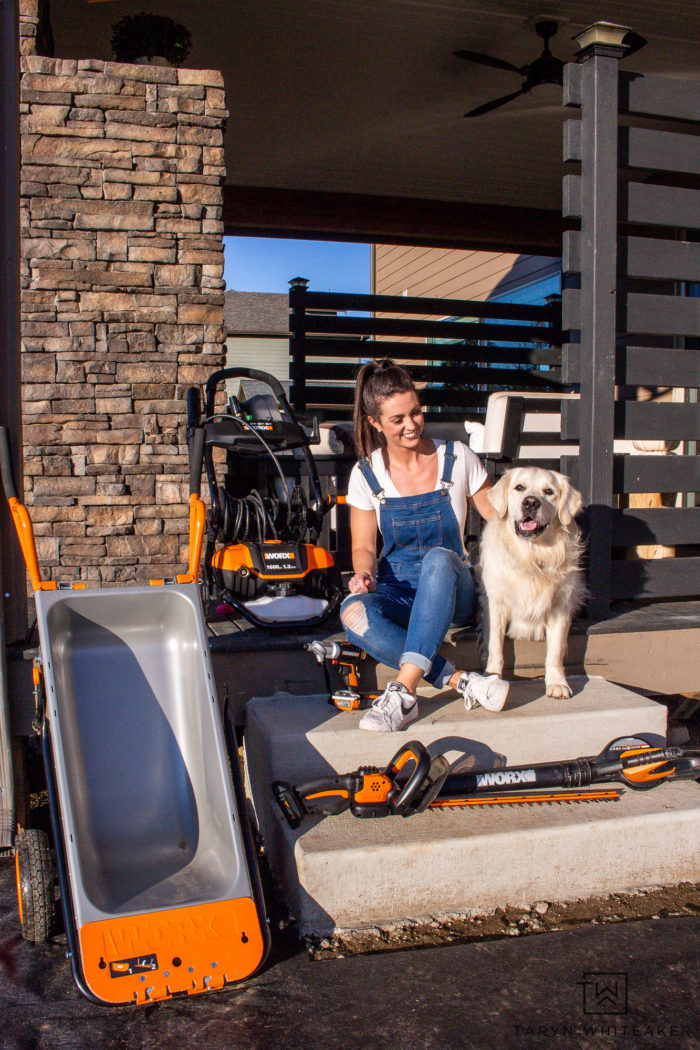 I have had such a fun opportunity to try out a bunch of Worx yard tools and I definitely have a few favorites :). All of these tools are awesome to add to your collection. They are practical and all have multiple uses. If you don't have them, add them to your list, get a few for gifts for the holidays, I promise you will love them.
Pressure Washer
A pressure washer is one of the best items to have in your yard tool collection. One of the main reason why I love it so much is that it can be used for so many yard jobs. From pressure washing your driveway each year (or more often!), to cleaning your siding, outdoor doors, back deck and more. I even use mine to clean my outdoor rugs!
What I love about the WORX Pressure Washer is that it's electric. You don't need to mess with filling a gas tank, you just need an outlet! You hook it up to your hose and choose your nozzle. It also has a compartment for soap if you need some extra cleaning. I think it is the perfect size for home owners.
8-in-1 Wheelbarrow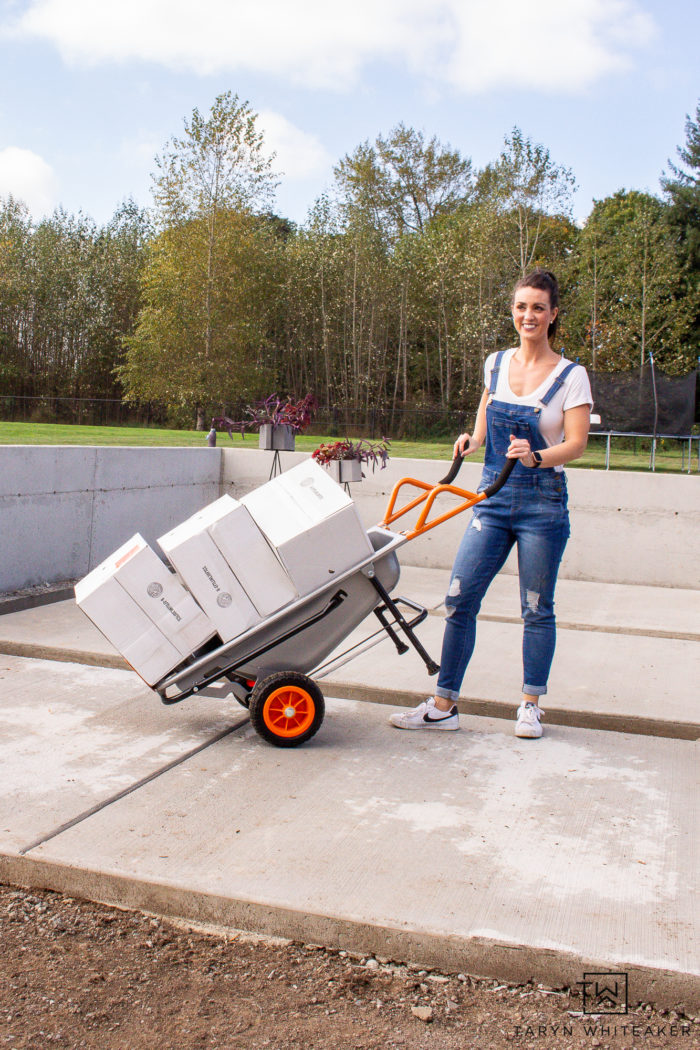 Ok, truth time. This WORX 8-in-1 Wheelbarrow is my new favorite yard tool for sure! It really does have 8 uses in 1 and I have been using this non-stop since I opened it. I love that it converts to a dolly. No more hauling boxes of rocks to the backyard by myself one at a time, now I can take them in one load!
It also works as a traditional wheel barrow. It's a really great size for me!
And best part, it gives great rides! :) But for real though, I think I walked my kids around our neighborhood in this for a good 30 minutes the other day. Check out all the other uses for this awesome Wheelbarrow, you can carry trees with it, lift boulders, and add an attachment for garbage bags for yard clean up.
Leaf Blower
A leaf blower is another must around here! From grass clippings to leaves from the trees and blowing off the dirt the kids and dog bring onto the patio! This leaf blower is light weight, small and perfect size for small jobs. I especially love that my two boys can handle it and it's made them LOVE blowing off the driveway!
EDIT: WORX came out with this new NITRO Brushless Leaf jet Blower and it if my fav! This thing is SO powerful for it's size and it's the family favorite.
Hedge Trimmer
Do you have a lot of bushes that tend to get a little crazy looking? Or maybe your hand starts to cramp after using the pruning sheers for too long? This WORX hedge trimmer is awesome! It gives you the ability to trim down overgrown bushes in a matter of minutes and you can shape them too! We use it on almost all of our front yard landscaping.
It's perfect for a boxwood hedge or any hedge that you want to maintain!
ZipSnip
If you want to start small, the WORX ZipSnip is awesome. It's a small compact tool that has a big bite, literally. I already used this guy to cut up our carpet in our living room before we put our hardwoods in, and it worked like a champ! I've been using it to cut the landscape fabric as I lay it down and it's great.
You simply push the button and it rotates the blade, cutting as you go. You can use this for cutting bags open, plastic wrap, leather, etc.
WORX Landroid!
You guys, this product deserves an entire post on it's own. So I will be doing that shortly. But this WORX Landroid is essentially a robotic lawn mower. Yes, you read that right! It mows your lawn for you, simply by setting a boarder and timer. If you strongly dislike mowing your lawn and want to save so much time, you have to look into this! It can mow up to 1/2 an acre on one charge, but if you have a larger yard like us, it will mow 1/2 an acre and then go back to charge, then finish the job.
We have to finish up a few things on the backyard project before we can lay the wires down, but I'm so excited to see this thing in action!
Shop This list