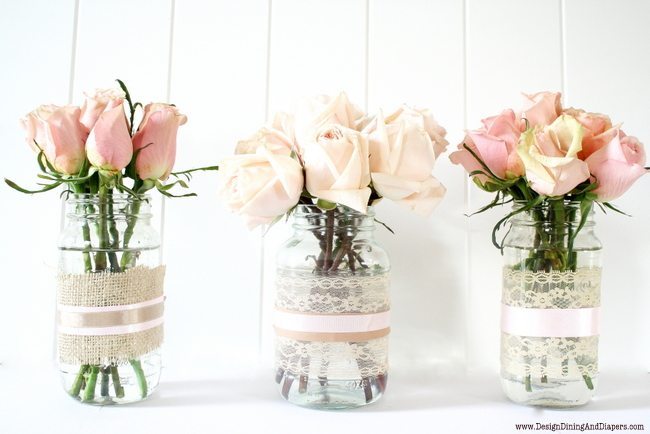 How many times do you think twice before throwing your empty food jars into the recycle bin? Well, it happens to me just about every day. I swear being a DIYer quickly turns you into a level 3 hoarder.
My problem is the second I lay eyes on a piece of junk or something being thrown into the recycle I get this vision for what it COULD be. The other problem is that I have no idea how long it will take me to actually execute the project.  Because our house is on the smaller side, I limit myself to only saving the things that I have a plan for in the very foreseeable future.
Like these recycled jars.
I knew I was planning a Shabby Chic Birthday Party for Baby E MONTHS ago and started collecting these jars right away. I saved every jar that went through our house: spaghetti, apple sauce, olives, and of course baby food jars! I washed out all of the jars, ran them through the dishwasher and removed all the labels. For those stubborn food labels, I filled the sink up with hot soapy water and let the jars soak for about 10-20 minutes or until the labels peeled right off.
I've been very fortunate to have a grandma and mom who love sewing and crafts and somehow or another I ended up with boxes of this beautiful vintage lace, ric rac, binding tape and ribbon. Most of these date back into the 50's or 60's and a lot of them are still in the original packaging.
I used all of the beautiful ribbon and lace above paired with some burlap and new ribbon to embellish the jars.  I love how the different textures and colors to create a very vintage look.
For you moms out there, this is just a remind to not throw away your baby food jars! There are so many things you can do with them including turning them into votive candles like the ones above. I scattered these around the food table at Baby E's party and it was a nice little detail that cost me nothing!
Using a mixture of jars really carries the eyes throughout the arrangement. The varying heights and sizes add dimension give off an eclectic feel. These jars are not only an inexpensive centerpiece idea for parties and showers, but would make a great spring project for your mantel or windowsill!
This project cost me $.00. The jars were free and would have been thrown out in the recycle anyway and the ribbon and lace could easily be found in your craft supply! So think twice before you toss those jars into the recycle bin the possibilities are endless!