Sweater weather pretty much means bring me all the carbs and comfort food! Ok kidding, but not really. I love me some delicious fall recipes that warm my belly and today I have a great one for you! Every once in a while I will get a craving for something that I used to be able to eat prior to food allergies and this fall I decided to try a Gluten-Free Baked Brie ! And the best part is, I didn't make it from scratch I just used some of my favorite gluten free products and I'm sharing them with you today.
I'm also joining Kristen from Ella Claire and her scrumptious fall appetizer hop, so be sure to scroll down below for links to several more recipes!
Gluten Free Baked Brie

Gluten Free Bake Brie Recipe


Gluten Free Baked Brie Ingredients
1 Box King Arthur Gluten Free Pie Mix ( the price on Amazon seems really high for one box, it's typically around $6.00 in the grocery stores around me, but you at least have the link!)
Butter and water to make the Pie Crust according to the package
1 Container of Brie Cheese
Fig Spread (optional, will chat more about this later)
Pre-heat your oven to 400 degrees and bake for 20-25 minutes until lightly golden brown!

I made the gluten free pie crust according to the package. This was my first time using this specific pie crust mix before and I did enjoy it. I think it has a great texture to it. My only suggestion is that you leave it in the fridge for the full 15-20 minutes, if not more. I wish I would have left mine in a little longer so it set a little more. I would roll it out until a true 1/4″ crust so it is a nice thin layer when it bakes up.
My crust didn't fold up super well, but I'm also used to gluten-free crusts not always working quite as well as regular. But at the end of the day, it's the taste that matters!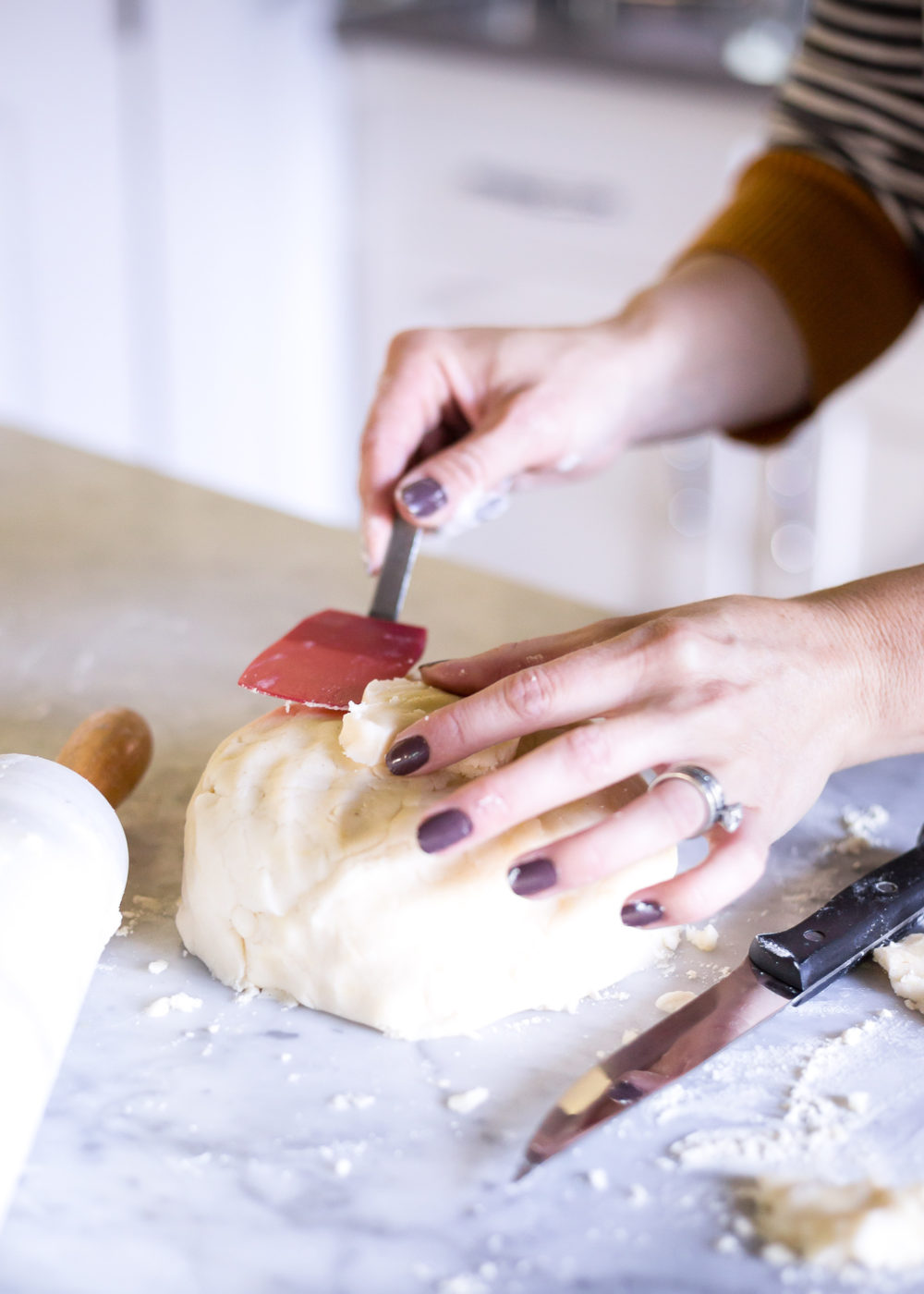 To give it a little fall touch, I cut out a little pumpkin out of the extra pie crust and placed it on top. Pre-heat your oven to 400 degrees and bake for 20-25 minutes until lightly golden brown! 
You will want to serve it warm so don't let it cool too long! Fresh out of the oven is the best. I paired mine with apples, grapes and gluten free crackers :)
Easy Fall Appetizer
There you have it! Super easy fall appetizer that takes about 10 minutes of prep work and the oven does the rest.
Now head below for even more fall appetizer to serve at your next gathering!
Tons of Fall Appetizer Recipes
Spinach Artichoke + Green Chile Dip by Ella Claire | Baked Garlic Knots by Sweet C's | Savory Pumpkin Hummus by Zevy Joy | Spiced Warm Brie by Boxwood Avenue | Sea Salt Dinner Rolls and Herb Butter by House 214 Design
Roasted Stuffed Figs by Town and Country Living | Cranberry Sweet Potato Rounds by Tidy Mom | Gluten Free Baked Brie by Taryn Whiteaker | Healthy Pumpkin Dip by Tidbits | Fig Prosciutto Sweet Potato Bites by The Chronicles of Home
Beet Bruschetta with Goat Cheese and Basil by My Sweet Savannah | Cheddar Bacon Beer Dip by Inspired by Charm | Pumpkin Sheet Pan Nachos by Farmhouse of Boone | Everything but the Bagel Bubble Bread by Nest of Posies | Garlic Smashed Potatoes by Julie Blanner
Olive Pecan Cheese Log by anderson + grant | Stuffed Peppers by Nesting with Grace | Chicken Cranberry Meatballs by Shabby Fu Fu | Chicken Pot Pie Bites by Nina Hendrick | Cranberry Almond Mini Cheese Ball Bites by Summer Adams